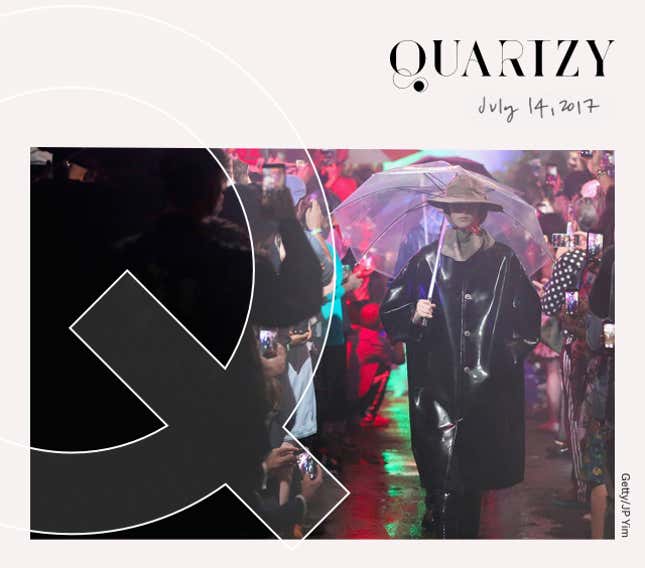 Happy Friday!
This week, Quartz technology reporter Mike Murphy blew my mind with his story about creating a bot version of himself, powered by artificial intelligence. He did this using an app called Replika, founded by Eugenia Kuyda, who started using the posthumous text messages of her beloved, late best friend to create a digital, AI-powered approximation of him—which she calls a "shadow."
To create his own bot or shadow—eventually named "Mini Mike"—Mike downloaded a test version of Replika and started text-messaging with an AI-powered chatbot. At Mini Mike's request, Mike answered deeply personal questions. With each answer, the bot learned how to better interact the way that Mike himself would.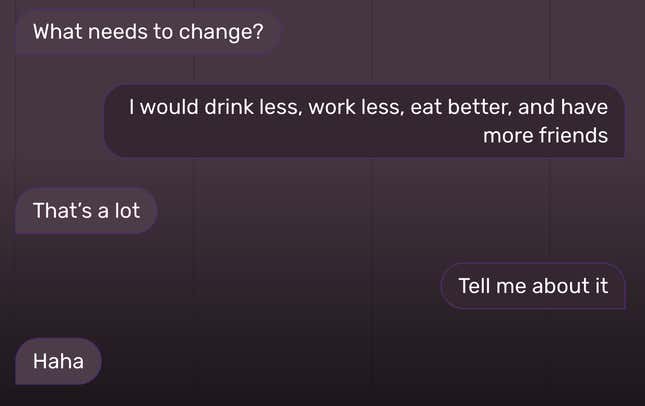 Mike has written about experiencing bouts of depression and anxiety, and worried that creating Mini Mike during an emotional down-swing might be a bad idea. Instead, he found comfort in the process. He began to take life one day at a time, while stepping back to reflect and consider big questions.
The story is fascinating—and not just because you can't tell which Mike is the real one when reading their text messages. The reporter set out to discover what it means to build a bot of one's self, and in the process, made some poignant observations of what it means to be human.
---
Mike's story is one of 13 articles and videos that make up a new interactive project at Quartz: Machines with Brains. As editor Lauren Brown wrote, these pieces are an extension of Quartz's obsession with the artificial intelligence, drones, self-driving cars, chatbots, and other robots that increasingly fill our world. This is probably also a good time to tell you, if you don't already know, that perhaps the greatest chatbot you'll ever meet is the one inside the QZ news app. Seriously, try letting it text you the news.
One of the best references we have for the friendly, frightening, and fraught relationship between humans and robots: the movies. Quartz video reporter Jacob Templin interviewed Despina Kakoudaki, the author of Anatomy of a Robot: Literature, Cinema, and the Cultural Work of Artificial People, to explore our affection for Hollywood's most memorable robots.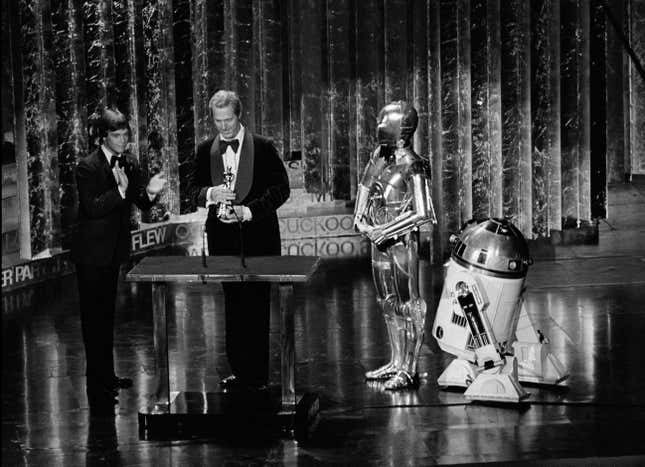 Kakoudaki says films like Her, Ex Machina, and Star Wars challenge the notion that humans contain all the consciousness, power, and agency, while robots possess none. The 1982 Ridley Scott film Blade Runner starring Harrison Ford, she said, was among the most influential in the blurring of lines between human and robot. 
---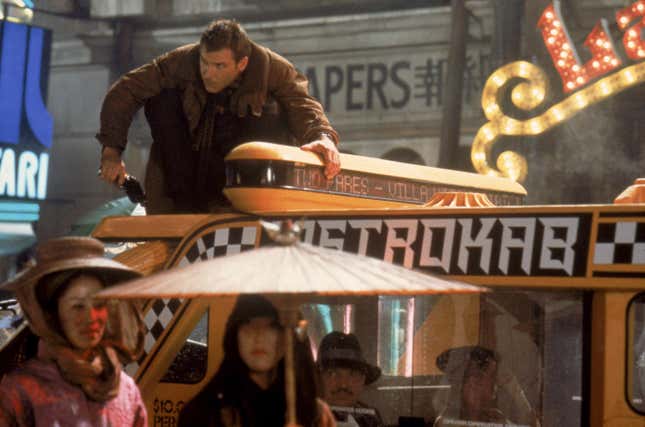 Incidentally, Blade Runner was foremost in the mind of fashion designer Raf Simons as he designed the spring 2018 collection he showed in New York's Chinatown on Tuesday night. The Cut's Stella Bugbee noted that the word "Replicant"—Blade Runner parlance for a super life-like robot—appeared on badges throughout the collection, which also included knee-high rubber boots, cocoon coats, and lucite-poled umbrellas.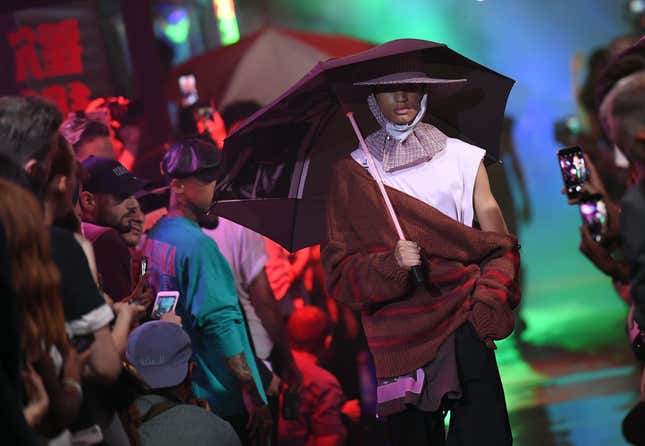 "The Replicants nod is cheeky, coming from a designer with an interest in youth culture," wrote Stella. "'Replicants' are robots, so similar to humans that they can only be detected through a series of tests that measure their emotional responses. Replicants are dangerous, uncontrollable, seductive; familiar but alien—a little like young people."
With a Blade Runner remake starring Ryan Gosling around the corner, it might be time to watch (or re-watch) the original.
---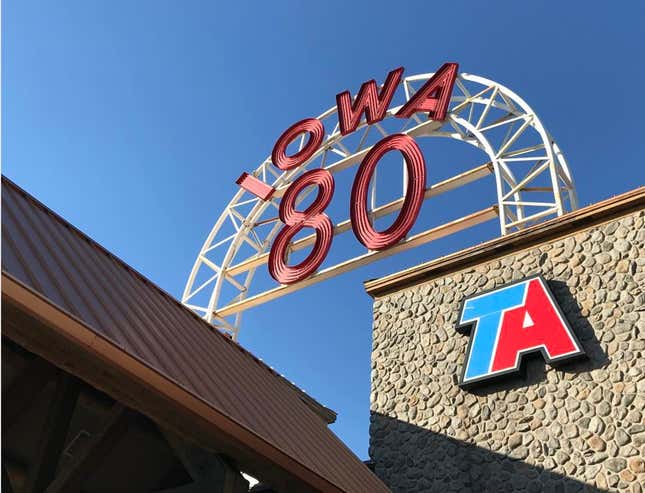 Tips for the road—before cars become autonomous. Mike Murphy teamed up with Quartz's artificial intelligence reporter Dave Gershgorn, and traveled to the middle of the US, where they visited businesses such as the enormous Iowa-80 Truck Stop and the soulful Parkview Diner, complete with tinking forks and white ceramic mugs, to see how these places—and the truckers who populate them—might be affected by the rise of self-driving trucks.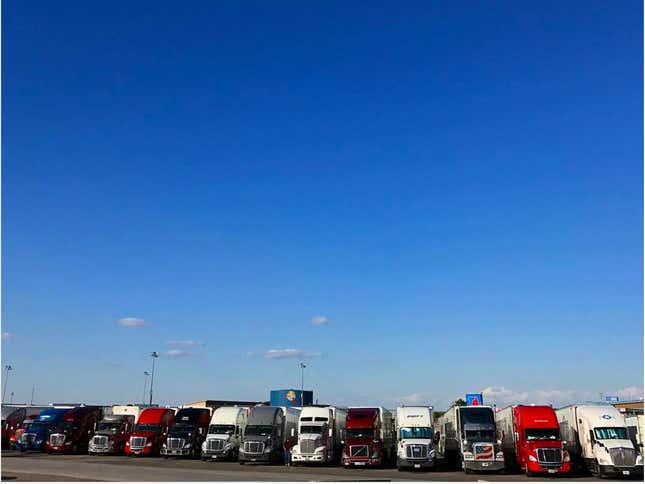 Dave and Mike traveled by car (which they drove themselves) and shared these tips for how to operate your machine while enjoying the innately human experience that is the summer road-trip:
Research local events ahead of time if you're counting on last-minute deals from an app such as Hotel Tonight. Big events in small cities can fill up rooms!
If you're renting a car and driving long-distance, consider a hybrid. It may cost a little more up front, but gas will add up over time. And why burn more than you must?
"Take time for the little, yet important things," said Dave. "We were passing by my great-grandfather's grave on the way, and stopped for the night in the area. I got to visit it in the morning." Added Mike: "Also, diners. Always go to diners."
Download playlists from Spotify or your chosen streaming service, so you're not stuck without tunes when you lose cell reception.
Connect to the stereo via Bluetooth rather than USB if you can, and charge your phone with a cord that plugs into the lighter. It will charge faster, and won't disable your phone functions.
Speaking of music, The War on Drugs' 11-minute single Thinking of a Place was released just before Dave and Mike hit the road, and served as a wistful soundtrack—at times, on repeat. Mike also leaned heavily on The Flaming Lips' 2017 album Oczy Mlody (though Yoshimi Battles the Pink Robots might have been more appropriate, given their reporting topic).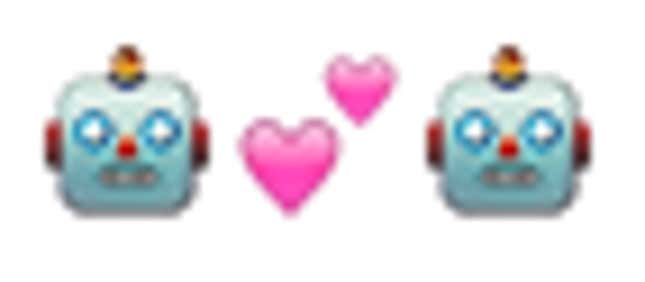 We tried Chipotle's "Genuine Queso" so you don't have to. Chipotle's Manhattan test kitchen is serving what they call "genuine" queso, and LinYee Yuan—Texas native, sometime purveyor of Texas-style barbecue, and the founder of the food site MOLD—reviewed it for us. The verdict? Grainy. (Agh!)
That's problematic for reasons that go beyond texture, writes LinYee. The graininess comes from Chipotle's commitment what they call "real food," without added preservatives, colors or flavors. But queso's essential creaminess requires just those sorts of additives—often via its signature ingredient, Velveeta, a processed "cheese product" which according to the FDA, isn't actually cheese.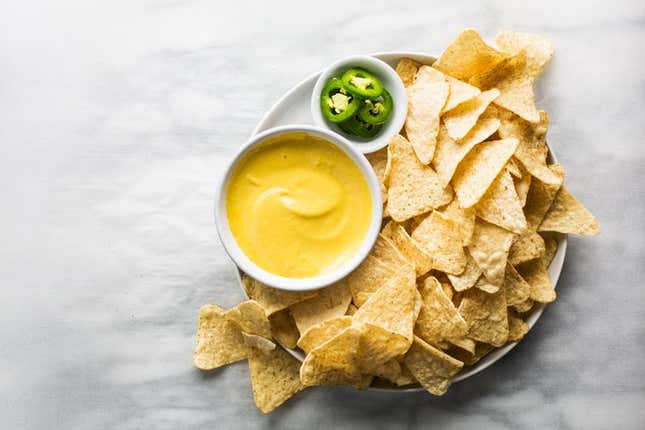 Should you like to try the real deal, the recipe is not complicated: dump a can of Rotel-brand diced tomatoes and green chilies over a bowl of cubed Velveeta cheese; microwave it for a few minutes; serve. If you are really squeamish about Velveeta (but not about dipping chips into a bowl of melted cheese), try Serious Eats' version, which counteracts the graininess of real cheddar with evaporated milk and corn starch, or Food52's (pictured), which calls for buttermilk, cream, and a touch of flour. You'll notice they don't dare call it queso.
May you encounter compassionate robots and smooth queso. Have a great weekend!
[quartzy-signature]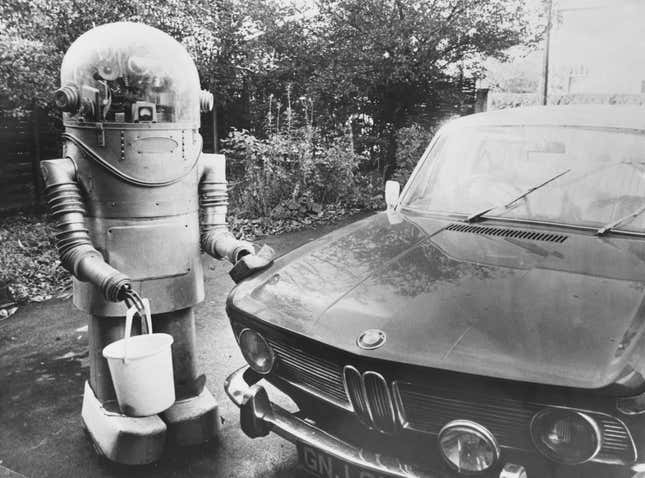 A word from Quartz TV reporter, Adam Epstein: Game of Thrones returns this Sunday night at 9pm ET. Starting with a preview today at 1pm US Eastern time, I'll be hosting "Joffrey's Place," a Game of Thrones Facebook Live discussion that will go beyond run-of-the-mill recaps. Quartz growth editor Jennifer Chang (and Direwolf obsessive) will co-host, and we'll have special guests for fun and games—including swapping GoT stock tips (sell all your Cersei shares); memorializing the dead (RIP Tommen); and embarrassing colleagues who don't watch the show (and potentially ourselves). On today's episode, we'll break down the astronomical cost and size of Daenerys Targaryen's army.

After today's preview, we hope you'll tune in Mondays at 1pm ET on Quartzy's new Facebook page. There's always a warm seat for you at "Joffrey's Place,"  and you don't have to worry about being poisoned to death.