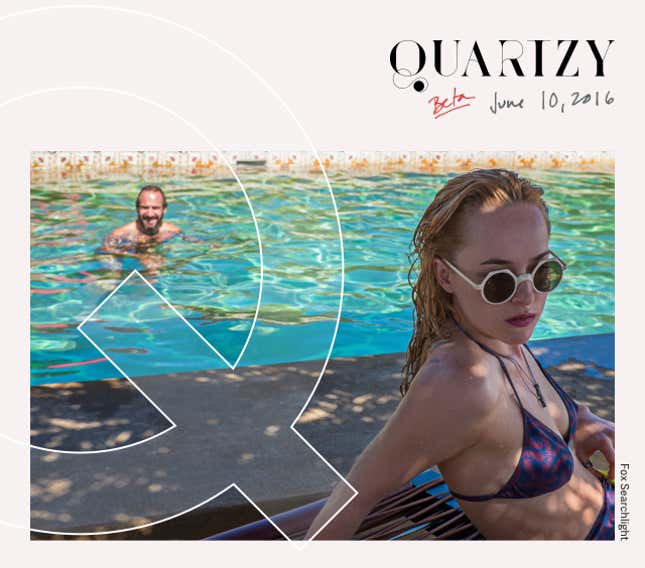 Happy Friday! And if this is the first time you're receiving this email, welcome to the party.
While I was on hiatus on the island of Culebra last week, I read Leanne Shapton's 2012 memoir, Swimming Studies, which just came out in paperback. It felt like a beach read at the time, but after steadily devouring it over the course of three afternoons, I realized I had spent my vacation reading a book about discipline—or as Shapton calls it, "dumb focus." She captures the magical, time-collapsing state that comes with repetitive practice, and the push-and-pull of dragging oneself to do it.
"Artistic discipline and athletic discipline are kissing cousins," she writes. "They require the same thing, an unspecial practice: tedious and pitch-black invisible, private as guts, but always sacred."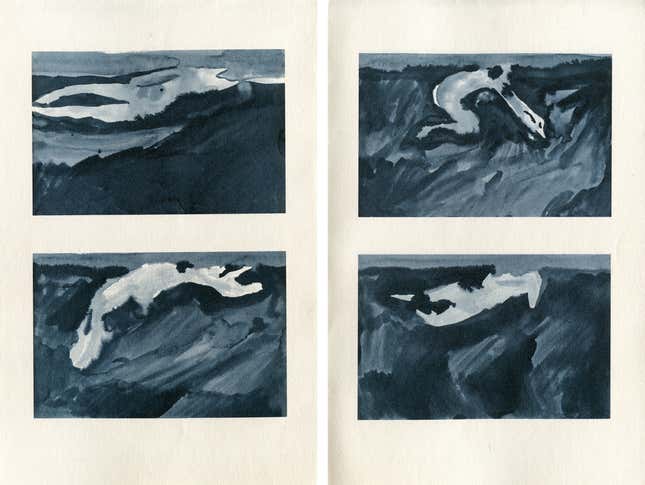 The book also includes several watercolor series (see above), a photographed catalog of Shapton's swimsuits, and a beautiful rumination on what Jaws can teach us about marriage.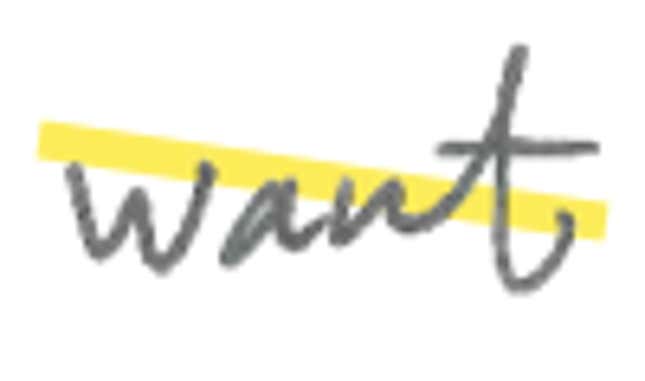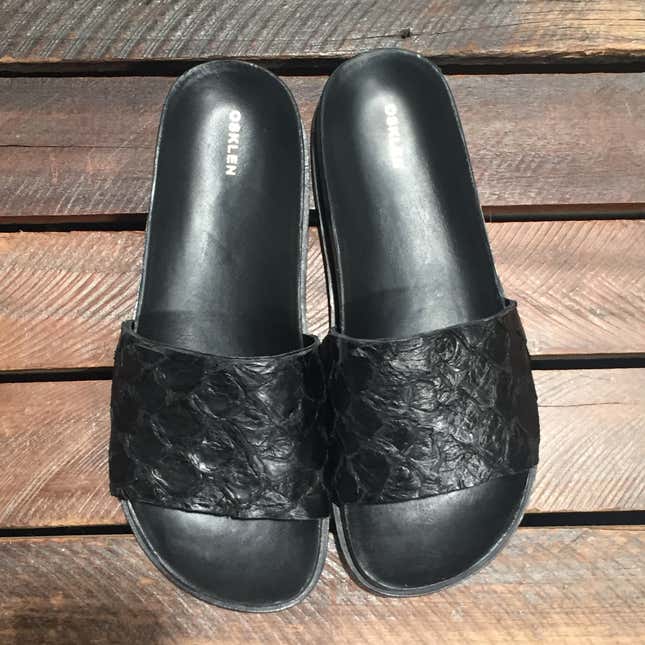 Osklen's pirarucu pool slides. What is a pirarucu, you ask? It's a monstrous freshwater fish from the Amazon, also known as arapaima. In the Brazilian state of Rondônia, it's farmed for its mild, meaty filets, which are delicious cooked on an open flame, and served over rice with farofa and fresh salsa. Pirarucu can grow to be nearly 10 feet long, which makes for some hefty skins. Osklen—a Brazilian luxury label that's an industry leader in social and environmental responsibility—is making accessories from the skins, which are a by-product from environmentally regulated fisheries.

In November, the brand will release a collection of clutches, backpacks, totes, and shoes in colors including coral, yellow, and cobalt (dyed without the harmful chromium often used in leather tanning). Right now, these black pool slides are $297 at Osklen's boutique in Soho. My Birkenstocks are nervous.
A Bigger Splash. If the thought of Tilda Swinton in Raf Simons' Dior, an ecstatic Ralph Fiennes' solo dance, or any part of the Belgian actor Matthias Schoenaerts excites you, go see this remake of the 1969 French film La Piscine.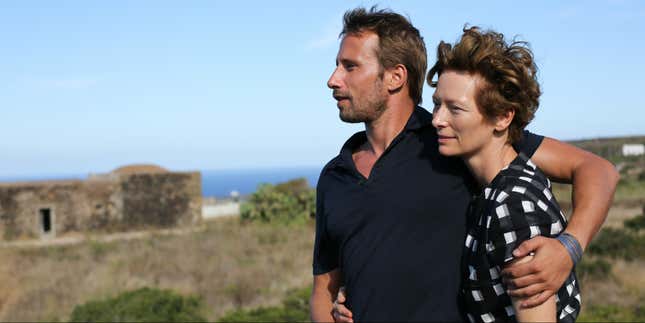 Set on the island of Pantelleria, it's dolce vita lifestyle porn at its best—though not quite escapism, thanks to the migrant crisis unfolding in the background. As the Atlantic points out, this makes for a movie that's richer than its predecessor. If you've never seen I Am Love—another sexy, sun-dappled Swinton-in-Simons vehicle from director Luca Guadagnino—you can watch it on Amazon.
---
The painter Ramiro Gomez was born in California to undocumented Mexican immigrant parents. Like Guadagnino, Gomez revises renditions of the dolce vita—in his case, David Hockney's paintings of glorious Los Angeles homes—to include people who often go unseen: the domestic workers who maintain them.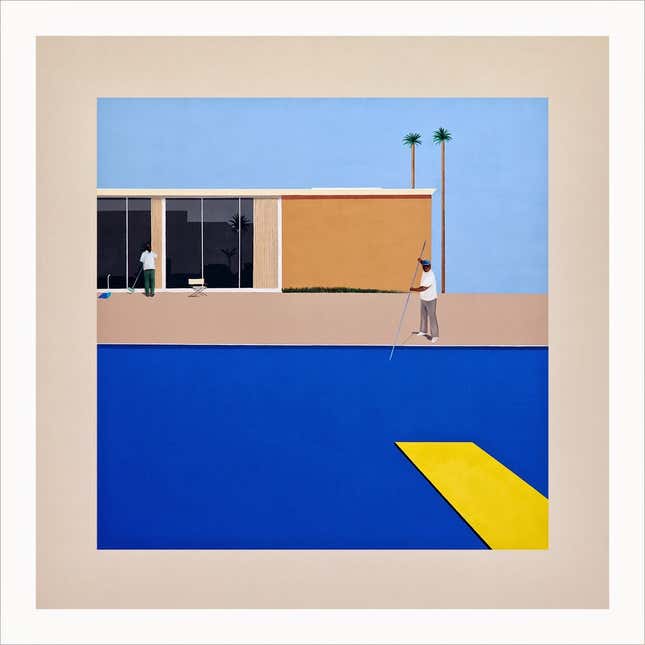 This one, called No Splash, is a revision of Hockney's A Bigger Splash—which didn't include the guys who clean the pool. According to this great NPR story, the two artists have met, and Hockney loved Gomez's renditions.
---
And now, swimwear!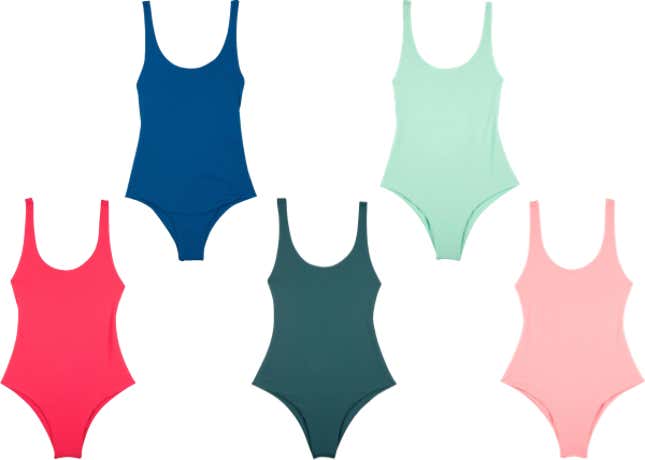 I am obsessed with scoop-back tank suits (and will proudly take credit for helping to bring them back). My current favorite is the "Pamela," by the year-old California-based line, Judy B. The sleek cut and "power stretch" fabric sandwiched between two layers of matte jersey make these suits crazy flattering.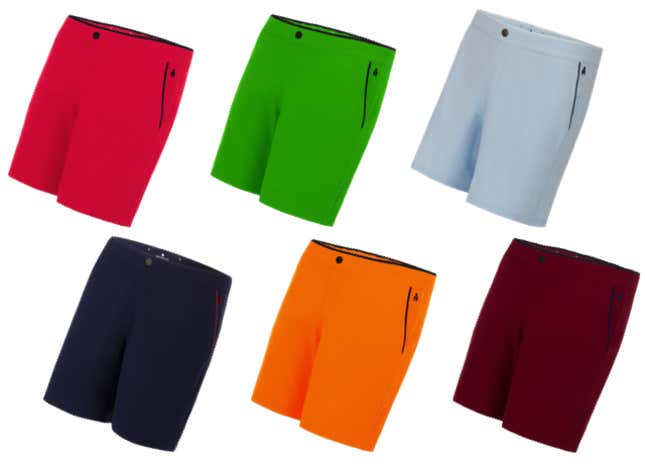 And from France, a men's version. Seagale's 2-in-1 swim shorts went bananas on Kickstarter, and look great for a guy who might not want to spend $250 for a pair of Vilebrequins. According to Seagale's founders, the stretch, micro-perforated lining solves the "problem" of uncomfortable trunks. Guys, are you really struggling with mesh-lined trunks, or, um, free-wheeling boardshorts? (I'm really asking.)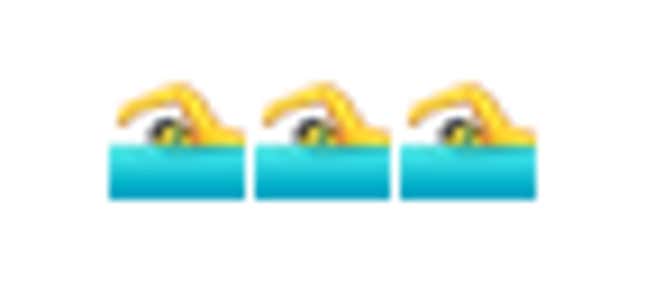 Have we really made it this far without talking about Beyoncé? I saw her perform at Citi Field on Wednesday and a handful of my Quartz co-workers did too. A few told me afterward that although Beyoncé is a flawless performer, they wished they felt more of a personal connection.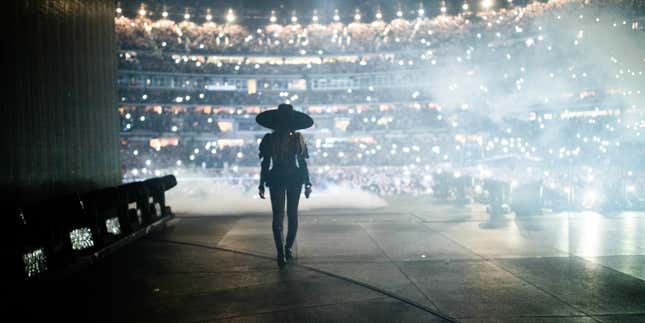 "She's not human," one said—which is probably why we obsess when she does things like sneeze on stage or suffer wardrobe malfunctions. It's true I felt more emotionally connected to Bey watching "Lemonade" than I did at Citi Field, but I loved watching thousands of young women sing about girls running the world in unison. (I see you Hillary!) "Welcome to the Formation," were the first words Bey said to the crowd, and damn if that inclusivity didn't feel real.
---
This week Beyoncé won a "fashion icon" award from the CFDA. In her acceptance speech, she reminded fashion's elite designers of the days when they wouldn't dress Destiny's Child—"four black, country, curvy girls"—and turned her mother away from their showrooms.
Still, she thanked the CFDA and reminded them to use their power wisely: "Y'all are fairy godmothers, magicians, sculptors, and sometimes even our therapists…You have the power to change perception, to inspire and empower, and to show people how to embrace their complications, and see the flaws, and the true beauty and strength that's inside all of us."
I'm pretty sure that's what she means by "always stay gracious."
Thank you for being a beta tester of Quartzy! Please send tips, questions, and postcards to jenni@qz.com and this link to your friends you think will like it.
Have a great weekend!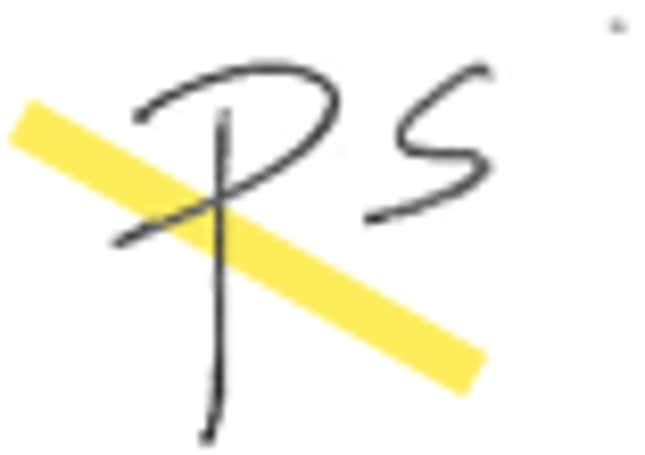 The Northside Festival is on in Brooklyn this weekend!

There are a ton of shows all weekend in Williamsburg with tickets left—including Royce Da 5'9″ at Baby's All Right and Conor Oberst on Saturday (not together). If you're feeling beachy, close out the weekend with Brian Wilson performing Pet Sounds Sunday night at McCarren Park.