Dear readers,
Welcome to Quartz's newsletter on the economic possibilities of the extraterrestrial sphere. Please forward widely, and let me know what you think. This week: Artemis at last, SpaceX and T-Mobile, and commercial space station disposal.

🚀 🚀 🚀
If I learned anything on my summer vacation, it's that not enough people know the US is sending astronauts back to the Moon.
On Aug. 29, that all changes (probably) when NASA's uncrewed Artemis 1 mission shoots the most powerful rocket in the world into space and hurls a capsule called Orion on a test flight around the Moon. If Orion's heat shield allows it to survive re-entering Earth's atmosphere at 32 times the speed of sound, the space agency will be teed up to send a crew of astronauts on the first deep space flight since the Apollo years.
There's a semi-serious theory in Washington about "secret Congress," the idea that when issues aren't in the partisan spotlight, lawmakers can make real progress. That's certainly how Artemis 1 came about: Its pillar, the Space Launch System rocket, bubbled along almost as a pork-barrel project, replete with problems, cost overruns, and delays. President Barack Obama created the deep space rocket project in 2010 as a sop to legislators irate about his decision to cancel president George W. Bush's plans to go to the Moon.
Even when president Donald Trump's White House came up with the Artemis program to put the first American woman on the Moon, and set the SLS at the heart of it, the lunar return flew under the radar. Despite the madness of Trump's tenure and the president's inability to remember what the plan was, the adroit management of then-NASA administrator Jim Bridenstine kept the US return to the Moon moving quietly forward.
As the Planetary Society's Casey Dreier explains, this political approach allowed for a decade of substantial, if sometimes wasteful, investment in space technology that could unlock a new wave of discovery and economic gains in space. Eric Berger's eloquent ambivalence about the program is fitting: Tens of billions of dollars was the price NASA (and you, dear taxpayers) paid to get support for a deep space exploration program that combines novel scientific goals with plans for a lunar economy. (And, not incidentally, offers a chance to show that the US is still a more puissant space nation than China.)
The downside is that the SLS, which will cost on the order of a billion dollars or more per launch, is already nearing obsolescence. Private industry, SpaceX in particular, has developed vehicles that could likely achieve NASA's objectives at far lower costs. Perhaps the sunniest vision for future space exploration is that the next decade sees just a few SLS flights before better alternatives arrive.
On Monday, with celebrities Jack Black and Keke Palmer on site, and Herbie Hancock and Yo-Yo Ma performing, NASA wants the world's eyes on its latest mega-project. While this mission won't carry crew, it is "incredibly risky" in the words of Jim Free, the NASA official in charge of Artemis. The space agency is putting these vehicles through their paces to ensure the safety of future astronauts. If something goes wrong, it could set back the US space program for years. But if all goes according to plan on the 42-day trip, humanity will enter an expensive new age of space exploration.
🌕🌖🌗

IMAGERY INTERLUDE
The roof of the Vehicle Assembly Building at Kennedy Space Center is more than 500 ft above the ground, making it a great vantage point to watch as the SLS rocket and Orion capsule for the Artemis 1 mission rolled to the launch pad on Aug. 17: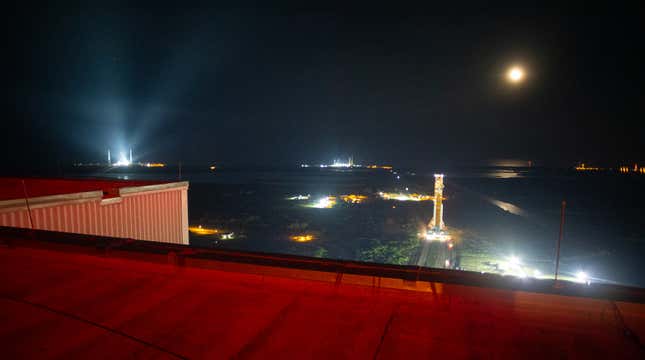 🛰🛰🛰
SPACE DEBRIS
SpaceX + T-Mobile = Profit? Elon Musk and T-Mobile CEO Mike Sievert will make an announcement at SpaceX's facility in Boca Chica, Texas, tonight. All we know is that the news has to do with connectivity, which means SpaceX's Starlink satellite internet network. Starlink lost more than $800 million in government subsidies earlier this month and is running into growing pains, so a partnership with a terrestrial telecom provider might offer an appealing path to revenue growth.
Falcon 9 back in the Starlink mix. Speaking of our favorite megaconstellation, SpaceX said this week that it would actually fly some of its second generation Starlink satellites on its Falcon 9 rocket, a change in course after Musk said only Starship could carry the much larger spacecraft.
NASA needs a hand deorbiting the ISS. The US space agency has asked private companies for ideas on how to safely pull the International Space Station down from space at the end of the decade. The agency is looking for a space vehicle that could attach to the football-field sized ISS and pull it down into the atmosphere to burn up over an uninhabited area, some place like the spacecraft cemetery in the south Pacific.
Commercial spacecraft are targets. The Aerospace Corporation (a US government funded think-tank) has issued the latest warning to space companies that their satellites could become targets in future conflicts, either accidentally or intentionally.

Testing 1-2-3. On the progress of small-rocket companies: Relativity's Terran 1 rocket completed a second-stage static fire test on a rocket that could be the first methane-fueled rocket to reach orbit, beating SpaceX and Blue Origin. And in the UK, Skyrora completed a static fire of its second stage, which could be the first vertically launched orbital rocket to take flight from the British isles. (Virgin Orbit is expected to beat the company to orbit with its air-launched rocket later this year.)
Your pal,

Tim
This was issue 147 of our newsletter. Hope your week is out of this world! Please send your Artemis opinions, schemes to deorbit the ISS, tips, and informed opinions to tim@qz.com.