Dear readers,
Welcome to Quartz's newsletter on the economic possibilities of the extraterrestrial sphere. Please forward widely, and let me know what you think. This week: New Shepard's unexpected abort test, the end of the Zurbuchen era, and a new space billionaire.
🚀 🚀 🚀
Whenever a passenger gets onboard Blue Origin's New Shepard rocket, they have received a piece of paper that says the following:
"The United States Government has not certified the launch vehicle and any reentry vehicle as safe for carrying flight crew or space flight participants."
That goes for trips on Virgin Galactic's SpaceShipTwo and SpaceX's Dragon capsule as well. The US government takes a light touch approach to regulating new industries like the business of taking people to space, compared to cars or passenger jetliners. That light touch isn't exactly cheap, though: According to its operating license, Blue Origin has to guarantee that $150 million will be available to cover the "maximum probable loss" that could occur during each flight.
This comes to mind after the failure of an uncrewed New Shepard mission on Monday—Blue Origin's flagship vehicle suffered a failure that destroyed the vehicle's reusable rocket booster. The space capsule escaped safely, thanks to a built-in launch abort system that uses rocket engines to carry it safely away from the booster if something goes wrong. While Monday's cargo consisted of scientific experiments, had any people been onboard, they likely would have survived.
Chris Boshuizen, a space investor who bought a ticket on the New Shepard last year, said that it was the abort system that convinced him the trip would be safe.
"The knowledge that I was sitting on top of giant solid rocket motor gave me the reassurance I needed," Boshuizen tweeted. "Thankfully we didn't need to use it, but I was glad it was there."
Now, the Federal Aviation Administration's Office of Commercial Spaceflight is investigating what went wrong during the launch, and Blue won't be able to fly until the agency is satisfied. An inspector who was on the ground in Texas has been joined by additional investigators who will work with Blue Origin to understand what happened. Blue declined to answer questions about the ongoing inquiry. One executive at a public event said it was too soon to assess what caused the strange behavior of the booster before it appeared to explode.
Others are watching closely. Rep. Don Beyer, who chairs a congressional committee that oversees the FAA, said in a statement that he would be monitoring the investigation, saying that "as commercial human spaceflight is now a reality, the Subcommittee's work on the safety of commercial human spaceflight is more important than ever."
Whether and how the US government can regulate space tourism, much less the growing number of orbital launches and the satellites they are putting in orbit, is an open question. Part of the problem is personnel: There aren't that many employees in the Office of Commercial Spaceflight, an issue that has delayed other launches. Then there are bureaucratic issues: The FAA, NASA, and the FCC each have claims on different aspects of spaceflight.
Interestingly, just days before the New Shepard accident, the FAA signed an agreement with the National Transportation Safety Board governing how these investigations are handled. If someone is killed or there is property damage outside the launch site itself, the NTSB does the job. Otherwise, as in this case, it's the FAA's responsibility.
The space industry, government officials and, well, me, will be watching for answers to a few questions: How long does it take for the agency and the company to figure out what went wrong, and agree on a suitable fix? How transparent are the agency and the company in explaining to the public what went wrong? And how quickly does New Shepard return to flight?
Thus far this year, three New Shepard launches have carried 18 passengers to the edge of space, while the Dragon spacecraft has carried one crew of four passengers to the International Space Station. That's probably not enough action to convince lawmakers to pony up the cash and political capital necessary for real safety regulation, and the companies involved don't want that either. But if they continue to meet their goals of more frequent flights and more people headed to space, regulation is inevitable.
Just like Monday's failure was an unexpected test of New Shepard's launch safety systems, it's also a pop quiz for the US government's efforts to ensure space travel meets public safety requirements.
🌕🌖🌗
IMAGERY INTERLUDE
This month marks 10 years since the Space Shuttle Endeavour was taken on a west coast tour before arriving at its retirement home at the California Science Center (where it became plot point in the absurd film Moonfall.) The Shuttle had its flaws (*cough* liquid hydrogen propellant *cough*) but the way it got flown around on top of an airplane? Perfect.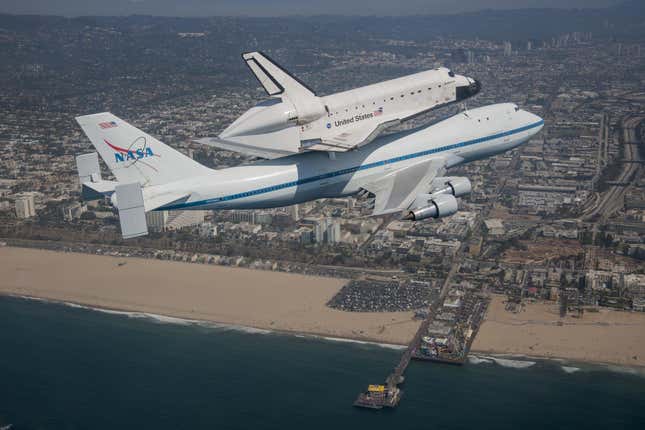 At the time of this tour, I lived in Los Angeles, and the arrival of Endeavour was somewhat overshadowed by the need to cut down more than 400 trees along the route it took to its final home. The trees were eventually replaced at a cost of $2 million. It's quite a metaphor for the challenge of planning any mission to a new environment.
🛰🛰🛰
SPACE DEBRIS
Auf Wiedersehen, Herr Doktor Zurbuchen. After more than six years leading NASA's scientific efforts, Thomas Zurbuchen says he will step down at the end of 2022. The Swiss-born astrophysicist helped deliver major missions like the James Webb Space Telescope, the Parker Solar probe, and the upcoming DART asteroid impact mission, but also pressed NASA to pursue cheaper missions using cubesats and privately built rockets.

Japan and Germany join US in satellite weapon testing moratorium. The two countries are the latest to say they will not test satellite weapons that generate dangerous debris in orbit. The US is pushing for a UN Resolution formalizing this commitment, but faces opposition from Russia and China.
Tumble trouble. NASA's Capstone spacecraft, which is attempting to fly a complex new orbit between the Earth and the Moon, is tumbling through space after operators briefly lost control of the vehicle. Now, engineers are trying to get the vehicle back on course.
Crypto billionaire plots artificial gravity space station. Jed McCaleb, known for starting the Mt. Gox exchange and helping create the cryptocurrency Ripple, has started a new company called Vast that he intends to self-fund through the launch of its first habitat in low-Earth orbit.

Welcome to Starbase. Besides fights over environmental impact and high-intensity rocket development, SpaceX's facility outside of Boca Chica, Texas, has also attracted a crew of space fans eager to get closer to their beloved space company.
Mirrors + Space = Profit? A serial inventor has a (moderately kooky) plan to put mirrors in space that can focus light on solar farms, allowing them to operate 24 hours a day.
Your pal,

Tim
This was issue 150 of our newsletter. Hope your week is out of this world! Please send your predictions for the Artemis 1 launch date, other giant things we should put in orbit, tips, and informed opinions to tim@qz.com.