Dear readers,
Welcome to Quartz's newsletter on the economic possibilities of the extraterrestrial sphere. Please forward widely, and let me know what you think. This week: Moonliners, Vulcan delayed, and DART got that asteroid good.
🚀 🚀 🚀 
When Dennis Tito became the first space tourist 21 years ago, it was a different world. Most notably, his trip to the International Space Station onboard a Russian Soyuz rocket was bitterly opposed by NASA.
Dan Goldin, then the space agency's leader, tried to block the flight. He said that Tito would put astronauts at risk and suggested he wasn't a patriot, complaining that "space is not about egos."
Today, NASA is encouraging tourists to visit the ISS (albeit with former government astronauts as chaperones) to encourage the construction of new private habitats in low-Earth orbit. And Tito and his wife Akiko have bought two tickets for a honeymoon trip around the Moon on a SpaceX rocket.
If you're keeping track at home, SpaceX now has paying customers for at least five flights of its next-generation, fully reusable Starship rocket, and most of them aren't the government. Payments entrepreneur Jared Isaacman will help test the vehicle over two flights; Japanese e-commerce entrepreneur Yusaku Maezawa will fly around the Moon sometime before Tito's trip. Meanwhile, NASA has tapped Starship to ferry astronauts down to the lunar surface as soon as 2025.
Starship and its untested booster are on the launch pad, with a potential test flight expected by the end of the year. When Maezawa's flight was announced in 2018, Elon Musk predicted it would take place in 2023. That's unlikely at this point, but the fact that the rocket is nearly ready to reach orbit is fairly good performance for the development of a new heavy launch vehicle.
Besides getting the vehicle to orbit and back, SpaceX will need to develop a cabin to keep passengers alive and comfortable, something the company hasn't shared much detail on yet. Equally challenging for lunar trips will be figuring out the process for refueling in space. That's necessary because the large spacecraft requires a significant amount of propellant just to get off planet. The company plans to fly a second tanker Starship into orbit for a fill-up, but the tricky physics of transferring fluids between space vehicles in microgravity promise plenty of growing pains.
What's really interesting about Tito's announcement is that he and his wife only bought their two seats. There are still ten tickets available for this joyride around the Moon, if you're interested.
"SpaceX's goal is to make humanity multiplanetary, and part of how you do that is thinking through, 'how do we make this flight really accessible to a group of people who haven't been able to take advantage of that opportunity?'" Aartie Matthews, a SpaceX executive, told reporters. "This mission is groundbreaking in that it puts us on a very firm step toward airline operations where now for the first time you can buy an individual seat to the Moon."
However, if you have to ask the price, you can't afford it. Neither Matthews nor Tito would share how much the seats cost, or who else might be considered to fill out the manifest.
It's true in a technical sense that space has become more accessible in recent years, particularly as SpaceX's Dragon has allowed new private trips to orbit. But it hasn't become more affordable: Tito, an aerospace engineer turned financial asset manager, paid $20 million for his trip to the ISS in 2001, or $33 million in today's prices. Current space tourists are likely paying two to three times as much for a similar visit. Part of the reason is that the market for these trips only opened up in 2020, and SpaceX has a monopoly on it.
More competition and more activity could drive that price down. Tito suggested that point-to-point transportation—using the Starship to fly from one side of the planet to the other instead of an aircraft—could provide the economies of scale to make that kind of spaceflight affordable. It's a nice idea, but the regulatory challenges facing spaceports (look at the travails of SpaceX's Boca Chica facility) and the engineering challenges of regularly scheduled passenger flights suggest that Tito will visit the Moon before anyone flies from New York to Shanghai on a rocket.
🌕🌖🌗
IMAGERY INTERLUDE
NASA's mission to bop an asteroid is officially a success, scientists said after two weeks of analyzing the orbit of Dimorphos, the target asteroid, around its larger partner Didymos. They found Dimorphos' orbital speed had slowed by 4%, thanks in part to all the debris ejected by the impact. You can see the dust trail stretching out 10,000 km in this Hubble Space Telescope image.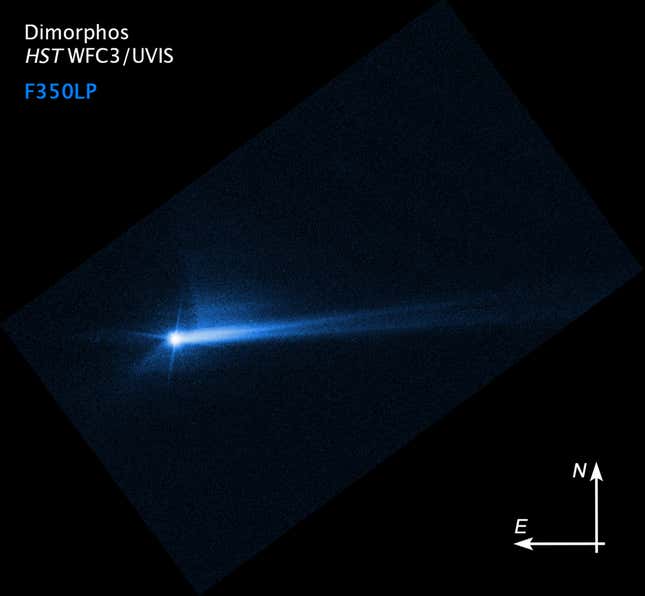 🔊🔊🔊
Why is good feedback so hard to get? We need feedback to know how we're doing at work, and also, well, because we're human. But most managers are never trained on how to give it well.
🎧 Listen to this week's episode of Work Reconsidered on: Apple Podcasts | Spotify | Google | Stitcher
🛰🛰🛰
SPACE DEBRIS
Vulcan schedule pinch. United Launch Alliance said its new Vulcan rocket will make its first flight in 2023, not the end of this year. CEO Tory Bruno attributed the shift to extra time needed to finish work on the Astrobotic Moon lander the rocket will launch in its first flight, and the delayed delivery of its engines, built by Blue Origin.
Kuiper switches to Vulcan. Meanwhile, the first two prototypes of Amazon's Kuiper satellite network will now fly on that same first Vulcan mission. The spacecraft were originally slated to fly on new rockets built by ABL Space Systems, but those vehicles have, you guessed it, been delayed. Amazon bought dozens of Vulcan launches earlier this year for Kuiper.
Astra builds satellite engines for Maxar. The troubled company hasn't had much luck with its rockets, but its acquisition of the propulsion firm Apollo Fusion is paying dividends with a contract to build propulsion systems for Maxar, the largest space imagery company by revenue.
Is Starlink really losing $80 million to help Ukraine? In the course of his geopolitical punditry, Elon Musk suggested that Starlink has lost more than $80 million providing service in Ukraine. I'm not sure of the math.
Artemis 1 has a new launch date. The first test flight for NASA's plan to return to the Moon, first attempted in late August, is now set for Nov. 14 after a series of problems fueling the SLS rocket.
Kudos to a space genius. Moribah Jah, an expert in orbital debris, has been awarded a MacArthur Foundation Fellowship, popularly known as a genius grant. Jah has been a key voice arguing for more attention to the orbital debris problem as a professor at the University of Texas, and he co-founded a new firm to address the problem with Apple legend Steve Wozniak.
Your pal,
Tim
This was issue 154 of our newsletter. Hope your week is out of this world! Please send the cost of a seat on Starship, odds of an SLS launch on Nov. 14, tips, and informed opinions to tim@qz.com.