Dear readers,
Welcome to Quartz's newsletter on the economic possibilities of the extraterrestrial sphere. Please forward widely, and let me know what you think.
Eric Beiley Part II: Where rates are heading
This week: Planet's variables, Relativity goes all-in on reusability, and Starship's guaranteed excitement.
🚀 🚀 🚀
In nearly a year and a half since going public, Planet has been one of the more successful space companies. But it has yet to turn a profit, as it focuses on building out a novel space data business its executives describe as a kind of a Bloomberg terminal for planet Earth.
At the company's annual Explore conference—think of it as an analog to Apple's Worldwide Developers Conference—CEO Will Marshall extolled a set of products called Planetary Variables, which aim to convert the firm's earth-observation data into usable metrics for users who don't already employ a small army of geospatial analysts.
The current lineup includes automated identification of buildings and roads, as well as measures of soil water content, biomass, and land surface temperatures. But what really excites Marshall is forest carbon.
"Carbon accounting faces difficult tradeoffs: Drones and [aerial radar imaging] are accurate but not scalable. Satellite data is scalable, but is too coarse," Marshall says. But his company, thanks in part to the recent acquisition of the firm Salo Sciences, will soon provide the "first accurate, consistent, scalable and high resolution forest carbon measurement, producing at a global scale and updating frequently."
That was a key part of Planet's public-markets pitch: It wanted to become the data source of choice for ESG analyses as companies face political and social pressure to understand and reduce their carbon emissions. In 2023, ESG is under more pressure, from political critics who won't come to grips with the challenge of climate change, and from pragmatic critics who say that ESG schemes often under-deliver.
Recent critiques of Verra, the largest organization that certifies carbon offsets, epitomize the latter concern. Typically, Verra certifies that a project, like a commitment not to cut down trees in a specific area, preserved a certain amount of carbon compared to a forecast of expected deforestation. Companies can then purchase carbon credits based on these projects, to offset their businesses' carbon emissions. But investigations found that actual deforestation exceeded these baselines, rendering many of the credits, and claims of corporate responsibility, worthless.
Verra disputes these findings, but says it is updating the methodology behind its calculations. For Planet, the scandal is both a risk and an opportunity. The company has bet that it can profit from providing the infrastructure for carbon markets, and now it has to deliver.
Tara O'Shea, who leads Planet's forest and land use work, says that emissions reductions and offsets are both necessary to meet carbon goals, not contradictory strategies. Offsets are most important for unavoidable carbon emissions, and they are a critical source of finance for climate projects.
When it comes to Verra's situation, she notes that part of the problem is that baselines for forest change calculated six or ten years ago are unlikely to keep up with the rapid pace of environmental change; in Brazil, the site of many of Verra's forestry projects, the pace of deforestation surged under the leadership of president Jair Bolsonaro between 2019 and 2022.
"We have now, from Planet, global high resolution coverage on a daily basis," O'Shea says. "Why are we not updating baselines [with] real information more often? We see a lot of opportunity to improve that prediction and ongoing monitoring and verification."
Planet's data is already being used by groups like Norway's International Climate and Forest Initiative, which is working to standardize and scale up global financing for deforestation efforts. But it will need more help to gain customers. The US Securities and Exchange Commission is considering new rules that will force companies to be more accurate and specific with their carbon accounting; similar measures in the European Union and states like California promise to make accurate carbon data of all kinds a big business—not just for forest offsets, but everything from methane leaks to land-use monitoring.
On Monday, Marshall shared an article about the economics of a data business by investor Abraham Thomas, emphasizing that Planet is "a data business (not space or Saas)." It's worth reading to understand how Marshall conceives of his firm and what to expect from it. In Thomas' telling, the power of a true data business is that it creates a flywheel effect that grows the value of its information and makes customer acquisition increasingly easier.
One observation from the analysis strikes me as particularly relevant to Planet: "Even after you build your data asset, you're not home free," he writes. "You have to educate your ecosystem, evangelize your product, nurture your customers over time. Early sales cycles are long, and win rates are low."
It's easy to see Planet disrupting existing Earth-observation companies with cheaper satellites, but that's not necessarily a sustainable model if competitors can build cheaper spacecraft, too. Planet's efforts to create a new category of global data, starting with its Planetary Variables, show the company is working to create something more valuable—but as Thomas warns: "Category creation is hard!"
🌕🌖🌗
IMAGERY INTERLUDE
An attempt at launching SpaceX's Starship into orbit is fast approaching, with the company aiming for April 17 and releasing its flight plan—with "excitement guaranteed" when the countdown clock hits zero. Here's the Starship and its Super Heavy Booster on the launch pad, waiting for FAA permission to fly: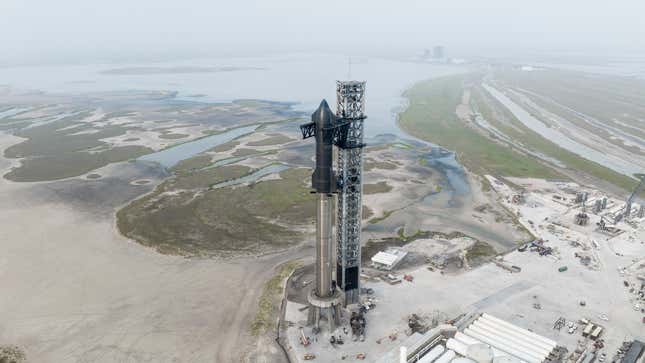 🛰🛰🛰
SPACE DEBRIS
Relativity goes all-in on Terran R. The rocket maker with an emphasis on 3D printing released its initial assessment of the anomaly that prevented its first rocket, the Terran 1, from successfully reaching orbit during its debut launch. The firm also said it will now focus exclusively on the Terran R, a larger reusable rocket, which seemed likely even before the launch attempt.
The Centaur really blew up. The second stage of United Launch Alliance's forthcoming Vulcan rocket, known as Centaur, exploded on March 29 during testing. The anomaly could spell more delays for the Vulcan and the process of certifying the vehicle to fly the national security missions that are its stock in trade.
The FCC's new space office is open. The long-time US regulator of satellite activity has created a new Space Bureau to modernize its approach to rule-making, with attorney Julie Kearney in charge.
How transparent are space prices? The space business is known for secrecy around the cost of everything from rockets and satellites to data-delivery services. Some companies are using transparent pricing to help them stand apart, while others say standardization is too difficult. SpaceX was a pioneer in this department, advertising the cost of its Falcon 9, but it's been interesting to see how Elon Musk's company has declined to advertise the cost of its newer products now that it is it no longer an industry upstart.
RAND says it's time to think about rules for private spaceflight. The US government doesn't make safety rules for passengers onboard private spacecraft like Blue Origin's New Shepard or the SpaceX Dragon because the business is so new. Now, though, researchers say it is time for Congress to let the moratorium on such rules expire so the FAA can begin gaining expertise while voluntary standards are developed by the industry. Folks in the space industry, however, expect the moratorium to be extended.
Your pal,

Tim
This was issue 176 of our newsletter. Hope your week is out of this world! Please send your favorite planetary variables, Starship rumors, tips, and informed opinions to tim@qz.com.