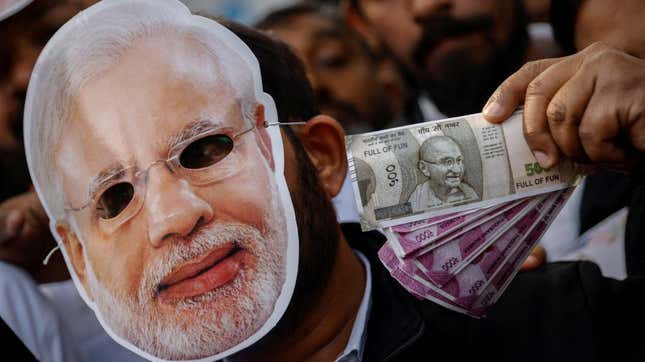 Two Adani family associates, Chang Chung-Ling and Nasser Ali Shaban Ahli, have secretly spent hundreds of millions of dollars discreetly acquiring stock in the Adani Group's own companies via opaque funds in Mauritius for years, according to offshore financial records obtained by the by the Organised Crime and Corruption Reporting Project (OCCRP) and share with the Guardian and the Financial Times.
Should you keep investing in Big Tech?
Chang and Ahli apparently channeled money through offshore firms into funds that would acquire shares in four Adani-listed companies: Adani Enterprises, Adani Ports and Special Economic Zone, Adani Power, and Adani Transmission. The point of contention is that Ahli and Chang are associated with companies of the group as well as with promoter Vinod Adani, Gautam Adani's brother. Quartz reported on this connection back in February.
Adani Group companies' stocks took a hit following the newspaper reports this morning (Aug. 31), but the conglomerate is playing down the allegations. "We categorically reject these recycled allegations. These news reports appear to be yet another concerted bid by Soros-funded interests supported by a section of the foreign media to revive the meritless Hindenburg report," a company statement read, referring to a document published by Hindenburg Research in January that accused the conglomerate of pulling off the "largest con in corporate history." OCCRP lists the philanthropic arm of billionaire George Soros, Open Society Foundations, among its backers, which also include the Dutch Postcode Lottery, the Ford Foundation, and the US Department of State.
While the volley between the media and continues, there's one stakeholder that's yet to make its move: prime minister Narendra Modi, who is set to host fellow world leaders in New Delhi for the G20 Summit starting Sept. 9. Plus, with six months to go before the next elections, India's ruling party has to tread carefully.
India's main opposition party, Congress, jumped at the opportunity to call for a probe. "The stench of corruption around the network of Adani-linked shell companies located in opaque tax havens is only getting stronger with the money trail being established now," Congress general secretary Jairam Ramesh wrote on social media platform X.
Quotable: Congress leader Rahul Gandhi questions Narendra Modi
"I don't understand why the Prime Minister is not forcing an investigation. Why is he quiet? Why doesn't he say that he is going to make sure that this issue is investigated and the people who are responsible are put behind bars? This is raising a very serious question on the Indian Prime Minister just before the G20 leaders come here."

—Congress leader Rahul Gandhi on Aug. 31
The simultaneous rise of Narendra Modi and Gautam Adani
Adani's conglomerate, which includes coal production, thermal power generation, and infrastructure, has become one of India's largest and most powerful corporate force. It is already India's largest private port operator and it's been rapidly expanding its airports business. Adani's bets on India's green energy sector are also paying off, skyrocketing head honcho Gautam Adani's net worth. He became India's richest person last February and briefly becoming the world's second-richest man, behind Elon Musk, last September.
But he had some helped along the way. India's ruling party, spearheaded by Narendra Modi, has developed a reputation for favoring Adani for the better part of the last two decades. The duo hail from the same western Indian state of Gujarat. Adani's rise as a businessman has coincided with Modi's political gains. India's current richest man Mukesh Ambani's, also from Gujarat, has his own ties to Modi.
Adani denies receiving any personal favors from Modi but the prime minister's critics have repeatedly claimed the government bends the rules for the company. The most glaring example they cite is handing industry rookie Adani Group the control of six airports when the law barred "inexperienced" firms from taking charge.
Why the Indian government isn't the best bet to vet Adani's companies
A revelation in a letter uncovered by the OCCRP provides further proof of political leniency: In January 2014, Najib Shah, the then head of the Directorate of Revenue Intelligence (DRI), India's financial law enforcement agency, wrote to Upendra Kumar Sinha, then head of the Securities and Exchange Board of India (SEBI), warning of suspicious stock market activity by the Adani Group. However, after Modi won his first national election that year, the government regulator's scrutiny faded to black.
Little has changed over the years. SEBI opened a probe after the Hindenburg report but was tepid. By May, it "hit a wall" in finding a connection between the 13 offshore investors in the conglomerate since 2020 it was investigating and the Adani Group, as it told India's Supreme Court. On Friday (Aug. 25), SEBI submitted a status report to the apex court, but shared no concrete findings.
No wonder critics don't trust SEBI to conduct a thorough investigation.
One big number: Adani may have flouted share-holding rules
75%: The amount of a company's stock that can be held by promoters, individuals who have identified themselves as directly involved with the company, according to India's rules, with the rest kept "free float." Newly listed firms have three years to meet this threshold. Beyond 75%, companies have to mandatorily divest shares. Vinod Adani's proxy holdings would breach the 75% limit if a close aide relation to Chang and Ahli is established.
Related stories
❌ Asia's richest man has said he received no personal favors from Narendra Modi
❓George Soros says Narendra Modi must answer for Adani row