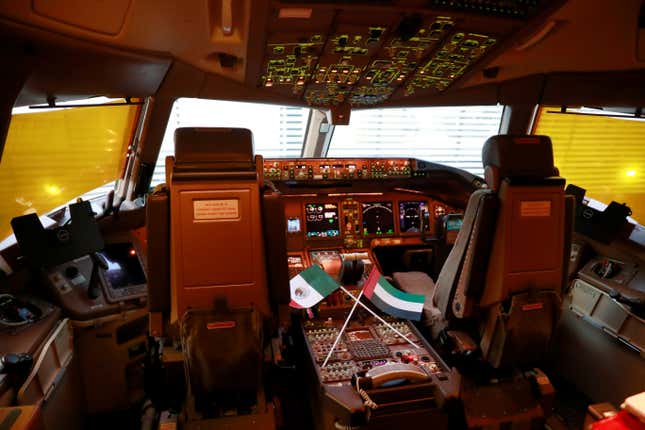 Forget beds or showers in first class, or inflight entertainment at every seat in coach. The newest, high-value upgrade on plane on US commercial planes will be a door.
The Federal Aviation Administration (FAA) has finally approved the requirement that every plane have a secondary cockpit door. The new partition will block the cockpit from the rest of the plane, allowing pilots to use the lavatory without leaving the commands vulnerable to hijackers.
The regulation will be enforced starting in two years, or 24 years after it became a priority of the Air Line Pilots Association (ALPA) in the wake of 9/11.
The update won't come cheap: Implementing it will cost airlines an estimated $505 million over the next 50 years, according to FAA estimates.
Protecting against hijacking
The rule is being finalized almost four years after the October 2019 deadline originally established by Congress. It will only apply to planes manufactured starting in mid-2025.

The details of the second door—a foldable barrier of sorts that will remain open when all pilots are in the cockpit—are left to airline discretion, but the FAA estimate to purchase the door is $35,000 per airplane. Add to that training and other related costs and the industry-wide price tag rises into the hundreds of millions of dollars.
Proponents of the rule note that there are flights on which the cockpit door cannot be kept closed—especially longer ones, when using the bathroom is a necessity. Right now, the cockpit is often blocked with a food or beverage cart. A door would provide a higher level of safety.
"Every day, pilots and flight crews transport millions of Americans safely—and today we are taking another important step to make sure they have the physical protections they deserve," said Transportation Secretary Pete Buttigieg.

Door or no door, it's been 22 years since the last successful hijacking of a commercial flight in the US—or the world, for that matter, if we don't consider cases when pilots or crew were involved. Hopefully an extra layer of security can help extend that safety streak. At half a billion dollars, it better.