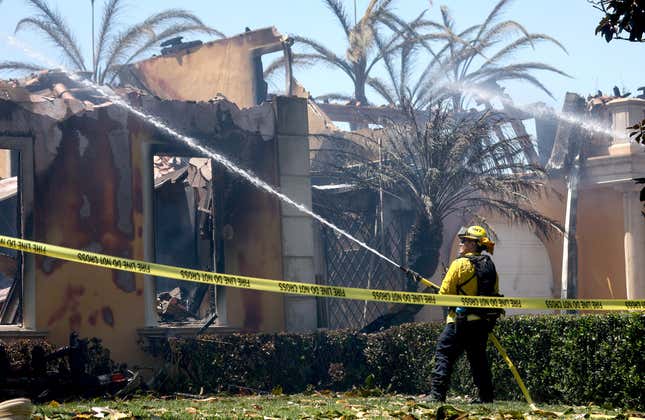 Farmers Insurance is laying off approximately 11% of its workforce in an effort to protect "long-term profitability." The decision comes one month after Farmers said it wouldn't expand its property-insurance business in California beyond its previously laid plans, despite a void left by rivals that have stopped writing new policies in a state contending with costly wildfire damage. About 2,400 employees were cut as part of Farmers' restructuring plan across its business, which includes home, car, and life insurance.
Should you keep investing in Big Tech?
Farmers Group Inc. CEO Raul Vargas cited "existing conditions" in the insurance industry and "macroeconomic challenges" as motivating factors behind the layoffs. "We must carefully manage risk and prudently align our costs with our strategic plans for sustainable profitability," Vargas said in a statement on Aug. 28.
The California-based company is the state's biggest home insurer behind State Farm, according to 2022 data from the Insurance Information Institute, an industry trade group. State Farm also reduced its headcount in recent months. According to Worker Adjustment and Retraining Notification (WARN) records, it has cut more than 750 employees across offices in Texas, Arizona, and Illinois in 2023.
Insurers are backing out of California and Florida due to disaster risks
Farmers and other insurers like Allstate and State Farm have begun to withdraw insurance offerings in some states to reduce their exposure to extreme weather events, which have become more frequent and destructive in a warming world. Inflation, which has exacerbated construction costs, has also made it more expensive for insurers to provide coverage in disaster-prone states.
California and Florida are two states where insurers have been making a marked retreat. Data from the National Centers for Environmental Information (NCEI) shows that just three disasters in California—drought, flooding, and wildfire—within the past year have caused between $5 billion and $10 billion in damages. In Florida, eight disasters in that same time frame—six severe storms and two tropical cyclones—have totaled between $100 billion and $200 billion in costs.
In July, Farmers announced it was ending home, auto, and umbrella coverage in Florida, just before the start of hurricane season. The move impacted 100,000 policyholders, according to CBS. Bankers Insurance also announced in July that it was dropping its home and fire insurance offerings in Florida, while Lexington Insurance said it was ending coverage for 8,000 of its customers in the Sunshine State, as Insurance Journal reported in March. At least six insurers declared insolvency in the state last year.
State Farm and Allstate have also pulled back coverage in California as wildfires blazed across swathes of the state. Allstate made the announcement (pdf) during its November earnings call, stating it would no longer offer new home, condo, or commercial insurance policies. State Farm announced in May that it would no longer accept new applications for property and casualty insurance citing, "historic increases in construction costs outpacing inflation, rapidly growing catastrophe exposure, and a challenging reinsurance market."
One more thing: Some Americans are forgoing home insurance
Amid the mass departure of insurers and rising premiums, some homeowners opt to skip insurance altogether and hope for the best. About 12% of American homeowners lack property insurance, according to figures quoted in the Wall Street Journal. For those who do have a policy, about two thirds are actually underinsured, according to Nationwide, meaning the full value of their home is not factored into their policy.
The combination of climate change, rising costs, and retreating coverage means that even more Americans are risking financial precarity when investing in a home—should disaster strike.
Related stories
🔥 State Farm has stopped insuring Californian homes because of their "catastrophe exposure"
💰 Florida and Louisiana are borrowing hundreds of millions of dollars to cope with hurricane insurance claims
📈 Health insurance rates will rise faster in 2023 in these US states
Editor's note: An earlier version of this story incorrectly stated that Farmers had ended insurance applications in California; it has been revised to reflect that the company is still writing new policies, but not any more than it had planned to before competitors ceded business there. The earlier version also included an incorrect reference to Zurich Insurance Group, which owns Farmers Group Inc. but not Farmers Insurance, which is a related brand but a separate entity; that reference has been removed.