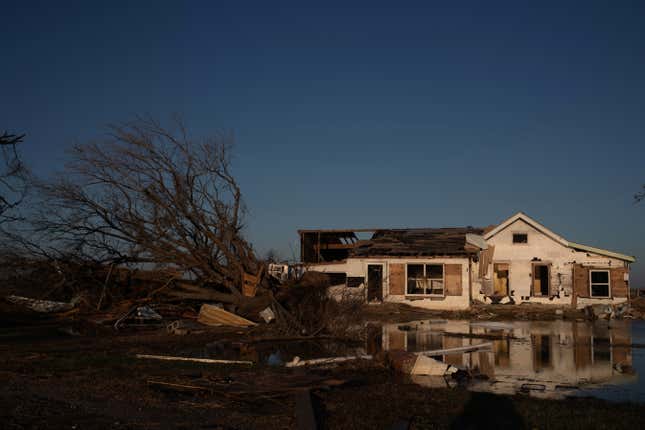 In an emergency financial maneuver, the state-chartered insurance associations of Florida and Louisiana have been forced to borrow a combined $1.3 billion to cover insurance claims caused by worsening hurricanes.
The nonprofit insurance associations were already a backstop measure, stepping in after 2022's Hurricane Ian drove insurance companies in the Gulf Coast into failure, causing the cancellation of tens of thousands of homeowners' policies and leaving millions in unpaid claims.
But those unpaid claims were so high that the associations have had to turn to emergency borrowing of hundreds of millions of dollars at significant interest rates. "We're currently in the midst of an insurance crisis," Jim Donelon, Louisiana's insurance commissioner, said in a news briefing. The crisis is "largely...a result of hurricane activity in our state the last couple of years."
Climate change is making insurance more expensive along the US Gulf Coast

As interest rates have risen over the past year, borrowing has become more expensive. Louisiana has taken on debt of $600 million to cover hurricane insurance claims, for instance, and will pay at least $275 million in interest between now and 2038 (pdf).

The increased burden of debt, including the high borrowing costs, will be shouldered by Florida and Louisiana residents in the form of higher premiums for homeowners' insurance as well as higher costs for auto and theft insurance.
 A study published in April confirmed that climate change is making hurricanes stronger, and will cause more catastrophic storms to hit the US East and Gulf Coasts in the coming decades.
"This is an extraordinary event for us," John Wells, executive director of the Louisiana Insurance Guaranty Association, the state-chartered association, said of the emergency borrowing. "What everybody has to come to terms with is how much it takes to cover catastrophic losses."
Climate change is causing property insurance markets to collapse
Insurance companies are built on their ability to predict loss. But worsening disasters are injecting more uncertainty into calculations, and insurers in the most climate-affected areas are struggling to cope with it.
Reinsurance companies, which help insurers deal with catastrophes, have been fleeing high-risk areas, particularly those prone to wildfires or flooding.
"Just as the US economy was overexposed to mortgage risk in 2008, the economy today is overexposed to climate risk," Eric Andersen, president of Aon PLC, one of the world's largest insurance brokers, said during a Senate hearing in March.
California's wildfires are also driving an insurance crisis, causing higher premiums and lower coverage limits—if property owners can get coverage at all—as insurers withdraw from the market.
In the Gulf Coast, analysts are warning that more insurers could become insolvent before hurricane season starts again on June 1.