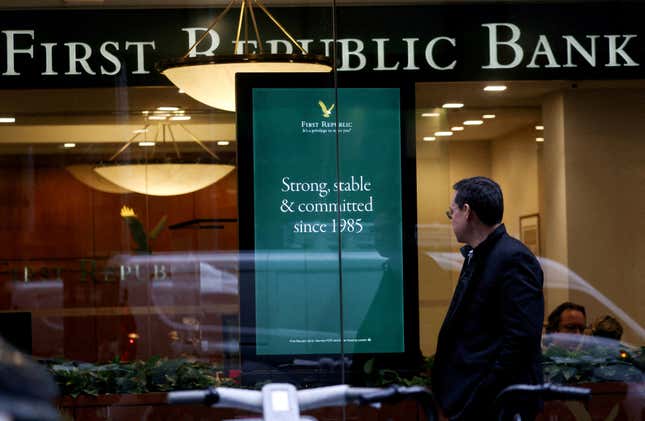 First Republic, which found itself at the center of a brief banking panic in March following the failures of Silicon Valley Bank and Signature Bank, now holds $104.5 billion in deposits, down more than 40% from the $176.4 billion it held at the end of last year.
To strengthen its balance sheet, the bank plans to cut around 25% of its staff, condense its office space, and pullback on executive compensation and nonessential projects.

First Republic was caught up in a spate of bank runs that took down banks with high amounts of flighty deposits that were well past the FDIC insurance limit of $250,000 per account. The San Francisco-based bank received a $30 billion cash infusion from JPMorgan Chase and 10 other big US banks to stabilize it, which boosted its deposit figure in the quarter.
"Unprecedented deposit outflows"
Well known for its private banking services for wealthy clients on the US west coast, First Republic has rarely ever seen this kind of turmoil.
"With the closure of several banks in March, we experienced unprecedented deposit outflows," Neal Holland, chief financial officer of First Republic, said in the bank's first-quarter earnings release. "We moved swiftly and leveraged our high- quality loan and securities portfolios to secure additional liquidity. We are working to restructure our balance sheet and reduce our expenses and short-term borrowings."
As a result of the deposit flight, the bank's Tier 1 leverage ratio—which measures equity capital against risk-weighted assets—fell from 8.5% to 8.25%.
Republic CEO Michael Roffler told investors on the company's April 24 earnings call that the bank's deposits stabilized during the week of March 27. As of March, 31, First Republic's insured deposits stood at $54.6 billion, or 73% of total deposits.
Banking more FDIC-insured deposits
The bank plans to build back its deposit base by looking for insured deposits from new consumers, small businesses, and nonprofits.
"Going forward, uninsured deposits will remain a much smaller percentage of total deposits than in the past," Roffler said.
The bank is also going to reduce the size of its loan book as it becomes less reliant on cheap uninsured deposits. Instead it will focus on originating loans it can sell to other lenders in secondary markets. First Republic would still be the service provider on these loans, so it maintains the relationships built with its clients, Roffler added.
Roffler also noted that the assets under management on the bank's wealth management side had increased by 7% from the previous quarter. Several employees from that division left during the turmoil at First Republic, but those employees managed less than 20% of the bank's wealth management business at the end of the quarter, Roffler said.
Notably, the bank did not take questions from analysts at the end of its earnings call, which wrapped after just nine minutes.