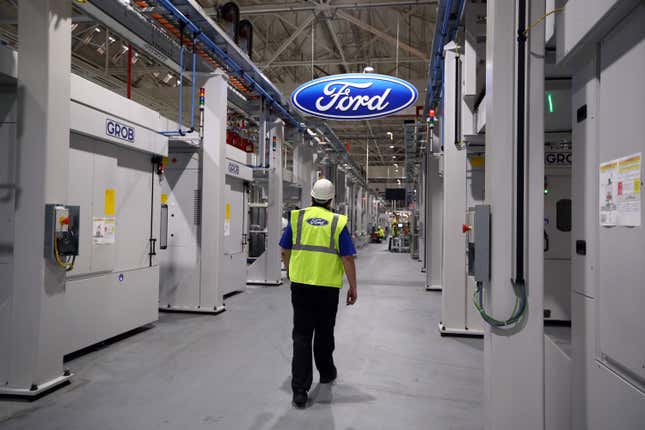 Ford Motor Co. is recalling 125,322 SUVs and pickup trucks in the US, after the discovery that leaked engine fluids and fuel vapor could cause fires, according to a filing with the National Highway Traffic Safety Administration (NHTSA). The recall includes three models of the Escape SUV, the Maverick pickup, and the Lincoln Corsair luxury SUV.
Should you keep investing in Big Tech?
All three are hybrid versions with similarly constructed engines featuring an electric motor, so the vehicle could keep running even if leaked fluids stop its engine from functioning. This elevates the risk of the engine catching fire while the car is in use, according to Ford's filing.
The recall applies to Escapes from 2020–23, Mavericks from 2022–23, and Corsairs from 2021–23.

Ford recalled these same models last July, after identifying a similar problem with their engines. The new recall comes after three vehicles that had received last year's recall fix caught fire. The company said it is still developing a new recall fix.
Ford shares didn't appear to be impacted by the filing, with the stock price up 2% at 2 pm Eastern time on June 6.

Ford has issued a high number of recalls in the past year
This recall comes just days after Ford was forced to recall 142,000 Lincoln MKC SUVs in the US, following reports of under-the-hood fires starting when the car wasn't in use. Models from 2015–19 were affected and will be fixed with a new fuse connected to the battery's power circuit. The NHTSA advised owners of these cars to park outside and away from structures.
In fact, Ford led all US automakers with the most recall alerts in 2022, notifying customers of an urgent safety repair 67 times. All told, 8,636,265 Ford owners got a recall notice last year, according to research by Kelley Blue Book.
Related stories:
Ford doesn't think its EV business will be profitable for at least another year
Ford became the first US carmaker to take up Tesla's offer to use its supercharging network
Ford's EV unit lost $722 million last quarter, but it's still cutting prices to compete with Tesla