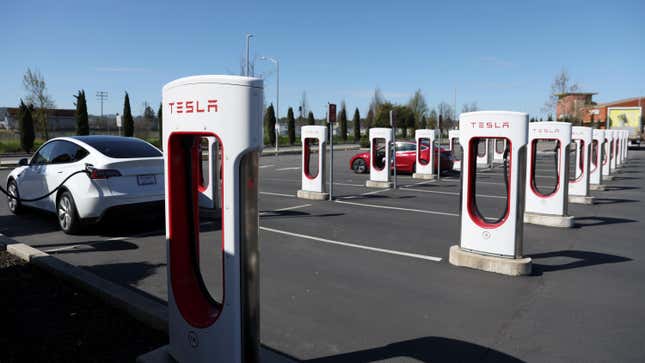 Ford electric vehicle (EV) owners will soon be able to plug into Tesla's vast EV fast charging network.
Carin Pai, Part 2: Reasons to de-risk your portfolio
Starting in spring 2024, Ford EV owners in the US and Canada will be able to use Ford's mobile app to use Tesla's 12,000 Supercharger stations, Ford CEO Jim Farley and Elon Musk announced in a Twitter Spaces announcement yesterday (May 25). Tesla CEO Musk is also the owner and chief at Twitter.
"I have a tremendous amount of respect for Ford as a company, and it makes great vehicles. This is something we're super happy to support," Musk said during the livestream.
Tesla Superchargers far outnumber the Combined Charging Systems (CCS) used by most other EV markers like Ford, General Motors, Audi, and Rivian, so Ford's next-generation EVs in 2025 will be made with Tesla-style North American Charging Standard (NACS) ports, Farley said.
Ford, which has been engaging in price wars with Tesla, is the first major automaker to take up Musk's invitation to rival manufacturers to build EVs using Tesla's charging port. Tesla then took a step further in February, announcing it would open its US charging network to other car brands as part of a $7.5 billion federal program to increase the use of EVs and reduce carbon emissions.
Quotable: Tesla and Ford join hands to further EV adoption
"Tesla has led the industry in creating a large, reliable and efficient charging system and we are pleased to be able to join forces in a way that benefits customers and overall EV adoption. The Tesla Supercharger network has excellent reliability and the NACS plug is smaller and lighter. Overall, this provides a superior experience for customers." —Marin Gjaja, chief customer officer for Ford Model e
Charted: The Tesla Supercharger network Ford EV owners will get access to
Will existing Ford EVs be able to use Tesla's Superchargers?
Existing Ford EVs like the Mustang Mach-E, F-150 Lightning, and E-Transit vehicles will be able to use Tesla's Superchargers "via an adapter and software integration along with activation and payment via FordPass or Ford Pro Intelligence," Ford said in its press release.
Ford EV network, by the digits
12,000: Tesla Superchargers across the US and Canada Ford EV customers will have access to by spring 2024. This is in addition to…
…10,000: DC fast-chargers that are already part of Ford's BlueOval Charge Network, which has…
84,000: Chargers in total.
1,800: How many more public-facing fast-chargers and locations Ford is adding to the BlueOval Charge Network by early 2024
2 to 1: The ratio of Tesla's Supercharger network to CSS chargers across the US
"Hundred of dollars": The price range for the adapter Ford EV owners will need to use Tesla charges, according to Musk
2 million: Annual production capacity of EVs globally Ford plans to achieve by 2026
200: Miles that can be added to an EV's range in 15 minutes at a Tesla supercharger station
Related stories
🔌 The EU mandated USB-C ports for devices. Electric car chargers should be next
🏷️ Ford's EV unit lost $722 million last quarter, but it's still cutting prices to compete with Tesla