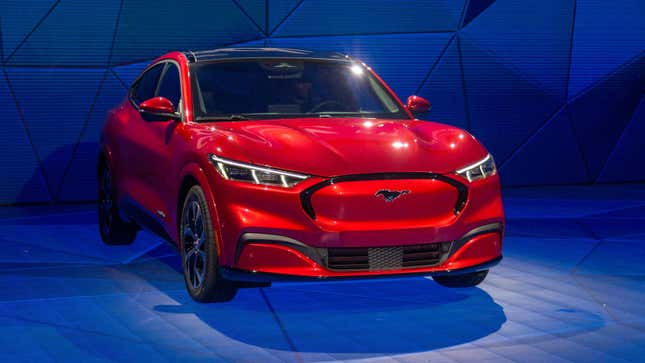 Ford announced it would slash the price of its all-electric Mustang Mach-E by between $1,000 and $4,000 this week, the latest move to keep up with Tesla's recurring price changes.

Eric Beiley Part II: Where rates are heading
For Ford, this is the second price reduction of the year. In January, after Tesla reduced the price tag on its Model Y, Ford cut prices of the Mach-E range by $600 to $5,900. Despite the changes, CEO Tim Farley said during the company's earnings call yesterday (May 2) that Ford won't pursue a price war at any cost: "We are not going to price just to gain market share." Tesla has so far cut prices on some of its models six times this year—although it slightly raised prices for some other models in some markets, too, as recently as this week.
After a nearly 20% drop in year-over-year sales in Mustang Mach-E, owing to renovations at its plant in Mexico, Ford needs to make a comeback—and what better way to lure customers than with cheaper prices? For the Michigan-based automaker, though, this discount adds to ongoing costs. While Tesla is clocking record profits, Ford's electric vehicle business is bleeding. Its EV unit lost a whopping $722 million before tax in the quarter ending March 31 of this year.
The 120-year-old company was bracing for the cost of the EV transition. Last year, Ford separated its gas and hybrid vehicles ("Ford Blue"), and EVs ("Ford Model e") into separate units in a sweeping reorganization. At the time, CEO Jim Farley described the traditional business as "a profit and cash engine." It'll make up for the initial loss-making years of the EV arm. Ford Blue contributed to the largest share of the company's $1.76 billion profit last quarter.
Charted: Mustang Mach-E sales fell dramatically
Quotable: Ford's EVs were disrupted because of upgrades
"Quarterly shipments of and revenue from EVs were limited by production interruptions of two highly popular vehicles: the Mustang Mach-E SUV, to make industrial changes that will nearly double manufacturing capacity, and the F-150 Lightning pickup, to isolate and address a battery issue before it became a problem for customers." —Ford's 1Q 2023 earnings report
Ford's EV business, by the digits
$41.5 billion: Ford's Q1 2023 revenue, up 20% from the same period a year ago as the supply chain recovers and demand rebounds
$1.8 billion: Ford's net income in Q1 2023
$9 billion to $11 billion: Ford's forecast of pretax profit for the year
$2.1 billion: How much Ford's EV business lost on an operating basis in 2022—more than double the $900 million it lost the previous year
$4,000: The largest price reduction, of nearly 8%, was made to Ford's premium standard range and GT all-wheel drive extended range models
$3 billion: Ford's expected full-year loss for its EV unit in 2023
8%: The adjusted operating margin that Ford forecasts for the Ford Model e business by the end of 2026
2 million: EVs Ford plans to produce annually around the world by 2026
33 minutes: How long Ford's new range models Mustang, equipped with lithium iron phosphate (LFP) batteries, will take to fast charge from 10% to 80%—an improvement of five minutes
A non-exhaustive list of what Ford is doing to boost EV capacity
🛻 Construction at the $5.6 billion BlueOval City mega-campus in Stanton, Tennessee, is on track to commence production by 2025. That's where Ford Model e will manufacture its next-generation electric pickup.
🏭 Ford is transforming an existing operation in Ontario, Canada, to produce batteries and next-generation EVs.
🔋 The carmaker is constructing and staffing an LFP battery plant in Marshall, Michigan.
Related stories
🔋Ford doesn't think its EV business will be profitable for at least another year
🛑 Ford is dropping production of its most popular car to focus on EVs