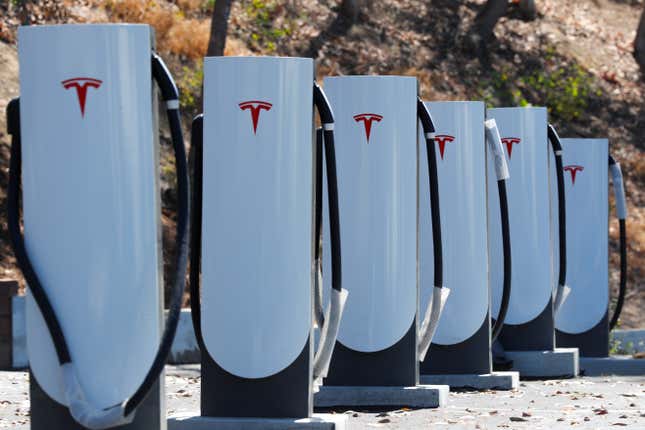 The Biden administration is opening up federal subsidies to Tesla charging stations—but only if they carry US's own fast-charging standard for electric vehicles.

What inspired Elon Musk's design for Tesla's Cybertruck?
On Friday (June 9), the White House said that EV charging stations using Tesla's standard plugs—the North American Charging Standard (NACS), as Tesla christened it last year—would be eligible for billions of dollars in federal subsidies. But they must include the "combined charging system" (CCS) to qualify.

Tesla's charging ports are so rapidly becoming the norm, as legacy carmarkers like Ford and GM embrace it, that US government is unable to resist its ubiquity. The White House's announcement marks the first time the administration has explicitly included Tesla in its $7.5 billion plan to build new, high-speed charging stations on 7,500 miles of the nation's busiest highways.
"Public funding must continue to go towards open standards, which is always better for the consumer," a displeased CharIN North America—an industry body that promotes CCS—had said after Ford became the first major US automaker to jump on the Tesla charger bandwagon last month. "Public EV infrastructure funding...should continue to only be approved for CCS-standard-enabled chargers per federal minimum standards guidance."
Quotable: White House brings Tesla into its EV charging plans for the first time
"Earlier this year, we developed minimum standards to ensure publicly funded EV charging is accessible, reliable, and affordable for all drivers, and we required interoperability to promote competition. Those standards give flexibility for adding both CCS and NACS, as long as drivers can count on a minimum of CCS."

—White House spokesperson Robyn Patterson, in statement to Reuters
A brief history of the growing presence of Tesla Superchargers
2012: There is no industry standard when Tesla debuts on the scene, so it develops its own charging plug for its EVs.
November 2022: Musk releases the NACS design and extends an invitation to rival manufacturers to build EVs using Tesla's charging port. The White House cheers the move but makes no announcements about Tesla's role in its charging infrastructure plans.
February 2022: Tesla announces it will open up its US charging network to other car brands, as part of a $7.5 billion federal program to increase the use of EVs and reduce carbon emissions.
May 2023: Setting its price wars with Tesla aside, Ford becomes the first major US automaker to announce that its new EV owners in the US and Canada will be able to use Tesla's Superchargers starting in spring 2024. Existing Ford EVs like the Mustang Mach-E, F-150 Lightning, and E-Transit can be modified to use Tesla's Superchargers via an adapter and software integration.
June 2023: GM follows in Ford's footsteps and adopts Tesla's NACS as the norm.
Charted: The popularity of Tesla chargers shocked the shares of rival EV charging firms
By the digits: The charging standards war 
17,000: The number of Tesla Supercharger connectors in the US and Canada, compared to...

11,000: ...the number of CCS combo ports in North America.

Half the size, twice as powerful: Tesla's claims about NACS versus CCS
70%: The share of US EV sales that Tesla, GM, and Ford together account for. That makes NACS more of a "standard" then CCS.
200: The number of miles that can be added to an EV's range in 15 minutes at a Tesla supercharger station
"Hundred of dollars": The price range for the adapter that owners of older Ford EVs will require to use Tesla chargers, according to Musk
81,000: The number of fast charging stations using the CCS connector worldwide, compared to...
...45,000: The number of Tesla Superchargers around the world

More than 300: The number of domestic and international members of CharIN North America that are using or investing in CCS
More than 50: The number of passenger vehicle models in the US that use CCS, according to CharIN
$175 (or less): The price of an adapter that lets NACS cars use CCS, suggesting that there's no big incentive for CCS station managers to add NACS plugs. This, combined with the possibility that NACS adapters for CCS cars will become readily available, would suggest that having two "standards" in the US is possible and maybe even convenient.
Fun fact: Tesla uses CCS
Tesla uses CCS in Europe, in compliance with the global standard.
Related stories
🚗 Ford became the first US carmaker to take up Tesla's offer to use its supercharging network
🔌 The EU mandated USB-C ports for devices. Electric car chargers should be next
🏷️ Ford's EV unit lost $722 million last quarter, but it's still cutting prices to compete with Tesla