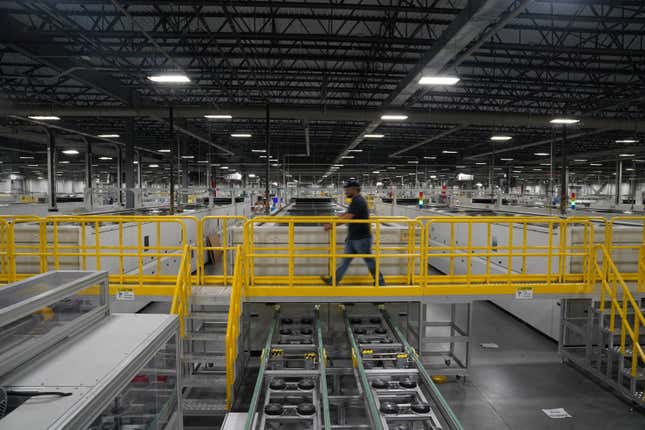 Buoyed by incentives offered by the US Inflation Reduction Act and the CHIPS Act, the US benefited from a significant increase in foreign investment into its manufacturing sector last year.
Why a tightening of credit conditions could lead to a weak economy
Data published last week (pdf) by the US Bureau of Economic Analysis (BEA) showed that foreign direct investments in greenfield projects, which include both the establishment and expansion of US businesses, hit $5.3 billion in the American manufacturing sector—more than double pre-pandemic levels.
Within manufacturing, the computers and electronic products sectors took the largest share of greenfield investments, totaling $1.8 billion.
Across all sectors (not just manufacturing), the number of $1 billion-plus greenfield projects also jumped last year to 16, from only five the previous year.
Are European firms redirecting investments to the US?
Washington's blockbuster production incentives have raised concerns across the Atlantic that European firms will try to relocate their investments to the US. That prospect has prompted warnings of a potential US-EU trade dispute as the two sides slide into a "subsidies arms race." (Others have pushed back against this framing, arguing that Washington and Brussels are instead engaged in a subsidies relay race, ultimately growing the pie of clean energy manufacturing opportunities).
In any case, the IRA and CHIPS acts so far do not appear to have led to a massive outflow of European investments to the US, according to an analysis (pdf) by Simon Evenett, a professor of international trade and economic development at the University of St. Gallen in Switzerland.
Examining BEA data, Evenett found that while non-European greenfield investments across all sectors, not just manufacturing, in the US spiked last year, investments from Europe actually fell.
Total planned expenditures from European investors announced last year in US greenfield projects fell to $4.9 billion from over $20 billion in 2021, according to his calculations. Total planned expenditures refer to the amount of money invested in the year of announcement, plus promised future spending until the project's completion.
Given this data, it's best not to "go to the wall making the case that Biden administration subsidies have transformed the attractiveness of the US economy to European greenfield investors," Evenett wrote. "Once again, the narrative is far ahead of the evidence."