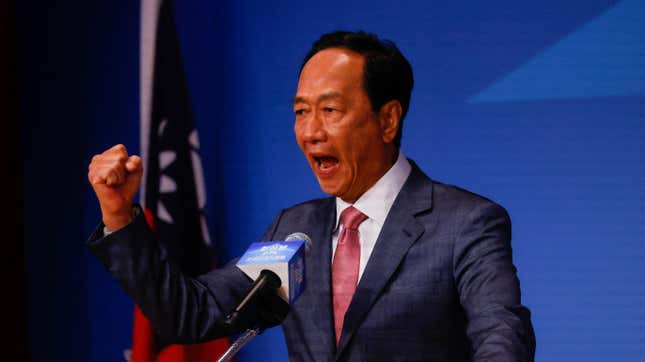 Billionaire Terry Gou has thrown his hat in the proverbial ring for Taiwan's upcoming presidential election in January, but now there's a twist. After failing to secure the opposition party's nomination as he'd hoped, Gou, the founder of Foxconn, will instead run as an independent candidate.

Why a tightening of credit conditions could lead to a weak economy
This is Guo's third attempt to become president. In 2019, back when he was the richest person on the island, he resigned as chairman of Foxconn, known as the major supplier of Apple's iPhones, in order to run. However, he dropped out after failing to win the nomination for the nation's main opposition party, the Kuomintang (KMT).
This April, Gou said he'd once again seek the presidential nomination for the KMT, which denies being pro-Beijing but favors cordial relations with China. But history repeated itself, and Gou was rebuffed. Party favorite Hou Yu-ih, the mayor of New Taipei City, won the bid in May.
This time, though, Gou didn't call it quits.
One big number: Signatures Terry Gou needs to officially run for president
290,000: Voter signatures Gou must gather by Nov. 2 to qualify as an independent candidate without backing from any major party.
Quotable: Terry Guo "will not let Taiwan become the next Ukraine"
"Give me four years and I promise that I will bring 50 years of peace to the Taiwan Strait and build the deepest foundation for the mutual trust across the strait... Taiwan must not become Ukraine and I will not let Taiwan become the next Ukraine."

—Terry Gou in his plea to voters at a press event in Taiwan's capital, Taipei, today (Aug. 28) 
Person of interest: William Lai
Taiwan's ruling party, the Democratic Progressive Party (DPP), which has long maintained a pro-independence stance, will likely stay in power. Its presidential candidate pick, current vice president William Lai, is the frontrunner in the polls.
With China regularly staging military exercises near the island to claim sovereignty, tensions are running high ahead of the election. In the lead-up, Lai, the 63-year-old doctor-turned-politician, has softened his approach, saying he has no plans to formally declare independence for Taiwan if elected.
Lai doesn't face too much competition. Hou's campaign is crumbling, which is helping former Taipei mayor Ko Wen-Je, but Lai's lead is too big for either of them to catch up.
Realistically, Gou's chances of winning are next to nil.
Related stories
🇹🇼 Apple supplier Foxconn's founder is once again running for president in Taiwan
💰 An Asian tech billionaire's presidential bid comes with a promise to soak the rich

💭 Taiwan's iPhone billionaire is running for president after a goddess appeared in his dreams