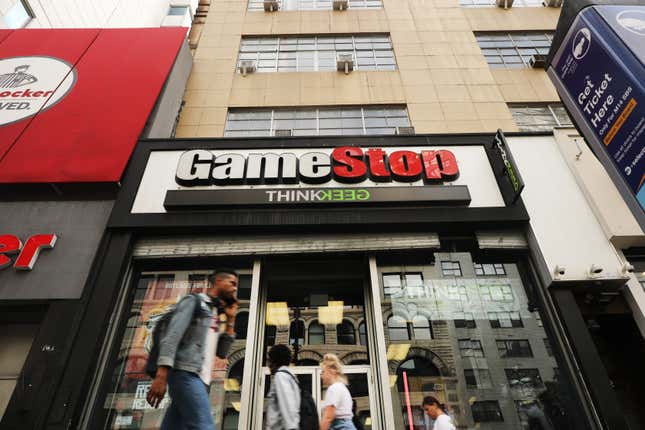 After two years of earnings in the red, GameStop posted a profitable quarter.
The video game retailer released its quarterly earnings report yesterday (March 21), and it showed a $48.2 million net profit in Q4 2022. That's compared to a net loss of $147.5 million in Q4 2021 the prior year.
Eric Beiley Part II: Where rates are heading
Subsequently, GameStop stock jumped close to 40% in premarket trading this morning (March 22).
The company posted an adjusted profit of 16 cents per share for Q4 2022. But the expected earnings per share prior to posting was negative 13 cents, resulting in a surprise beat of 220%. One year prior in Q4 2021, GameStop's earnings per share was a negative 47 cents.

Laying off corporate staff
A series of layoffs might have helped cut costs for the company. In December, GameStop's CEO Matt Furlong stated in a memo that the company had determined the "right level of corporate staff" needed in order to reach its profitability and growth goals.
Net sales is still lower than a year ago, at $2.22 billion in Q4 2022, compared to $2.25 billion in Q4 2021.
Going into 2023, Furlong said on an investor call that the company will make further cuts, particularly in its European markets, where it has already been reducing its number of retail stores. The company will also consider higher margin categories like toys as a way to boost business.
GameStop has a backlog of inventory as a result of supply chain delays during the Covid-19 pandemic. Its Q4 report shows it maintains $682.9 million in inventory, down from $915 million a year ago.
Related stories:
🤔 Why investors love GameStop's stock split
🎁 GameStop's FTX deal is about gift cards. Its stock went up anyway.
🎮 How the gaming industry is changing across the world

🪄 Gaming is about solving problems that don't exist, and that's a good thing