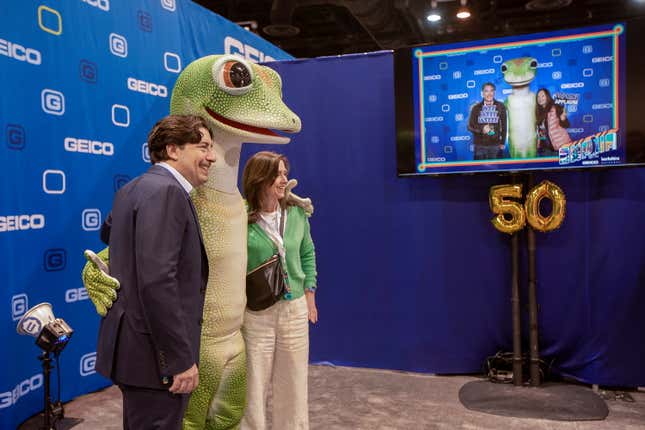 Berkshire Hathaway posted its highest-ever operating profit last weekend, after strong performances from several of its companies, including car insurer Geico.

Ben Emons Part 2: The Fed, Apple shares
Owned by Warren Buffett's massive holding company, Geico sustained high margins in its latest earnings report, posting a $514 million pre-tax profit. A 38% annual increase from the second quarter of 2022, it's the firm's second straight profitable quarter after six in the red. The good news comes despite slumping profits among major US auto insurers.
While Geico's increase comes from a variety of sources (including higher car prices leading to higher premiums), the biggest factor is a sharp decline in its advertising budget.
Last year, Geico slashed that budget by 38%, spending $800 million less than in 2021. Previously, its iconic gecko-themed commercials led the company to shell out more on ads than any other auto insurance firm, including $2.16 billion in 2020. By comparison, Geico spent $403 million on advertising in 2005.
The pullback is part of a broader industry trend, with Allstate, Progressive, and State Farm all reducing their marketing budgets last year, after decades of big spending.

Charted: Berkshire Hathaway's big 2023

Americans hardly change insurers, so why are there so many commercials?

Despite that retreat, insurance companies still spend more on advertising than almost any other industry, with Geico, Progressive, and State Farm making up three of the six top private ad spenders in the US. Yet roughly one third of Americans never switch their auto or home insurance.
So, why all the ads? There's no clear answer. Auto insurance is a good business model—it's compulsory in nearly all states—giving it a large marketing budget and a new potential customer every time a teenager applies for a learner's permit. At the same time, insurance pricing is highly volatile, so some companies offer tantalizing discounts to persuade consumers to ditch their current provider. The pitch often comes in the form of a tagline like "15 minutes can save you 15% or more on car insurance."
But mostly, the answer seems to be that insurers have been locked in an "advertising arms race" during the era of viral marketing. Because the industry isn't particularly consolidated, new customers have many options, with few resources to help them choose. So if one company spends hundreds of millions of dollars on commercials, all the rest must follow suit.
The US auto insurance market, by the digits
$2,008: Average annual amount spent on auto insurance.
48: States where car insurance is mandatory. Only New Hampshire and Virginia don't require it.
8.4%: Estimated average increase for auto insurance rates in 2023. The rise is mainly driven by more expensive cars, which have higher premiums.
Related stories:
🩺 At 92, Warren Buffett has led Berkshire Hathaway to its highest operating profit ever
📈 Warren Buffett's "buy and hold" rule doesn't seem to apply to tech stocks 
🤖 Warren Buffett backs Taiwanese chipmaker TSMC like a full-fledged tech investor