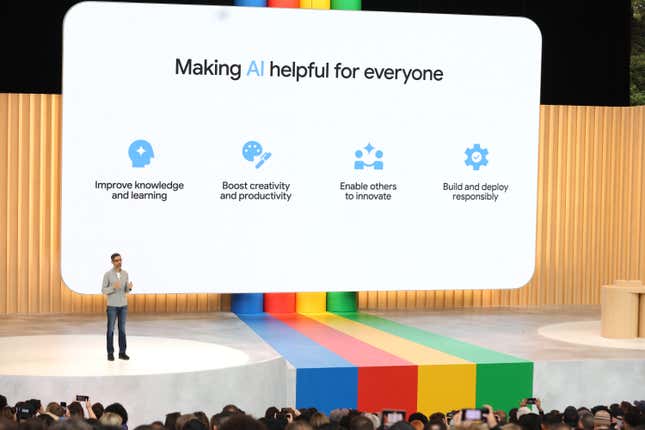 The king of search is adding AI to its functionality.

At its annual I/O conference yesterday (May 10), Alphabet unveiled a new version of Google search that incorporates generative AI. The tech giant is hoping to catch up with rival Microsoft, which launched its GPT-powered Bing earlier this year in a challenge to Google's search dominance.
In a demonstration, Elizabeth Reid, vice president and general manager of search at Google, showed how a question in the search box could pull up an AI snapshot listing relevant information. The web links seen in the current iteration of search will still be available below the snapshot.
The AI search function will only be activated when the algorithm determines it to be more helpful than traditional search. The presentation also emphasized the usefulness of the AI capabilities in online shopping through Google's Shopping Graph, which the company says has data on 35 billion product listings.
Is the new Google search available for use now?
Not yet, but US users can join a waitlist for the trial, which Google is calling an "experiment." First you have to sign up for a new AI testing ground called Search Labs, which opened on May 10. In "coming weeks" Search Labs will open access to trial the new search function Google calls "Search Generative Experience" (or SGE). Access will be available on Chrome desktop and through the Google App on IoS or Android.
Are there ads in Google's AI-powered search?
There was no mention of ads at the demo, something Bing has already brought onboard to its AI revamp. Ads in the new AI search are still in the experimental phase, according to a report from The Verge, and are likely to make an appearance down the line as they remain Google's top source of revenue.
The potential impact, and risks, of Google's AI search update
While still in its trial phase, Google's venture into AI search marks the first step in a potentially radical change in how billions of users find information. Currently, Google holds over 80% of the global search market, and draws an average of 3.5 billion searches daily, according to InternetLiveStats.
Google has been cautious about being too hasty in the debut of AI technology, a move that head of Google's AI division, Jeff Dean, said carries "reputational risk."
The tech giant has likely grown even more cautious since it launched ChatGPT rival Bard in February. Google posted a demo of the AI chatbot on Twitter, not knowing that it gave a wrong answer in the video. The blunder wiped $100 billion from the company's market value in a day. Investors reacted positively to the I/O's announcements, lifting Alphabet's shares by 4% and reaching a 9-month high.
Related stories 
😮 A Google AI model developed a skill it wasn't expected to have
🍎 How to prompt ChatGPT like a pro, according to an AI advisor
📱 Microsoft's new collaboration with an AI startup promises apps for everyone