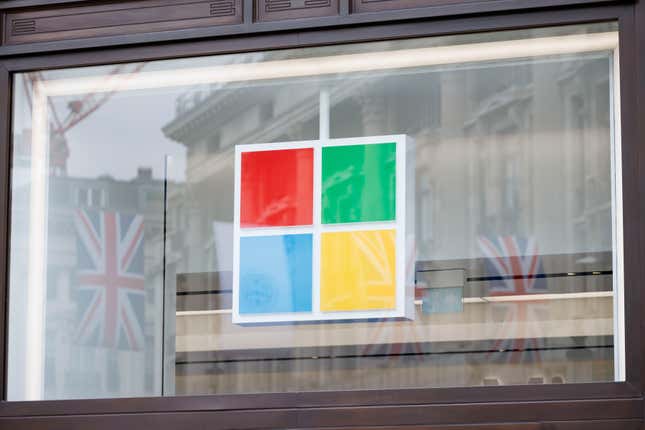 Microsoft is putting its money where its artificial intelligence (AI) ambitions are.

The Redmond, Washington-based tech giant has invested an undisclosed sum in no-code app builder Builder.ai in a deal that includes an equity investment.
"The collaboration will accelerate go-to-market growth of the Builder.ai platform through deep product connections across the Microsoft product ecosystem," according to the announcement made today (May 10). "This includes integrations across Azure OpenAI Service and other Azure Cognitive Services with Builder.ai's software assembly line and adoption of the Microsoft Cloud and AI."
Neither companies responded to Quartz's request about the terms of the deal at the time of publishing.
A brief explanation of how Builder.ai works
Builder.ai says it opens access to software development to non-coders by breaking software down into "reusable lego-like features." This AI-powered assembly line of sorts is complimented by "customization from its managed expert network of designers and developers."
The London-based seven-year-old company claims its product makes building projects faster and 70% more affordable.
AI assistant Natasha heads to Microsoft Teams
Natasha is Builder.ai's AI project manager. "Using machine learning algorithms, she recommends the features you need, based on the type of app you're building," the company explains on its website. "Natasha also creates an instant prototype for you, helping visualise your idea."
Microsoft is planning to integrate Natasha within the Microsoft Teams stores, which is a hub for apps businesses can use to communicate, automate, consolidate, and collaborate in different ways. With Natasha, Microsoft customers will be able "to build a prototype of their business applications seamlessly, unlocking access and reach to new customers for Builder.ai," the companies said in their press release.
Meanwhile, Builder.ai will also enhance Natasha by leveraging Microsoft's AI algorithms to make it sound more human, the company told CNBC.
Quotable: Everyone can be a developer
"We see Builder.ai creating an entirely new category that empowers everyone to be a developer and our new, deeper collaboration fuelled by Azure AI will bring the combined power of both companies to businesses around the world," —Jon Tinter, Corporate Vice President, Business Development, Microsoft.
Rabbit hole: Microsoft's AI opportunity
AI could double cloud revenue for Microsoft and revolutionize its Bing search engine, research and brokerage firm Bernstein predicts. That's why it has pumped billions into OpenAI, the company behind the new AI chatbot that's all the rage, ChatGPT; integrated ChatGPT into Bing; and woven OpenAI's technology into its Office tools like Word and Excel. The Builder.ai investment is another step in the direction of dominating all things AI.
One more thing: Activision Blizzard blunder hasn't turned Microsoft off the UK
The UK competition watchdog recently blocked Microsoft's nearly $70 billion deal to acquire gaming company Activision Blizzard after a nine-month probe, concluding that it would hurt competition and increase prices. The Call of Duty publisher accused the Competition and Markets Authority (CMA) of going against "the ambitions of the UK to become an attractive country to build technology businesses" and doing a "disservice to UK citizens, who face increasingly dire economic prospects."
Even as Microsoft and Activision gear up to appeal CMA's ruling, the Builder.ai investment shows that, in other parts of the UK tech environment, Microsoft is still doing business as usual.
Related stories
🕵️ With its AI edge, Microsoft is eating into Google's search dominance
💼 The first real-world study of AI in the workplace finds a surprising benefit for novice workers
🎤 Outspoken as ever, Liam Gallagher gave Oasis's AI revival his mark of approval