In November 2022, a new tool arrived on the scene that promised to revolutionize how we communicate, write, and create. Its name? ChatGPT. While language models themselves are not a new concept, their popularity and sophistication are rapidly growing.

In just five days, ChatGPT hit the one million user mark, a feat that took its predecessor two years to achieve. The rise of these language models presents a unique opportunity for workers looking to improve their writing, communication, and creativity. But with great power comes great responsibility, and questions abound about the impact of these models on the workforce and society at large.
Allie Miller, a prominent AI entrepreneur, and former IBM Watson product manager, has emerged as a leading voice in the conversation about the implications of language models like ChatGPT. In a recent discussion with organizational psychologist Adam Grant and Wharton management professor Ethan Mollick, Miller shared her insights on the importance of thoughtful and responsible use of these powerful tools.
So how can we become confident users of these language models and leverage their power to increase our impact in the workplace? It's all in the constraints.
Applying constraints to get better outputs
To join the leagues of confident users, Miller says the key is using them thoughtfully, with as many constraints as you can. "There's a famous line that's 'constraints breed creativity,'" said Miller. "And anytime I'm prompting ChatGPT, I'll try and say, Keep it under 50 characters. Keep it under 50 words. You have to use the word perpetual. And I love just seeing how things like that can change its output." She offers two main constraints to help you embrace these models.
Constraint 1: Give it a specific writing style
Miller suggests you input your best, previous writing (or the writing of someone you admire) into ChatGPT and ask the model to describe the writing style. Once you hear how the model would describe the writing, you can begin to offer more constraints. Perhaps you give the command to make the writing more abstract or evidence-based—whatever you want to infuse in your writing. This approach helps her refine her writing style and improve the output.
For example, I asked ChatGPT to tell me about the style of writing for this simple sentence:
I work hard and believe I deserve a raise.
I then asked the model to "make the writing more persuasive." What ChatGPT came back with: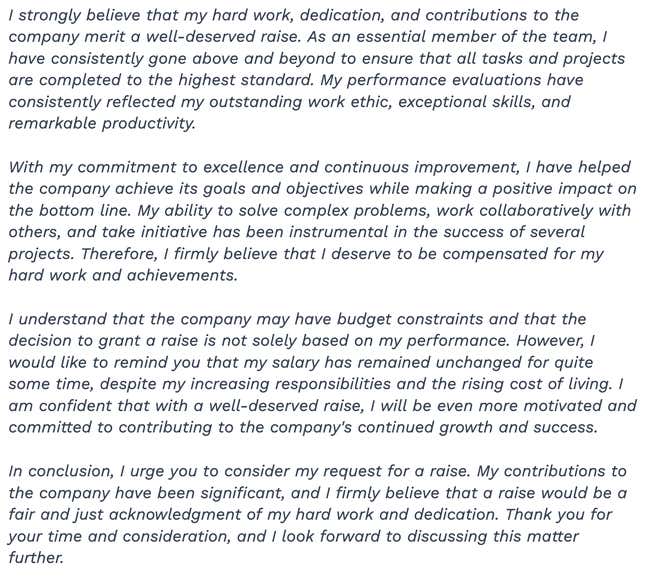 Given the emotions involved in requesting more money and the nerves that likely come along with it, I guess a draft like this would take the average human longer than 60 seconds to compile. This use, says Miller, is Google's concept of NORA: no one right answer. "There's no one right answer for these [types of questions], and that is a massive productivity uplift that a lot of people can benefit from that is less reliant on accuracy and more reliant on helpfulness," says Miller.

Constraint 2: Give it multiple prompts
Miller advocates for people to take full advantage of the conversational interface and experiment with different prompts and constraints to see how they can change the output. To illustrate the power of prompts, Miller turned to gift-giving. She admits she is a terrible gift giver and uses ChatGPT to figure out what to get everyone in her life. She provides specific prompts and information about the recipient's interests, and ChatGPT generates responses with ideas for gifts that she may not have thought of herself.
To test this out, I asked ChatGPT to give me three employee recognition ideas under $20. I then added three additional constraints to the ask: the employee is nature-loving, a cat owner, and loves to knit. The results were much more specific—and exciting.




Making AI work for you at work
AI language models like ChatGPT are revolutionizing the way we work and live. While there are concerns about their potential to replace human jobs, they can be a powerful tool to augment human abilities and improve productivity. By using the conversational interface and experimenting with different prompts and constraints, users can harness more of the full potential of AI language models and use them to improve their work and personal lives.
In order to harness its power and create new opportunities for workers, we need to engage in meaningful conversations about the future of work—both with each other and apparently with the tools themselves.