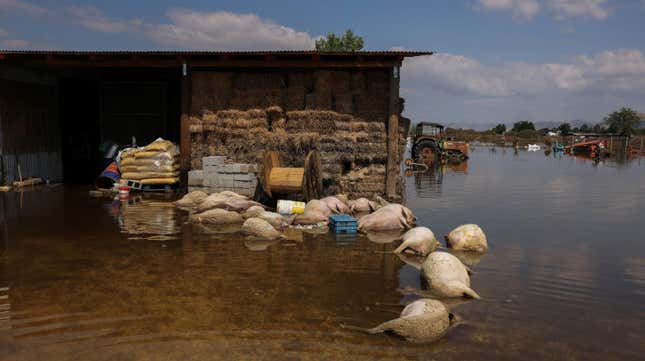 After a summer of scorching heat and devastating wildfires, unprecedented rainfall—the worst since Greece started keeping records in 1930—is destroying lives, property, and agriculture in the country.

Should you keep investing in Big Tech?
In just one day, Magnesia, a central region in Greece, was hit by 600-800 mm of rainfall in 24 hours. As the Pineios river surged and burst its banks, Larissa, the fifth-largest Greek city, was deemed at high risk of flooding by Friday (Sep. 9). As Thessaly's capital and the agricultural hub of the whole country, Larissa had already lost nearly a quarter of this year's crop production by then, the BBC reported.
Typically, all of Greece receives an average of around 650 mm of rainfall every year, but Storm Daniel, a once-in-a-millennium event, has disrupted the weather as well as politics severely. Already rising energy prices had increased farmers' production costs in Larissa by 50% last year, sparking protests. The floods only add to their woes. Recovery won't be easy. The water has receded but left a muddy layer on otherwise rich agricultural lands. Restoring them to fertile condition will take years, and will involve much more than restoring power and water and clearing up debris.

Snapshot: The agriculture economy in Larissa
Roughly 12% of Greece's cultivated lands are located in Thessaly, and agriculture's contribution to the regional economy is an outsized 35%. Larissa, the capital, with a population of over 144,000, plays a key role:
👚 The area around Larissa produces nearly 40% of Greece's cotton. In turn, Greece produces 80% of Europe's cotton.

🚬 Larissa also one of the main tobacco-producing areas in the country. Greece is one of the top tobacco manufacturers in and for the European Union.
🌾 A wide range of crops are grown in Larissa, including cereals, legumes, beets, watermelons, and melons. Corn, tomato, and apple crops have been destroyed by the floods over the past few days.

🥂 Several Protected Designation of Origin (PDO) products—those that are produced, processed, and prepared in a specific geographical area like Champagne from France—including local cheeses, wines, and spirits are also produced in Larissa. The list includes Greece's so-called national drink, ouzo (anise liqueur), which originated in the late 19th century in Tirnavos, Thessaly.
By the digits: Storm Daniel's Greek floods
754 mm: The highest volume of of rain fell in Zagora, a village near Mount Pelion, just northeast of Volos. For comparison, the capital city of Athens receives an average of about 400 mm in a year.
15: The number of flood-related deaths in Greece
Thousands: The number of farm animals drowned during the floods

2 meters: How deep the floodwaters in some areas remained even after the rain stopped
4 days: How long the coastal city of Volos has been without clean drinking water

3,500: The number of people evacuated by Greece's fire authorities since the flooding began
Quotable: What caused the record-shattering rains in Greece?
The heavy rainfall was fueled by a stalled low-pressure storm system that became cut-off from the jet stream, also known as a cut-off low. This storm was similar in nature to the cut-off low that caused downpours in Spain on September 3, and is part of an unusual omega weather system, in which a zone of high pressure is sandwiched between two areas of low pressure. This omega weather system was blamed for both an unseasonal heatwave in the UK and the catastrophic flooding in Spain, Greece, Bulgaria, and Turkey.
Related stories
🤔 Why flooding is so difficult to predict and prepare for
🤖 Google believes AI can minimize deaths from flooding in 80 countries
🌊 Flooding threatens African food supplies just as much as drought