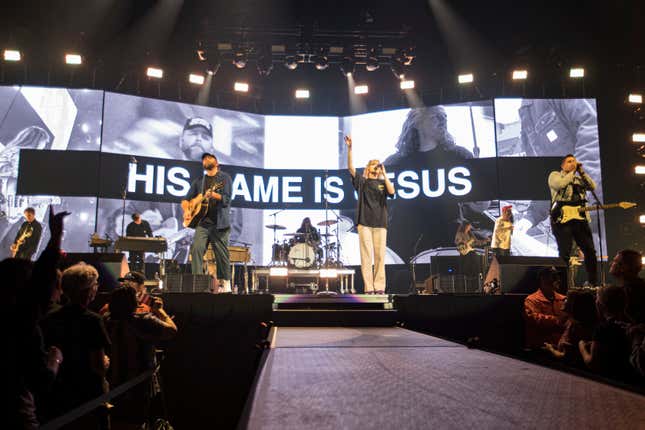 The Hillsong megachurch was accused of financial misconduct by a member of the Australian parliament on Thursday (Mar. 9). Andrew Wilkie, an independent lawmaker, claimed that leaked financial documents show that the church earned 80 million Australian dollars ($53 million) more than it reported, as well as evidence of fraud and money laundering.

Should you keep investing in Big Tech?
Wilkie said he had proof that senior leadership spent church funds on extravagant purchases, such as resort vacations, luxury watches, and designer clothes. He detailed five private jet trips made by cofounder Brian Houston in a three-month period costing between $20,000 and $55,000 and five-figure business class flights booked by Hillsong head Phil Dooley.

Wilkies also accused Australian tax authorities of being aware of the documents and refusing to act. "This is a failure of regulatory oversight every bit as alarming as Hillsong's criminality," Wilkies said in a speech to parliament, as reported in the Australian. The MP made the declarations under parliamentary privilege, which allows lawmakers to read confidential documents into the official record without fear of legal action.

Representatives for Hillsong said the church was working to overhaul governance and accountability procedures.

"The claims made in federal parliament by Mr Andrew Wilkie are out of context and relate to untested allegations made by an employee in an ongoing legal case. These allegations, made under parliamentary privilege, are in many respects wrong, and it is disappointing he made no effort to contact us first. If he did so we would have answered his questions and provided him with financial records to address his concerns," the church said as part of a statement quoted in the Sydney Morning Herald. "We are fully cooperating with regulatory authorities as part of their enquiries," it added.
The Australian Taxation Office said it would not comment on specific cases.

Quotable
"Hillsong followers believe the money they put in the poor box goes to the poor, but these documents show how that money is actually used to do the kind of shopping that would embarrass a Kardashian," –Andrew Wilkie, in his speech in parliament on Mar. 9, as quoted in the Guardian.
The Hillsong megachurch, by the numbers:
30: Countries in which Hillsong is present. Formed in Australia in 1983, Hillsong has since become one of the world's largest religious organizations

nearly 20,000: Graduates of Hillsong College leadership and ministry courses

150,000: Weekly worshippers attending Hillsong services around the world

10 million: The combined number of monthly streams on Spotify by Hillsong's musical acts, Hillsong Worship and Hillsong United.
How Hillsong became a global brand
Perhaps the most famous export of the Australian megachurch is the mega-popular Christian rock band Hillsong United, as well as its off-shoot Hillsong Worship.

The popularity of the church's musical acts has also allowed them to expand aggressively, making them one of the largest Pentecostal organizations in the world.

But a series of scandals have affected the church's popularity, and some of its high-profile members, like pop star Justin Bieber, have left the flock. In addition to accusations of financial crimes, Hillsong has been criticized for its opposition to same-sex marriage and gay people serving in the church, and for its handling of sexual assault accusations. Additionally, Australian police have accused Houston of covering up the sexual abuse of young boys by his father Brian Houston, who was a pastor himself. He pled not guilty in 2022 before resigning his chairmanship of the Hillsong board.

Related stories
⛪ A Texas megachurch is preaching the gospel of drones
📊 The unnervingly specific holiday greetings of the Australian Bureau of Statistics
🇰🇷 South Koreans love megachurches even more than Americans do