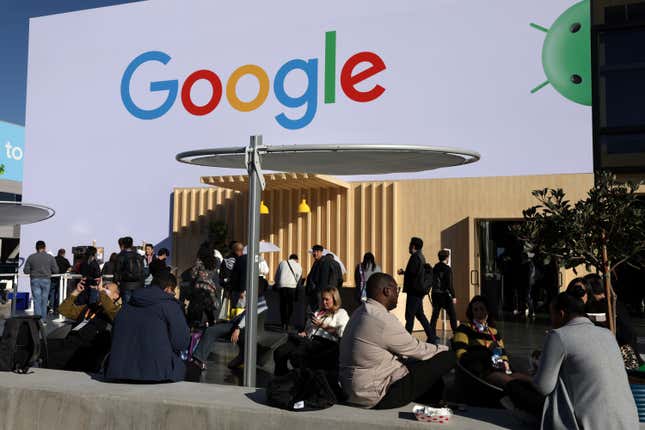 Google's chief financial officer Ruth Porat announced that the company would be cutting employee perks in a memo sent to staff last week, as its parent company Alphabet looks to tighten its belt.
It's the latest evidence that the tech industry, known for its high salaries and luxurious workplaces, is being impacted by an industry-wide crunch. Porat specifically told employees that Google would eliminate snack bars and ask teams to pivot to low-cost software options.

"Just as we did in 2008, we'll be looking at data to identify other areas of spending that aren't as effective as they should be, or that don't scale at our size," Ms. Porat said in the memo, according to the Wall Street Journal.
This comes after Alphabet announced its plans to lay off about 12,000 employees, or 6% of its global workforce, in January. The downsizing included 27 massage therapists, who had worked full-time for employees at the company's California offices.
Is this the new normal for the tech industry?
It's not just Google. In addition to mass layoffs, Meta has announced an end to free laundry and dry cleaning services, while Elon Musk's reign at Twitter saw the end of free lunches and daycare at the office. Even some executives are taking pay-cuts.
In fact, nearly every major tech company has announced layoffs and other cost-cutting measures since last fall.
According to Layoffs.fyi, a website tracking headwinds in the tech industry, more than 332,000 people have been laid off by more than 1,000 tech companies since last year. And the rate of downsizing has only been increasing, with more tech layoffs reported on the site in the first fiscal quarter of 2023, than in all of 2022 combined.
With this trend showing no sign of stopping, it's worth considering if the seemingly endless growth of Silicon Valley might be coming to an end.
Recent layoffs in Big Tech:
February 7: Zoom, the popular video-conferencing app, announces it will cut 15% of its staff, affecting 1,300 employees.

February 9: Yahoo announces it will cut 20% of its staff, affecting 1,600 employees.

February 26: Twitter announces another round of layoffs after steep downsizing last fall, cutting about 200 employees.
March 14: Meta announces 10,000 layoffs, building on earlier downsizing as part of its year of efficiency.
March 20: Amazon announces a new round of layoffs—following last November's job cuts—letting go of roughly 9,000 employees.
March 22: Indeed, the online job search platform, announces it will cut 15% of its staff, or 2,200 employees.
March 23: Accenture announces it will slash 19,000 jobs, or 2.5% of its total workforce.
March 30: Roku, the video-streaming service and hardware, announces downsizing affecting 6% of its workforce.
March 31: Netflix confirms it plans to lay off an unspecified number of employees.
April 3: Apple, one of the last holdouts in the industry trend, announces that it will lay off a small number of employees on its corporate retail teams.




Related stories:
📱New Amazon layoffs are the latest correction to years of over-hiring in the tech industry
🖥️ Meta announced another 10,000 layoffs as part of its "year of efficiency"
🤓 Amazon's 18,000 layoffs set the tone for what hiring and firing will look like in 2023