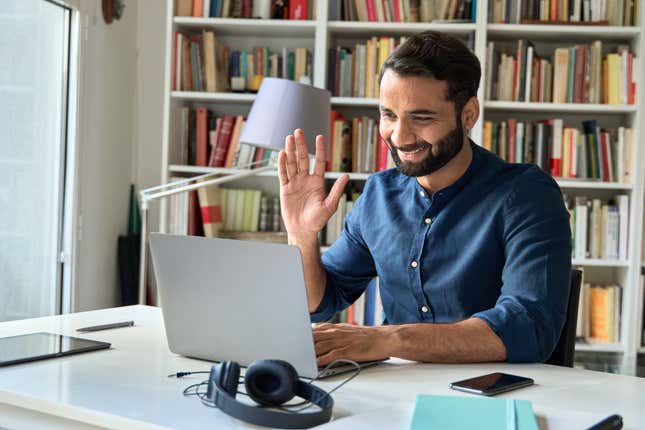 Employees feel beyond burned out by boring virtual meetings and unnecessary video calls that could've been emails. It shouldn't be surprising that employees are switching off their cameras and mentally checking out of virtual meetings.

What to do when you encounter unhelpful pay ranges on job postings
Our recent survey, the Kahoot! 2022 Workplace Culture Report, found a big disconnect in how employees value online training and virtual meetings. 35% of workers said they often mentally check out of online employee training, 32% often check out of virtual presentations, and 31% often check out of virtual team meetings. The problem is even more pronounced among Gen Z, with 51% of Gen Z saying that virtual meetings are too long and 31% tuning out because they feel they are being spoken to instead of actively participating.
Some people have valid reasons for wanting a break from being on camera. But some employees use the invisibility to disappear from work. Our survey found that, during virtual meetings, 18% of employees worked on side hustle businesses, 23% of women doodled, 21% of men exercised, and 20% of employees napped.
Does this mean employees are lazy and deserve a crackdown or more intense surveillance and mandatory return to the office? Not at all. We found that 76% of employees want to go the extra mile at work.
The real issue is that too many virtual meetings are not designed to be interactive. If employees can nap during virtual meetings and no one notices, that's a bad sign. This could have been an email, indeed.
If you want to create a cameras-on-meeting policy that employees not only follow but value, this is the key question: how do you create meetings that employees want to be fully present for?
It's not about you
An important point to remember when implementing a new rule is that people generally don't like rules. At least, we don't think we do. Many employees balk at being required to turn on their webcams during meetings, even if they were already doing it. However, we actually love rules when we see that they remove an annoyance, protect us from harm, or otherwise make life better for us.
When communicating a new cameras on meeting policy, remember your "why." It's not about your desire to see more faces on-screen. This policy aims to ensure that every employee feels respected, listened to, and supported by their team members.
Focus on these benefits to employees, for example: "No more feeling awkward talking to a profile picture and hoping your colleague is still there."
Remember video meeting best practices
Even with a great communication strategy, you'll likely still have a few squeaky wheels if some people aren't used to turning their webcams on. Though barring special circumstances, most issues can be solved with relatively small fixes.
Research shows that self-view in virtual meetings is fatigue-inducing. To be forced to view yourself constantly distracts us from our colleagues and the purpose of the meeting, making it harder to fully connect with each other and get things done. Encourage employees to turn off self-view for less draining and more focused meetings. It only takes a few clicks but can make a big difference.
Likewise, some people don't feel comfortable showing their homes to their work colleagues or worry about what they might show on camera unintentionally. This can be solved by inviting people to use virtual backgrounds. With this feature, employees can protect their privacy and not have to worry about someone in their household unknowingly walking across the shot in their underwear (no one wants to go viral for this in 2023).
Make meetings worth showing up for
If you want employees to bring their A-game to meetings, give them a reason. As our Workplace Culture Report showed, many tune out of meetings because they're not being invited or encouraged to actively participate. Virtual meetings are not conference calls, one-way broadcasts, lectures, YouTube videos, or podcasts. They are meetings. If you want everyone to gather together at the same time and virtual space, make everyone's participation important.
Among Gen Z workers we surveyed, the top choice was friendly competition, with 59% saying going head-to-head with their team members would make them feel more engaged. When planning your next meeting, make a game of it. Challenge employees to test their knowledge about the company, procedures, or even fun facts about their co-workers, with a prize for the winner raising the stakes and the engagement even higher. This can also be a great way to foster teamwork and practice employee recognition.
Employees are also asking for other types of collaboration like brainstorming, the top choice for employees overall, with 44% choosing this activity, as well as 51% of Gen Z workers. Give people a chance to talk with each other and share ideas. For large numbers of attendees, do small group "breakout sessions" where teams can collaborate.
Brainstorms can be gamified, too, by inviting participants to vote for their favorite idea and awarding a prize to the person or team behind it. For employees that need to keep their cameras turned off, these interactive activities can also give them a way to participate and be involved. They also let the presenter know that those meeting participants are staying engaged.
Lastly, remember that 78% of workers we surveyed reported being more engaged visually than auditorily. This makes dynamic and interactive media key for keeping employees engaged. If people in live, in-person meetings can't stay awake for boring, bare-bones slides; you're not going to have any more luck in a virtual meeting. That doesn't mean digital experiences are inherently boring. After all, there's a reason so many of us are glued to our phones all day.
We need to take advantage of what technology makes possible in a virtual environment. Add video, music, or other audio elements, color, motion, and interactive elements. When you make meetings a positive experience where employees feel truly connected, engaged, and involved, employees will naturally want to be present with each other. You might just find that your new challenge is employees not wanting the meeting to end.
---
James Micklethwait is the VP of Kahoot! at work where he leads the growth of the Kahoot! at work business area. In his position, he oversees revenue, usage and strategy for building out new cases for Kahoot! in a work context.