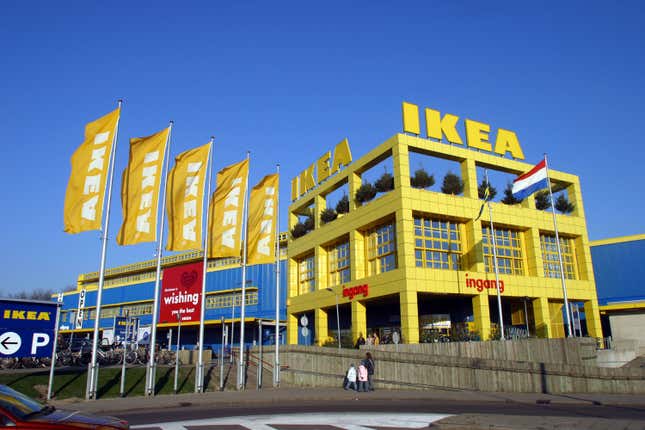 Ikea's parent company will spend € 2 billion ($2.2 billion) over the next three years to expand in the United States, the largest investment in a single country in the history of the Swedish furniture company.
Carin Pai, Part 2: Reasons to de-risk your portfolio
The store is betting big on the American market, looking to compete with Walmart and Wayfair by offering affordable yet upscale feeling furniture and home goods. Its aggressive investment comes amid a downturn in the retail industry, with companies like Bed Bath & Beyond hovering near bankruptcy.
Tolga Öncü, the head of the retail division at Ingka Group, the holding company that owns most Ikea stores, said he sees opportunities for growth in US regions like the American South. Historically, Ikea has focused on the East Coast in its US expansion, with its first-ever American store opening in Philadelphia in 1985.
The expansion will create 2,000 new jobs, according to Öncü, increasing the number of storefronts by about a third.
The plan includes nine new "plan and order points"—stores without warehouses, where customers can get advice on their interior design plans and receive assistance in ordering furniture.
Quotable:
"There are locations available that have not been available before, there are opportunities for us to speed up investments in acquiring land and existing locations to bring IKEA closer to the many people." —Tolga Öncü announcing the new investment in the US.

Ikea in the US: by the digits
53: The total number of Ikea stores in the US currently; 51 of the stores have an attached warehouse.
€5.5 billion ($6 billion): US sales reported by Ikea in the last fiscal year.
320,000 sq feet: Average size of an Ikea store.
110 million: Number of Billy bookshelves, Ikea's most popular product, that have been sold in the company's history. The company says one sells every five seconds. 
Ikea sent $10 million worth of products to Ukraine
Ikea, working alongside the United Nations High Commission for Refugees, donated items worth €9 million ($9.9 million) to people displaced by the invasion of Ukraine.
The donation included more than 71,000 mattresses, 86,000 blankets, and 205,000 pillows. Marcin Majchrzak, in charge of customer fulfillment for Ingka Group, said that Ikea's infrastructure allowed it to effectively deliver needed supplies to Ukrainian refugees.
"We made a decision very early to support the victims of the war, and we knew we could utilize our supply chain and fulfillment strengths," Majchrzak said.
Ikea decided to close all of its retail locations in Russia shortly after the country invaded Ukraine, announcing that it would also stop sourcing any materials from the country. The company has one store in Ukraine, just outside of Kyiv.
Related stories:
🪆Belarus' Swed House has replaced IKEA in Russia
🛀 Bed, Bath & Beyond is making a $300 million effort to skirt bankruptcy
🛏️ Bed Bath & Beyond tried decluttering and shoppers rebelled