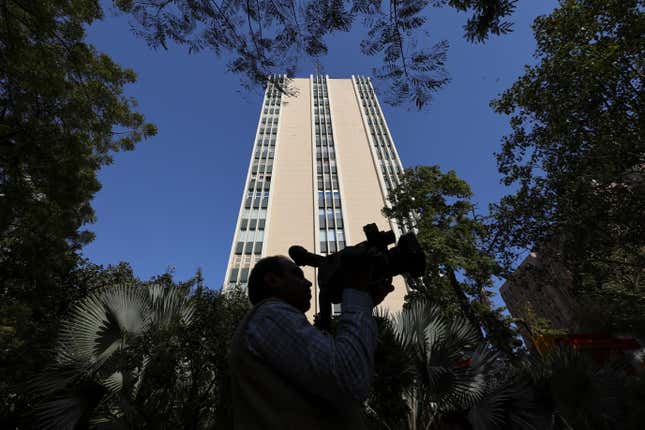 Press freedom in India has taken a turn for the worse, according to the World Press Freedom Index.
The country's ranking has slipped to 161 out of 180 countries, according to a report released by Paris-based Reporters Without Borders on World Press Freedom Day yesterday (May 3).
"The situation has gone from 'problematic' to 'very bad' in three other countries: Tajikistan (down 1 at 153rd), India (down 11 at 161st) and Turkey (down 16 at 165th)," the non-profit's report said.
Even Taliban-led Afghanistan and crisis-hit Pakistan fared better at 152 and 150 respectively. Norway topped the ranking.


India's slide has come amid many developments in the country that may indicate a shrinking of space for free media.
For instance, the British broadcaster BBC is under severe pressure from prime minister Narendra Modi's government. It was subjected to income tax raids and a forex-related probe after it carried a documentary scathing of Modi for his alleged role in the Gujarat 2002 earlier this year.
Similarly, media organizations like the Quint and NDTV have been taken over by business conglomerates perceived to be close to Modi. This was followed by their senior journalists and founders, till then critical of the government, quitting the organization.
This is besides a deluge of misinformation sweeping the media, particularly targeting journalists themselves.
"My image has been morphed in a porn video and circulated all over the internet, including the fan pages of the ruling government leaders. Spokespersons of the ruling government in India have spread the vilest fake news and misinformation about me and my family members," Indian journalist Rana Ayyub told the Nobel Prize organization on World Press Freedom Day.
Meanwhile, and not surprisingly, the Indian government doesn't agree with the press freedom ranking. It has cited the index's low sample size and questionable methodology, among other factors, to assert its disagreement. It has also claimed not to interfere with the working of the press in the country.