At a time when bitcoin and other cryptocurrencies are drawing attention around the world, talking about paper money may already seem a little anachronistic.
Rezwan Razack, joint managing director of Bengaluru-based real-estate company Prestige Group, knows this all too well. But he's spent the past 45 years putting together an enormous collection of Indian currency notes and documenting the rich history of paper currency on the subcontinent. In 2012, he, along with Kishore Jhunjhunwalla, wrote The Revised Standard Reference Guide to Indian Paper Money.
Razack has also been writing about various interesting currency notes on his blog for years.
The story of one such note—the one rupee—expanded into a book that was published on Nov. 30 this year, exactly 100 years after the one-rupee note was first issued by the colonial government in India.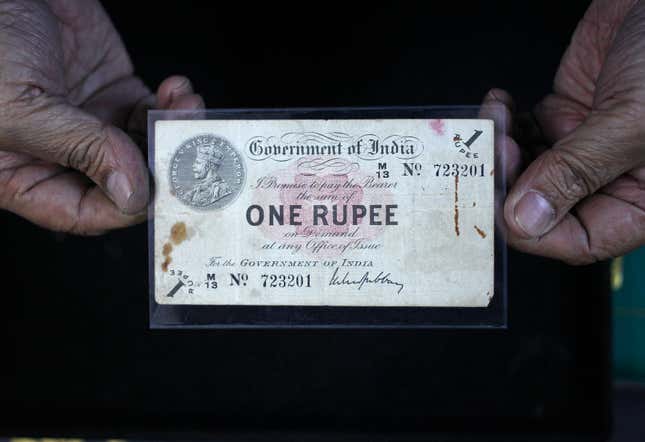 "When I was doing it I never knew it would run into so many pages," he says. In the book, filled with photos of rare notes, Razack details the journey of the one-rupee note, beginning with its launch in 1917, a time when locals habituated to using silver coins were initially wary of switching to paper money. To increase its popularity, the colonial-era government included a printed representation of the silver one-rupee coin on both sides of the note, but it still took around two years for people to really believe that a piece of paper had the same value as a coin, Razack explains. 
In the coming years, different iterations of the one-rupee note would be issued by the princely states of Hyderabad and Jammu & Kashmir, as well as the Portuguese and French colonial governments for use in their territories. There were even special one-rupee notes designed for the prisoner-of-war camps located in India during World War II, where the British imprisoned Japanese, Italian, and German soldiers.  
Many of these notes are now part of Razack's comprehensive collection, which dates back to 1812. In a recent conversation with Quartz, the chairman of the Indian chapter of the International Bank Note Society, explained the origin of his fascination with paper money, and why opening his collection up to the public is now more important than ever.
Edited excerpts:
When did you first start collecting Indian banknotes? What was the very first note of your collection?
The interest began over 45 years back when I found some old British India notes in an iron safe at home, and there was a little twist to them: it said Reserve Bank of India but it had a rubber stamp which said "Pakistan note payment refused." At that time there was no Google, nothing. I was quite intrigued about how it became a Pakistan note, there was no information. This was how it all began.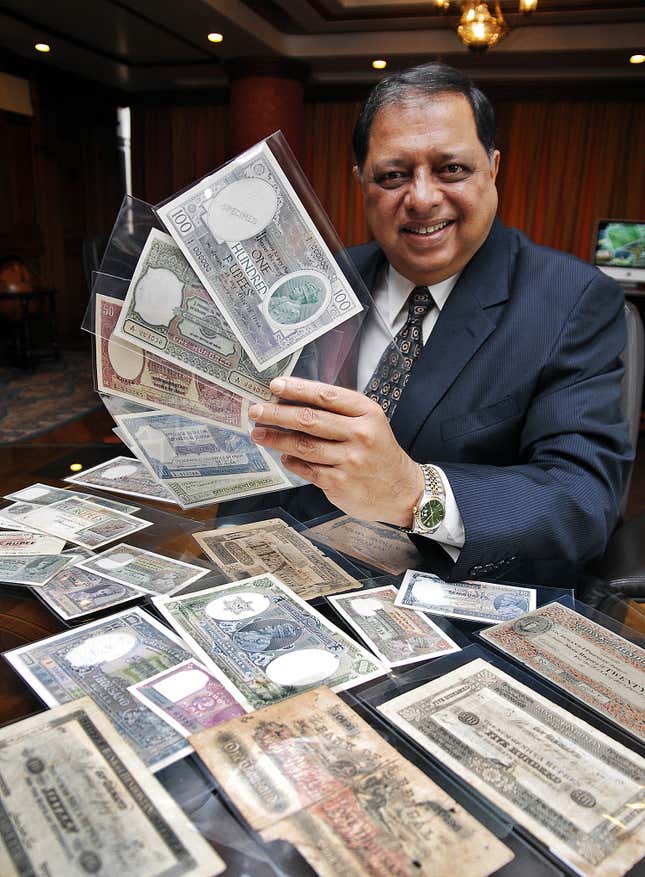 How did you build up your collection over the years? And where do you find these particularly rare Indian notes?
That's the hard part. Notes are very hard to get; unlike coins, which are metal and survive, paper money, if not treated well, disintegrates. I had a cousin in Coonoor, he also had some old money which was left with him. When he saw I was interested, he said you can have it. And then from the time I was in school I used to visit these cut-note dealers. Those guys also used to have some old money, old notes. So I would always leave a number, saying if you do get anything, do let me know. There are also auction houses all over the world that sell these things. Of course, eBay is another source. 
What is the oldest note in your collection?
The oldest note that I have is from Sept. 09 1812, it is the earliest known surviving note in India. Number 108, so it was among the first 110 notes.
You've become one of the key names in India's numismatists' community. Can you tell us more about the interest in India? How large is this community?
There are a lot of collectors, you'll find a lot of groups on Facebook as well. Social media has helped bring in more and more people. (But) it's again availability of material; a lot of people start and then they find they're coming to a dead end. And then they get demoralised and then they go back to coins, because there's an endless supply of material. Social media has helped and a lot of new collectors are born, but everyone into collection doesn't do what I have done: I collect every single note which was ever printed from 1812 to now.
You're opening up a museum of paper money in Bengaluru next year. Can you tell us more about this project?
The museum is going to be dedicated to the country because it's something that, over time, people have not seen nor will they see because I think slowly, over 15 years from now, it will all be digital. Paper currency is going to be a thing of the past. So I thought the best thing is to display it in a way that helps future generations to understand what it was.