Till just a few months ago, talk of a possible merger between Uber and its fierce Indian rival, Ola, was rife. But the American cab-hailing service has clearly decided to ride solo.
In the second week of June, Uber unveiled Virat Kohli, the Indian national cricket team's captain, as the face of its brand in the country. From billboards to newspaper spreads to a digital montage, Uber has gone all out with its Badhte Chalein (Move Forward) campaign.
The 28-year-old sports star is ubiquitous in the Indian advertising space, endorsing fashion brands, food labels, cars, watches, and more. By making him its ambassador, "Uber is sending a message to the (Indian) market that it is here to stay," said Yugal Joshi, vice-president of Texas-based Everest Group.
Wooing India
After bowing out of China in 2016, Uber diverted a significant portion of its $1 billion investment meant for the mainland to its India business. And since it sold its southeast Asia business to Grab, there was much speculation over its India plans.
It turns out that the company is only digging its heels deeper in the country.
India accounts for over 10% of Uber's rides globally. While its presence in 31 Indian cities is weak compared to rival Ola's footprint in a 100-plus, it plans to add more locations. This month, it launched Uber Lite, a stripped-down version of its app for users struggling with low storage and slow connections. Uber has also introduced a food-delivery service, UberEats, in 16 Indian cities over the last year.
Hiring Kohli is "a signal (that Uber is) putting in big investment in branding and marketing," said Harish HV, an independent consultant and former partner at Grant Thornton LLP.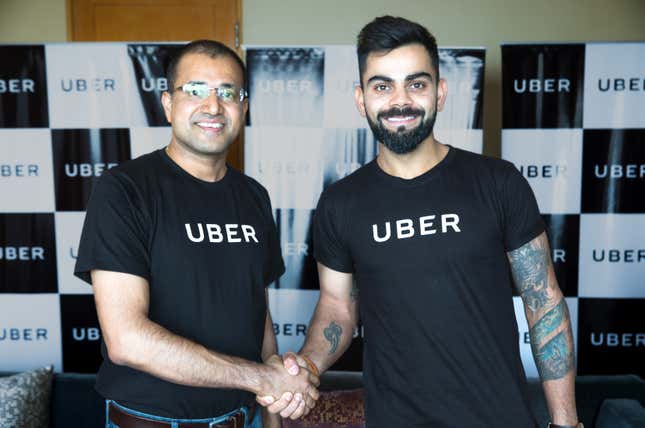 Signing on such a big name could go beyond luring customers.
"Kohli is seen as an achiever, someone who's made it big because of his own personal efforts," said Harish HV. "Drivers could identify with that."
Uber could do with the boost, considering that homegrown Ola boasts of over a million drivers compared to its 450,000.
Some are skeptical, though. "All the idol worship aside, it's economics over everything else for drivers," said Ankur Nigam, a partner at consulting firm KPMG. Plummeting incentives and wages have been a point of contention for drivers, leading to protests and strikes against both Uber and Ola. Many drivers are weighed down by debt, ironically from EMI payments for the car they purchased after buying into the dream that ride-hailing apps sold them.
Splurging on Kohli, who charges a steep Rs5 crore ($734,000) a day for endorsements, does nothing to remedy these pains, nor does it further innovation.
Misguided efforts?
Advertising expert Ramanujam Sridhar took to Twitter to suggest the money would've been better spent on improving driver training. After all, Uber has witnessed several safety lapses in India, with a number of its drivers being accused of harassment, molestation, and even rape.
There have been several instances where the driver who finally turned up at the customer's door was different from the one shown as registered with Uber when the booking was made. Often drivers are not verified either. Uber has been replicating its US driver-vetting process in India, which just doesn't work given the different policing system and licensing norms here, according to Sanchit Vir Gogia, founder and CEO of Greyhound Research.
"…we still don't see credible steps in safety and driver on-boarding from (Uber's) side," said Gogia. "The marketing strategy is convenient to localise. It's not convenient to localise driver on-boarding…that's not fair, is it?"