Earlier this month, IKEA arrived in India with a 400,000 square feet store, 7,500 products, and big expansion plans.
But it left out one key thing: its iconic print catalogue.
The 300-page catalogue is a shopper's go-to guide for the entire product range that the world's largest furniture retailer sells. The 2018 IKEA catalogue has over 200 million printed copies, ranking it alongside the Bible, the Koran, and the Harry Potter series as one of the world's most-distributed books.
The company says the reason for leaving out the catalogue is because it's experimenting with a new ways of reaching out to shoppers in India.
"We have a catalogue [for India], but it is not a printed version, its content comes from the global catalogue but we are adjusting it to India. We will make it accessible on mobile and online here," Ulf Smedberg, country marketing manager at IKEA India, told Quartz. "It is a way to reach out to more people quicker with the same content."
Distributing a printed copy of the book can be quite challenging in India, where addresses are often haphazard and last-mile delivery in the hinterland can be expensive. Yet, internet penetration is on the rise. India currently has the world's second-largest smartphone user base and over 500 million internet users.
"The distribution system is very complicated here; we are afraid if we have one million catalogues to distribute here, half would be just lying around," said Mia Lundstrom, creative head, Life at Home, IKEA India. "We could have them at the store to distribute but people want to be online."
The move is in line with IKEA's global efforts to capture shoppers that are increasingly pivoting to the internet.
e-IKEA
In 2012, IKEA launched an online catalogue, complete with an augmented reality feature. Since then, the company has been experimenting in several countries with a combination of the print and digital versions. It even has a mobile app dedicated to its catalogue.
"We have decided together with the global IKEA, we do this test [in India] and we will evaluate and see the results and that could lead to something for the rest of the IKEA world," Smedberg added. While IKEA has entered other countries without the catalogue in the past, India becomes the largest market where the retailer has gone in sans the printed book. 
So all eyes are on how things unfold for IKEA in India, experts believe.
"It's an experimental period in India for IKEA, they would be trying a combination of things," said Devangshu Dutta, CEO of retail consultancy, Third Eyesight. "While digital gives the flexibility to highlight or modify something, a combination of print and digital would be more suited for a market like India," Dutta added.
The company, though, does plan to circulate a small printed booklet for Indian shoppers. It will be distributed with newspapers every two months and will keep shoppers updated. IKEA circulates such a booklet in markets such as China, too.
But the booklet is no match to the famous catalogue.
The catalogue
The signature book is a key part of IKEA's strategy, accounting for 70% of its overall marketing budget.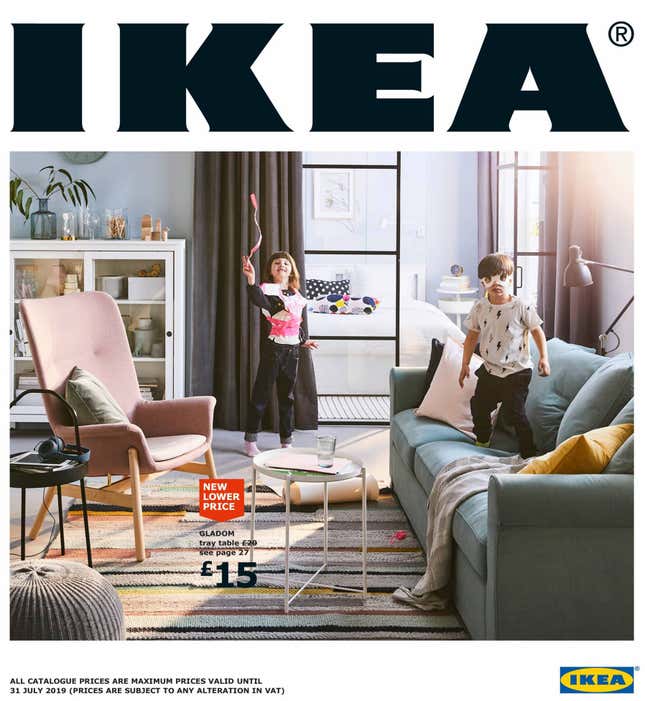 It takes 18 months and hundreds of staff to produce the annual book, released in August or September. Once released, these are shipped to shoppers in several parts of the world free of cost.
"Every year we distribute the IKEA catalogue in the area around each IKEA store. You can pick one up for free next time you visit an IKEA store, or alternatively, you can view the whole catalogue of items online, download a digital version or view it on the IKEA catalogue app for your smart phone available from your app store."
In a country like India, where brand IKEA and its do-it-yourself philosophy aren't yet well-known, the catalogue could increase familiarity.
But the company believes otherwise.
"By having an e-version, we will get the same message out. And every second month, through the printed smaller version that looks like the catalogue, we will remind people five times a year of our products. This, plus mobile, will be far more efficient than the once-a-year catalogue that we are not even sure will reach people," Smedberg added.
Also, there are downsides to selling the book here. Older versions of the IKEA book has been unofficially circulating in India for over a decade now, but not for customers to place orders. Instead, Indians have local carpenters rip-off the company's designs.
Giving more access to its designs may create problems for IKEA, given the country's weak intellectual property laws.