For Anirudh Pandita, Ashwin Suresh, and Aditi Shrivastava, steering their careers away from run-of-the-mill finance jobs in New York to pursue their dreams in the movie business has proved to be a rewarding bet.
In July this year, American video-streaming giant Netflix announced that it would buy the rights to air the second season of their web series, Little Things. The show is being produced by Dice Media, the web series arm of the trio's five-year-old digital entertainment company, Pocket Aces.
Released last September, Little Things is a slice-of-life web show. The first season, which aired on YouTube, comprised five 15-minute episodes about the "little things" in the relationship of a young urban couple.
The show, which came four years after the founding of Pocket Aces, went on to become the firm's first viral hit, garnering over 32 million views and still running. On Oct. 05, it is set to return with eight 30-minute episodes on Netflix.
The Pocket Aces co-founders have high hopes pinned on the deal with Netflix, which has over 130 million subscribers worldwide. "The benefit for us is that Netflix is available in multiple countries—190—so there's a chance the show breaks out somewhere else," said Pandita. "That's the greatest hope for us."
As for Netflix, the over-the-top (OTT) streaming platform is betting on a show that already has a robust fan-following in India. Going forward, it can even call for future seasons, or commission derivative content around the characters in the show, Pocket Aces says.
If that happens, it will mark their next milestone since Suresh was bitten by the entrepreneurial bug in 2013.
From where to where
Raised in west Asia—Pandita and Shrivastava were schoolmates in Kuwait, while Suresh grew up in Dubai—the trio first came together while pursuing engineering degrees in the US. But making content in India was never on its radar.
After graduating in the mid-2000s and working in the US for a few years, Suresh and Shrivastava went on to date and marry. In 2011, the couple moved to India: Shrivastava was into social-impact ventures while Suresh worked with the content generation team of Reliance Entertainment. Meanwhile, Pandita pursued his MBA at the prestigious Wharton School.
A few years on, Suresh felt the urge to start out on his own. He roped in Pandita and hooked him onto his idea of movie-making.
Having set up Pocket Aces in 2013, initially the two worked on a handful of scripts with writers and attached directors to the projects. They then began reaching out to various A-listers to cast them in their films, but had little luck. Distributors, too, gave the newbies the cold shoulder.
Meanwhile, in the online sphere, comedy content channels like The Viral Fever (TVF) and All India Bakchod (AIB) had just begun gaining traction. That's when Pocket Aces launched Filter Copy (around 2014), which created memes and short-video content catering to social media audiences on Facebook and Instagram. It was a success from the get-go as many of their videos began going viral.
And this continued till their next big milestone came in the form of Little Things in 2017.
Having caught the attention of viewers—and Netflix—the team's key priority now was finding talent in writing, acting, and more. "When we started, the best writers and best creators in India were not writers and creators. They were doctors and engineers because there was no career path drawn out for them," says Pandita. "At a Goldman Sachs or a Citi, you can check job roles on their websites. On production house Dharma's website, you can't see that—and they at least have a website. Others don't even have that. We aim to give career paths to people in the field."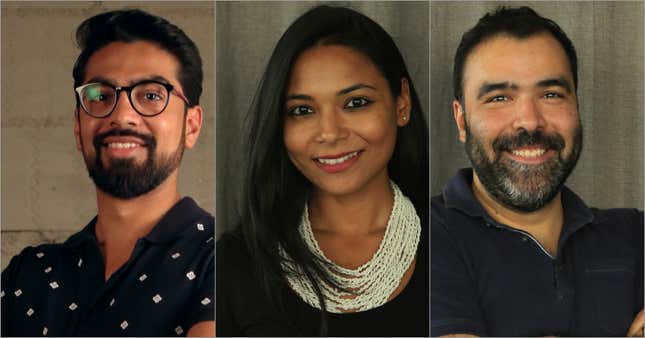 Today, Pocket Aces is a team of 95-plus people, most of whom are in Mumbai, and 15 tech persons in Bengaluru. Digital content is their focus. Besides Dice Media and Filter Copy, the company also operates Gobble, which focuses on food-related content, and interactive gaming app Loco.
"Films have binary outcomes and if something fails, you have to wait a whole year to create something new," said Shrivastava, who came onboard as co-founder in October 2015, explaining the rationale for diversification. "On the web, you can make cheap content and put it out there and see if it works, if the audience interacts with it. If it doesn't work, you can quickly make another."
Little Things was the successful result of such experimentation.
It grew organically on the back of relatability and shareability. "While I'm sure Netflix has the muscle and might to market better than anyone in the world, ultimately it'll stand out on the strength of word-of-mouth and content," said Suresh. Even Netflix's May 2018 release Kissing Booth gained traction on Instagram and Twitter to feature among the world's most-watched movies right now—despite terrible 13% Rotten Tomatoes rating—courtesy all the social chatter around it.
When Little Things came out, two Indian web series, Tripling and Permanent Roommates, were already out. By now, the space is jam-packed, and so the pressure is on, too.
Keeping a lid on costs
In recent years, many players have entered the Indian over-the-top (OTT) market. Many of the big names—Netflix, Amazon, Eros Now—are pumping in loads of cash into original programming.
"The location that cost Rs5,000 a day earlier now costs Rs20,000," said Suresh. Striking a licensing deal with Netflix helps negate these high production costs.
Plus, web talent is also getting more expensive as visibility increases.
So Pocket Aces looks to sign multi-season contracts with most talent. That way, they can predict costs in the reasonable future and plan accordingly.
Artistes are often sceptical, though. "They say, 'what if my market rate is higher next year?' The answer is two-fold," said Suresh. "What if it's lower and you have to take a pay-cut? If it's unreasonably higher, we will renegotiate. We're not stupid, we also need the artiste."
Besides, Pocket Aces sees merit in investing in long-term relationships with actors, not only giving them work on their channels but also helping them bag television commercials and shows on Amazon Prime and other platforms.
"If I initially work with Shah Rukh Khan, tomorrow, when he becomes SRK as we know him, I can still make a piece of content with him," said Pandita. "Sure, costs will go up but revenues will go up, too."
As far as making silver screen movies go, "We're not keen on going down the traditional distribution model and dealing with the same people. There are too many processes beyond your control and it's riddled with mediocrity," Suresh said. "If there is an alternative way, for example, direct-to-OTT films, that's something we can talk about as long as the audience is large enough."
Want a better understanding Netflix and other streaming giants? Check out our guide to the streaming-TV wars