The world's second-largest smartphone market is readying for a new milestone.
With India's festive sale season kicking off yesterday (Oct. 10), mobiles—like always—will be the most sought-after shopping category. Marking a record, smartphones cumulatively worth over $1 billion are likely to be sold in just six days in India between Oct. 10 and Oct. 15, latest data from Hong Kong-based Counterpoint Research show.
The country's largest e-commerce firms, Flipkart and Amazon, are holding their annual flagship sales over these six days.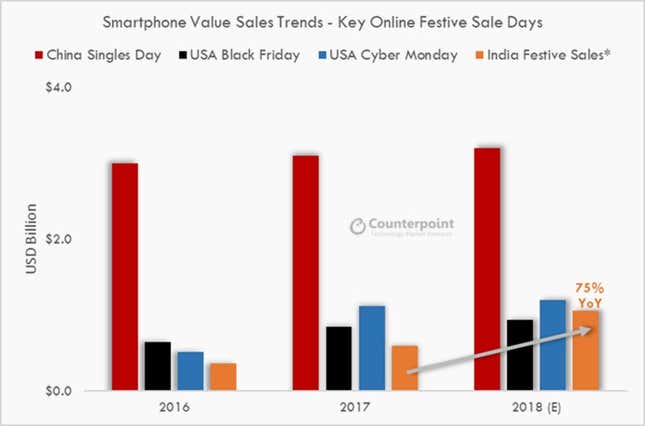 "If we compare some of the leading sale events in China and (the) USA such as Singles' day and Black Friday, India is quickly catching up in scale with respect to these annual events," said Tarun Pathak, associate director at Counterpoint. In fact, the total number of smartphones sold during this six-day period in India is likely to surpass that of last year's Black Friday in the US.
"In India, major buying starts around (the Hindu festival of) Navratri since it is considered an auspicious time. A lot of gifting also happens within families," said Jaipal Singh, senior analyst at market research firm International Data Corporation (IDC) India. "Heavy discounting plus bank offers make some of the models very affordable, bringing prices down 15% to 20%."
The online fiesta
Even on non-sale days, over a third of the smartphones sold in India at present are bought online—the highest in the world. During festive sales in October, this share will rise substantially.
During the week of Flipkart's Big Billion Days and Amazon's Great Indian Festival Sale, over 85% of total smartphones sold in India will be online, Counterpoint estimates.
Mid-tier phones priced between Rs10,000 ($135) and Rs15,000 will sell the highest volumes. Compared to last year, the average smartphone price tag online is slated to rise 18% during the festive period.
This year's massive sales "will be mainly driven by the multitude of new smartphone launches across different price points in the online channels…compared to last year," said Anshika Jain, a Counterpoint research analyst. "Flipkart has cornered the maximum number of exclusive smartphone models, offering more choice to the buyers, and will likely take a lead in terms of volume sales versus rivals."
However, Amazon is not far behind. "(It) is looking strong with its premium smartphone offerings with upcoming launches such as OnePlus 6T, as well as its growing stickiness and value offered with the Prime programme," said Jain. In addition, the company is offering some attractive discounts for the premium category. For instance, Samsung's Galaxy S9 is available at the severely slashed price of Rs42,990 ($578) from its earlier retail price of Rs62,500 on Amazon.
Gala time for China
It is mostly the Chinese smartphone brands like Xiaomi, OnePlus, and Honor that will drive sales for both Flipkart and Amazon.
"Generally, the combined share of China-based vendors is growing in the Indian smartphone market while that of domestic players has come down drastically. Some global players like Samsung, Panasonic, and Asus are in the market but they produce very limited volumes," said IDC's Singh. "Chinese vendors are going to take this festive season also."
Beijing-based Xiaomi will lead overall, capturing over half of the total online market, according to Counterpoint data.
Over seven in 10 phones sold online during this October's sales will be from mainland China, Counterpoint says.