In 2011, a 30-year-old former Infosys employee, Aprameya Radhakrishna, along with a partner, launched taxi-hailing app TaxiForSure (TFS). The Bengaluru-based company was soon one of the top two players in the segment, raising around $44 million in five years from prominent global investors.
In 2015, following a failed attempt to raise fresh funding, TFS was acquired by rival Ola for $200 million in one of the biggest acquisitions the Indian startup sector had seen till then. But within months, TFS was shut down by Ola.
Radhakrishna, however, had not given up on entrepreneurship.
In October 2017, he launched his second venture, Vokal—"a mix of Quora and Reddit for the vernacular internet." He hopes the platform will help bring the next billion users in the country online.
"Wanting to communicate on WhatsApp, or connecting to other people on Facebook, or expressing oneself on Instagram or Twitter is universal. The only thing stopping people from getting onto these networks was the fact that they did not know English," said the Indian Institute of Management Ahmedabad graduate. "We wanted to create a product for non-English users."
Not surprisingly, Vokal had amassed over half-a-million monthly active users as of mid-September 2018, growing at around 40% month-on-month, according to Radhakrishna. The app is available in Hindi right now but the company will soon add around six regional languages to capture a wider audience.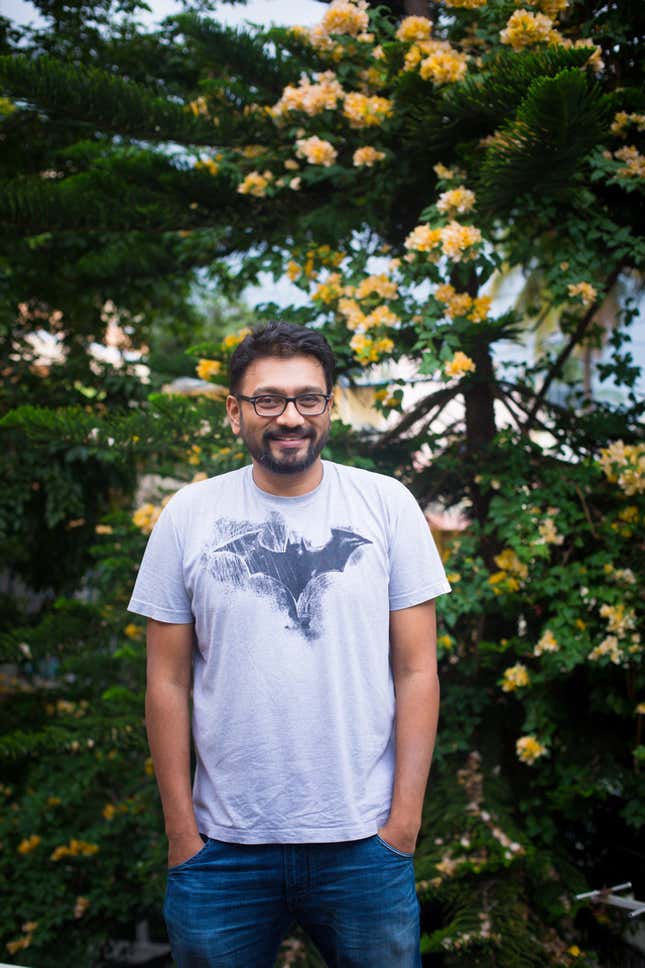 While Vokal's business is drastically different from TFS, Radhakrishna believes the experience with his first startup is helping him a lot now.
Life after exit
After selling TFS, Radhakrishna became an angel investor and spent time mentoring young entrepreneurs. So far, he has invested in about 20 startups.
But the entrepreneur in him hardly took a break. Less than a year after TFS was sold, Radhakrishna quietly registered and started working on his next project. Meanwhile, the startup community was curious about his comeback.
"There have been situations where people started up two or three times and really hit gold the last time. This is a lot more common outside of India, where they have gone through many more cycles of investing," said Vidhya Shankar, executive director at advisory firm Grant Thornton.
Though his decision to move away from the taxi business came as a surprise to many, Radhakrishna said the switch was natural: "As long as there is an interesting enough problem, I can solve it and be excited about it every day. That is what is fundamental to being an entrepreneur," he said. One of the reasons he chose the online language problem is that not many others are working on it, he said.
However, there is a big similarity between TFS and Vokal, too: They're both consumer-facing.
"Suffice to say that entrepreneurs like to stick to their area of core competence," said Shankar of Grant Thornton. "Rarely will you see a B2C (business-to-consumer) entrepreneur move to B2B (business-to-business) or vice-versa."
Starting to get Vokal
Radhakrishna believes Vokal targets an untapped niche in a growing market.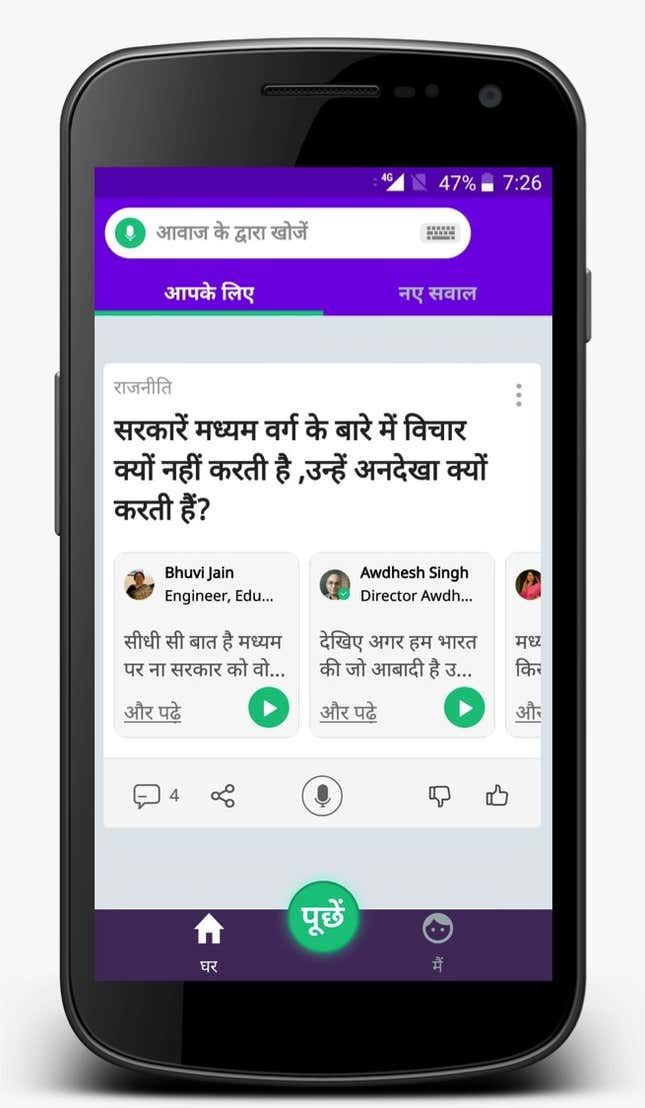 By 2021, an expected 201 million native Hindi-speaking users—38% of the Indian internet user base—will be online, according to a KPMG-Google study. Other local languages, too, are gaining traction. The user-generated content coming up on the internet for these users is largely in the entertainment space. Vokal's focus is "knowledge, opinion, (and) information," Radhakrishna explained. From job-searches to competitive exams to finding recipes, there are many knowledge gaps to fill for regional users.
"The internet is full of English-language content and Google is good at searching. There are websites in English, blog sites in English, people are microblogging on Twitter in English," he said. "When it comes to other languages, the same ecosystem does not exist."
On Vokal's app, people ask questions in their language by speaking, without having to type. Then, peers and experts on the platform submit answers via voice or video.
The considerable response among users has made investors take note.
Vokal has raised $6.5 million from venture capital (VC) firms 500 Startups, Shunwei Capital, and Kalaari Capital. China's Shunwei also led a $100 million funding round for another Indian regional-language social network, ShareChat, last month, showing that investors are keenly watching India's vernacular internet users.
For now, Vokal is a free product but it hopes to make money within a year. "It's too early to tell" exactly how it plans to do that—via ads, subscriptions or another method—but "we're producing content. We can always figure out a way to monetise that," Radhakrishna said.
While his experience at TFS might seem like an asset to some, analysts still remain wary. "(It's possible) you're riding on a high and you end up picking the wrong market," said Sanchit Vir Gogia, founder and CEO at Greyhound Research. "Sometimes, you also carry baggage from past experiences from a totally different time and totally different industry. Trying to force-fit learnings from the first company into the second one is a big mistake."