In India and around the world, restaurants serving Indian food have distilled the cuisine of 29 states and seven union territories down to a fixed menu of standard dishes: dosas and dal (lentils), naan and chicken tikka, besides many variants of paneer (cottage cheese).
But behind the widely recognised division of north Indian and south Indian cuisines lies a staggering diversity of ingredients, techniques, and recipes, many of which are still unknown beyond the home cooks of their respective regions.
"If you scroll through a lot of Indian cookbooks, you will notice how the dialogue usually tilts towards representation of popular Indian cuisines compartmentalised as north or south," Sonal Ved, the food editor at Vogue India, told Quartz. "But what about hyper-regional recipes? Like food from Bhatinda, or curries from the Saraswat Goan community; what about cuisine from the deserts of Kutch, or that cooked by the Memon community in Mumbai or Gujarat?"
Recognising the gap, Ved embarked on a process of collecting these hyper-regional recipes in the hope of putting together India's most comprehensive cookbook. The result is Tiffin, published by Roli Books, a richly illustrated tome of 500 recipes representing almost every corner of India. Divided into north, south, central, east, west, and northeast, the book features recipes from home cooks, including Ved's own aunts and aunts of friends, besides food bloggers and wedding caterers recommended by chefs and friends.
At the start of each section, Ved details the stories of communities, cities, and states in each particular region, showing how geography and climate have determined their favourite ingredients. She pays attention particularly to the lesser-known elements of regional cuisine, such as the indigenous mushrooms foraged by tribal communities in Chhattisgarh, and the techniques used differently in different places, like cooking in various kinds of leaves.
"I want the readers to take away recipes they would not find ordinarily in any other cookbook. From the temple cuisine of Orissa (Odisha), the tribal cuisine of Jharkhand, the cuisine from the Malwa plateau, Buddhist cuisine from Kashmir and so on," Ved said.
She also uncovered a number of unexpected Indian techniques.
"One technique that stood out for me was how even Indians boil various kinds of dough in bubbling water like an Italian making pasta!" Ved explained. "From the Gujarati dal dholki, Rajasthani gatta, Amritsari vadi (in this case it's lentil pastes), [to the] Ladakhi skyu, dough or some dumpling is poached in hot liquid until al dente."
The essays and recipes collected in Tiffin reveal the extensive influence of centuries of migration and cultural confluence. This includes the Persian influences of the Mughal empire's royal kitchens and the techniques picked up from the Portuguese, Dutch, and British under colonial rule, which are seen in the breads of Goa and the club food of jam tarts and pork chops in Kolkata. Over the years, communities such as the Chinese, Tibetans, and Parsis have also made their mark on Indian cuisine, as seen in the spread of Indian-Chinese restaurants, momo stalls, and Irani cafes.
While Ved maintains that her book isn't trying to make a political statement, the vast collection of diverse recipes, which feature all kinds of meats and vegetables, comes at a time when food has never been more political in India. From beef bans that have sparked the horrifying rise of "cow vigilantes" to the battle between vegetarians and non-vegetarians in college campuses, what Indians eat—and what they should eat—is a burning topic.
In this context, the hundreds of pages dedicated to almost every Indian cuisine are an essential testament to centuries of co-existence. And cooking from the book is an exercise in celebrating all the different ways of being Indian.
Here's a recipe from Tiffin for skyu, a Ladakhi-style pasta with vegetables that originated in Jammu & Kashmir: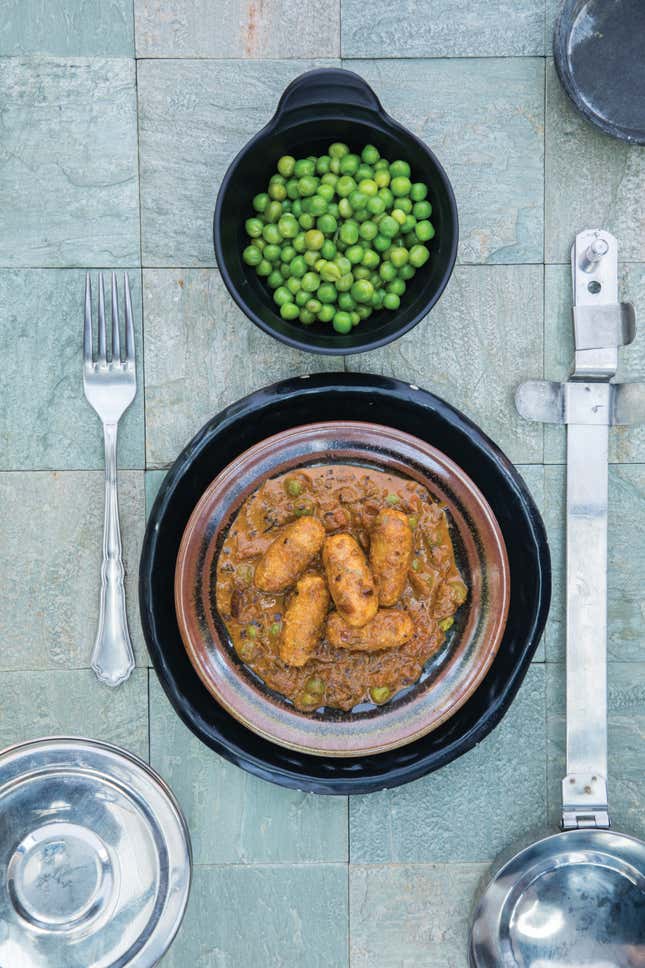 Skyu
Ingredients
3 cups (375 g) whole-wheat flour (atta)
1 Tbsp (15 ml) vegetable oil
1 Tbsp (15 g) ginger-garlic (adrak-lasan) paste
1 medium-size onion, chopped
1 medium-size tomato, chopped
1 medium-size potato, chopped
1 tsp red chilli powder
1 tsp ground turmeric (haldi)
1 tsp garam masala
Salt, to taste
½ cup (120 ml) water
1 cup (160 g) green peas
½ cup (120 ml) milk
Method
1. In a medium-size bowl, mix the flour with enough water to knead into a soft dough.
2. Divide the dough equally into 25-30 small pieces. Roll the pieces into small balls and press
with your finger to make orecchiette-shaped pasta (or shape them cylindrical).
3. In a skillet over low-medium heat, heat the vegetable oil.
4. Add the ginger-garlic paste, onion, tomato, and potato. Sauté for 5 minutes.
5. Stir in the red chilli powder, turmeric, and garam masala. Season to taste with salt. Sauté
for about 6 minutes, or until all the vegetables are cooked.
6. Add the water and green peas. Cover the skillet, reduce the heat to low, and cook for 10 minutes.
7. Add the milk and pasta pieces. Let bubble for about 8 minutes, or until the pasta is cooked. Serve hot.