Some of the most fascinating exhibitions of Indian art, history, and heritage take place outside India.
It's one of the many troubling legacies of colonial rule, which allowed the British to collect historic Indian objects and artwork for themselves. British institutions have built priceless collections based on these artefacts that document India's past, but they cater primarily to a non-Indian audience.
Former colonies around the world have been of late calling for the return of looted heritage, but barring a couple of stolen idols, many of the objects that originated in India look set to remain outside its borders.
There is one silver lining, though: the gradual increase in Indian-origin professionals working at Western museums. In October, Sushma Jansari was appointed the British Museum's Tabor Foundation curator, South Asia, becoming the first person of Indian origin to take on a permanent curatorial role at the museum.
Jansari was born in the UK to Indian parents who were among those forced out of Uganda by Idi Amin in the 1970s. Unlike others in the Indian-origin community, she wasn't forced to follow a conventional academic path.
"I saw a lot of my fellow Indians at school encouraged to pursue 'traditional' subjects and careers, but my parents held back from this approach," she told Quartz. "…they didn't bat an eyelid when I decided to study history, art, classical civilisations, and maths at A-Level, and then ancient history at university."
In 2012, while pursuing a PhD at University College London, Jansari started working with the British Museum in the city, and today she's responsible for curating the institution's Asian ethnographic and south Asia collections, which include objects from not just India but also Pakistan, Sri Lanka, Bangladesh, and the Maldives.
Edited excerpts from Jansari's interview with Quartz:
Why has it taken so long for someone of Indian origin to take a permanent curatorial role at the British Museum?
Working in the arts sector in general, or heritage and museums in particular, wasn't seen as an ideal career choice in the Indian diaspora in the UK. Lots of first- and second-generation members were encouraged to pursue traditional career paths in medicine, accountancy, and so on. I was the only Indian person studying ancient history at my university. This translated into an overall lack of representation in arts and heritage institutions. At which point, it becomes a self-fulfilling prophecy: with so few Indians in the sector, it ceases to be seen as a viable career opportunity.
But more recently, I have seen many members of the diaspora enter the sector at a junior level and I think this bodes well for the future.
I think it's also important to note that I'm not the first Indian person to be appointed to a permanent curatorial post at a national museum in the UK: I have numerous Indian-origin colleagues at the British Library and the V&A, for example. But, with my appointment at the British Museum, it means that fewer curatorial glass ceilings remain to be broken.
Can you tell us more about what you aim to do in your new role?
I am two weeks into my role, so I'm still formulating my long-term research plans. I am responsible for the ancient to medieval objects from South Asia at the museum, as well as some of the anthropological objects from this region. The objects include small clay figurines from Mohenjo-daro to pink sandstone sculpture from Mathura, bronze sculpture from the Deccan, and textiles from across the subcontinent. Over the next month or so, I will start to refine a collection-based research project.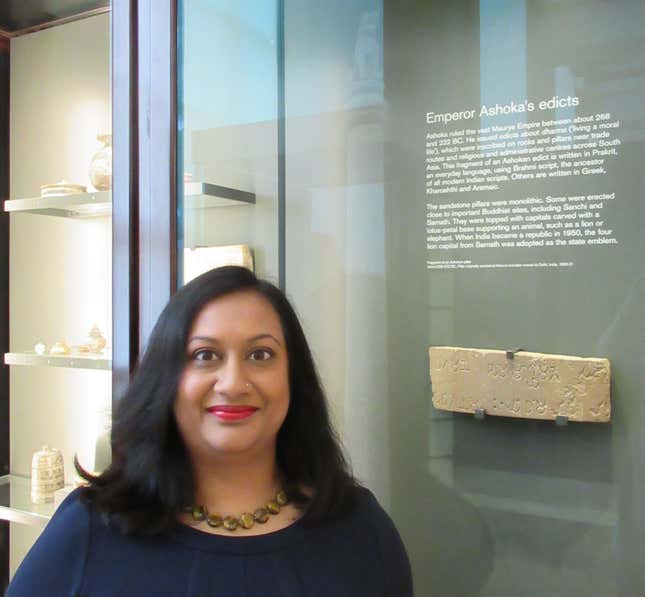 During the recent refurbishment of the Sir Joseph E Hotung Gallery for China and South Asia, I surveyed much of this material and began to think about different research and display approaches. One thing I did in the gallery was draw stronger links between historic objects and the Indian diaspora in the UK. For example, in the section dealing with medieval Jain sculpture from western India, I included images of the Jain Centre in Leicester, which has contemporary architectural and devotional sculptures carved in Gujarat. My aim was to show our visitors the continuity of this sculptural production in this part of India and this religious tradition in the UK.
One of the decisions we took during the gallery project was to have an open space along the centre of the South Asia section of the gallery so diverse cultural events can be held here, including music, dance, talks, and discussions.
What is your opinion on a museum in the UK holding on to its collection of Indian artifacts?
Given the UK's colonial history, it won't come as a surprise that some objects now at the British Museum originated in the Indian subcontinent. I think it's important to research how, when and by whom objects were acquired, and this will be part of my work. It is important to collaborate meaningfully with colleagues in India to share knowledge, skills, and collections. The recent co-curated "India and the World" exhibition held at the CSMVS (Chhatrapati Shivaji Maharaj Vastu Sangrahalaya), Mumbai, and National Museum, New Delhi, to which the Museum loaned a considerable number of global objects, are examples of this.
I also want to look at what the collections mean in the UK today, especially among the considerable and diverse South Asian diaspora communities here. I am keen to invite diaspora artists, among others, to respond to the collections and displays through dance and music. I hope it will encourage Indians in the UK to engage with their heritage in a meaningful way and, hopefully, enter the sector.
What is your view of heritage conservation in India? 
I have noticed a lot of positive changes in Indian museums and heritage sites. It's also great to see more Indians travelling across the country to experience the incredible collections and sites here. Both of these points go hand in hand: the more people travel to these places, the more discerning they become.
There is also lots of innovative work being done across the heritage and arts sectors in India and I follow a lot of this through social media. This includes digital work but also new approaches to more traditional tour guiding in cities with exceptional heritage. I'm happy to see young people enter the sector. This is driving positive change and improvement, so I am hopeful and excited for the future.