Here's a paradox: Indians are worried about online fake news, and yet heavily consume news through WhatsApp and Facebook.
In fact, instant messaging (IM) services are used as a source of news far more in India than in any other country, according to an online survey commissioned by the think-tank Reuters Institute India and conducted by the market research firm YouGov in January. The sample is reflective of over 1,000 English speakers in India and is thus skewed towards males, the affluent, educated, and young.
Over half of the Indians surveyed used both Facebook and WhatsApp for news.
The level of engagement that Indians have with news items on social media platforms is high, too. For instance, nearly 70% of the respondents said they looked at news headlines on Facebook and clicked on them, too.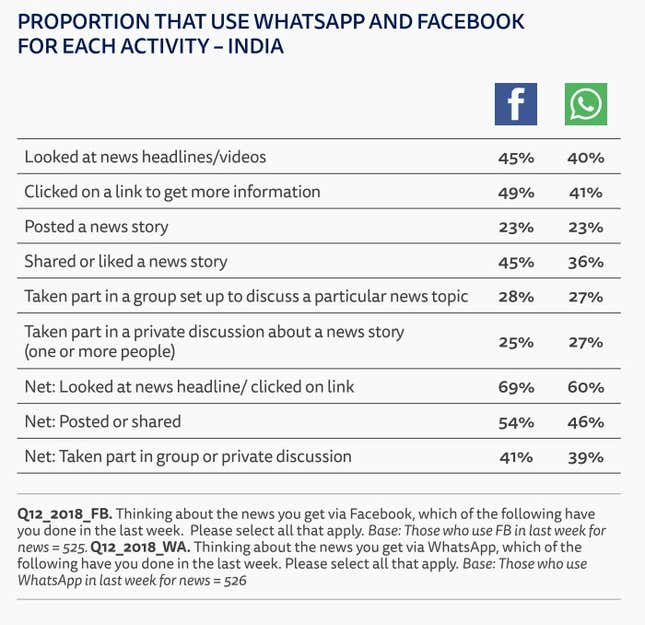 Headlines and photos are the biggest determinants of whether or not Indians click on a report on social platforms. Brands are the next biggest factor.
Though online news consumption is high, so are the concerns. Nearly six in 10 Indians worry about fake news online.
After all, WhatsApp has been a hotbed of misinformation, be it misguiding voters during the 2018 Brazilian elections or the more recent state-level elections in India. India has also witnessed at least 30 incidents of murders and lynchings sparked by fake news spread via WhatsApp.
Read Quartz's coverage of the 2019 Indian general election here.