By the end of his first six months in office in 2014, Narendra Modi had already spent almost 30 days abroad—a record for any Indian prime minister.
Later this month, he will reportedly embark on an official trip to the United Arab Emirates (UAE) where he is scheduled to receive the Zayed Medal, the Gulf nation's highest honour. Some reports also suggest he will be in Abu Dhabi on April 20 to inaugurate the capital city's first Hindu temple.
This trip would cap a jet-setting tenure for Modi, who has travelled abroad on official visits 93 times since May 2014, according to data collated by Quartz from the prime minister's office (including repeat visits to the same country).
With the UAE visit, he would have clocked more international visits in five years than his predecessor Manmohan Singh's (93 in 10 years). If re-elected, Modi could easily overtake Indira Gandhi's 113 trips in 15 years.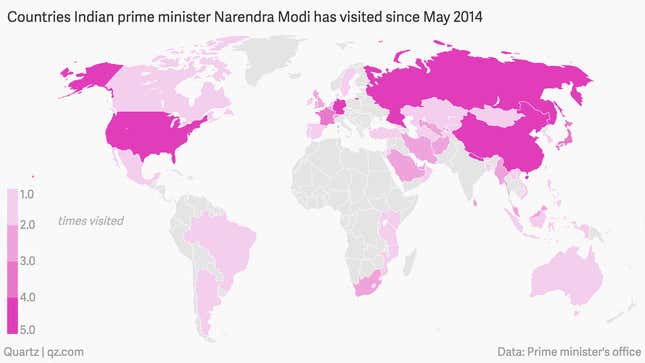 Overall, Modi's travel costs have already surpassed the Rs2,000 crore ($287 million) mark.
Opinion is divided—as is almost everything about Modi—over the intent and outcomes of these trips. While some see them as fruitful, others see in his frequent visits an attempt to compensate for the years of being shunned by major countries. Some even criticise him for not spending enough time in India, meeting agricultural workers and sanitation workers, or even attending parliament.
On the other hand, India's external affairs minister, Sushma Swaraj, has made fewer foreign trips (79) than Modi in this term, records from the ministry of external affairs show.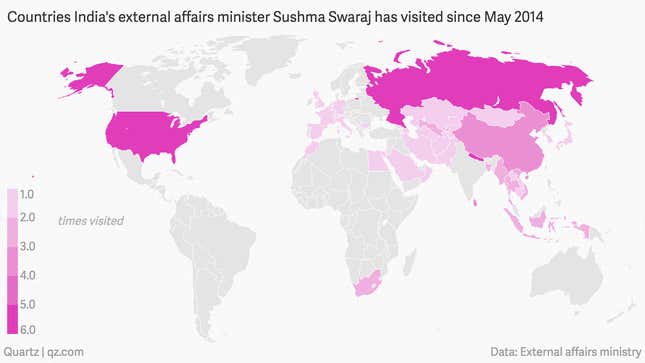 East or West
The US was the most visited country by Modi and the second-most for Swaraj. Not surprising, given the fact that India's bilateral ties with the superpower have deepened immensely over the past two decades.
Modi's visits have included events like a public appearance for the Indian diaspora at Madison Square Garden in September 2014 and a Townhall Q&A with Facebook co-founder Mark Zuckerberg a year later. In 2018, he was part of the maiden trilateral meet with president Donald Trump and Japanese prime minister Shinzo Abe. The same year, there was the first-ever 2+2 dialogue, where Swaraj and defence minister Nirmala Sitharaman met with US secretary of state Michael R Pompeo and secretary of defence James N Mattis.
China was another country the two frequented. Last April, Modi visited China for a one-on-one with president Xi Jinping to normalise ties in the wake of the Doklam crisis the year before. Swaraj followed in February this year to discuss with Chinese and Russian leaders the issue of India's strained relations with Pakistan.
Nepal and Russia also featured high on both the leaders' lists.
Although many of the countries visited by the two politicians overlap, Modi has been to far more unique locations.
Kuwar Singh contributed to this report.
Read Quartz's coverage of the 2019 Indian general election here.