Political history is being made in India right now, but all that Indians on the internet care about is cricket.
The first phase of the country's parliamentary polls began today (April 11) with 91 constituencies across 20 states going to poll. The month-long process is easily history's largest democratic exercise ever.
And yet, this morning, Google Trends was dominated by searches about the ongoing Indian Premier League (IPL), a professional cricket tournament. Google Trends shows the popularity of a particular term, analysing the number of times users have searched for it in any given period.
At around 8 am today, all that Indians seem to be searching about was last night's IPL game between Kings XI Punjab and Mumbai Indians. The top searches across all categories on Google were Kings XI Punjab, its Afghani spinner Mujeeb Ur Rahman, and owner Preity Zinta.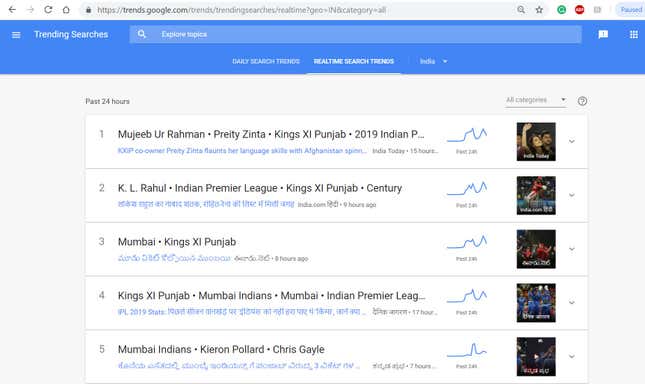 The Indian elections will be conducted in seven phases over 38 days before ending on May 19. Up to 900 million, including 83 million first-timers, are expected to vote this time. The results will be announced on May 23.
Given the sheer size of the voting population, the world is watching the process in India closely.
By around 9 am, election-related keywords did pick up on Google Trends in India, too.
However, another one of Indians' fetish beat them. At 8:57 am, Amazon.com was the most searched keyword in India because the e-commerce portal is running a smartphone sale today.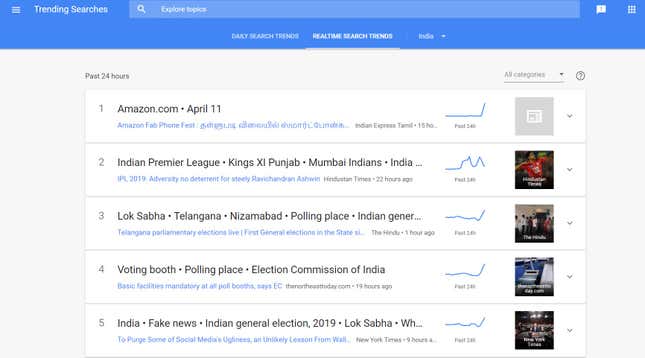 India is the world's second-largest smartphone market. By 2022, there will be an estimated 829 million smartphone users in India, accounting for 60% of the population.
Read Quartz's coverage of the 2019 Indian general election here.