As Chinese president Xi Jinping arrives on a three-day visit on Wednesday with the promise of $100 billion of investments to India, the persistent trade imbalance with the eastern neighbour will be playing on the minds of Indian officials. As China has evolved into a global manufacturing powerhouse, its need for Indian goods has diminished, and combined with some contentious trade decisions, bilateral trade numbers are crying out for intervention.
India's lopsided trade equation with China may in fact get worse. Domestic demand in China has been on the decline. Iron ore futures has dropped due to weak demand, so has demand for cotton. Copper imports, in fact, dropped to lowest since April 2013.
This is terrible news for India because some of the largest items in India's export basket to China include iron ore, cotton and copper. A lower demand of these goods in China will mean fewer exports from India. This may stoke the already massive trade gap.
China is India's largest trading partner. Trade between the two countries reached $49.5 billion during the first nine months of the current fiscal year, Quartz reported earlier. The two countries have set a target of $100 billion in trade by 2015.
But India's trade deficit with China has risen at a rapid pace since 2009-10. The trend reversed in 2013-14 as trade between the two countries declined.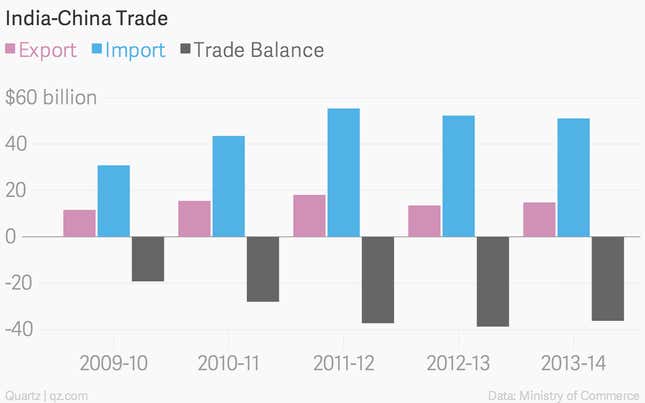 One of the main reasons behind India's large trade deficit is that its exports are largely concentrated in primary and resource-based sectors. "As most of the important sectors contributing to export are primary and resource-based sectors, exports of these products may not be sustainable in the long-run as demand for imports in these sectors are receding," says a paper by the Reserve Bank of India
So what can India do?
Experts say India doesn't have to cut down its imports to improve its trade imbalance with Asia's largest economy. "The present trend of trade imbalances may be settled without limiting the size of bilateral trade," writes S.K. Mohanty, the author of the RBI paper. It has to focus on diversifying its exports and include agricultural, pharmaceuticals, auto components and IT products.
But it is easier said than done.
China has imposed lots of trade restrictions on several Indian exports.  For example, it has banned imports of Indian basmati rice without giving adequate reasons. "…Nearly all the sectors in which India enjoys a comfortable and comparative advantage are routinely subjected to non-trade barriers in China," says a report by Observer Research Foundation.   
To top it off, India has its own set of problems at home. It suffers from a poor labour productivity and tedious regulatory environment making it difficult for businesses to operate.
As he leads the visiting dignitary to Mahatma Gandhi's Sabarmati Ashram in Gujarat today, prime minister Narendra Modi could indulge in a moment of silent contemplation on this eastern imbalance. The good news of course is that the proposed $100 billion investment from China is more than double the size of the current trade imbalance.