Indians and Chinese now have yet another arena for competition—American real estate.
Between April 2013 and March 2014, Indians and Chinese were among the biggest international real estate clients in the United States, according to a report by the National Association of Realtors (pdf).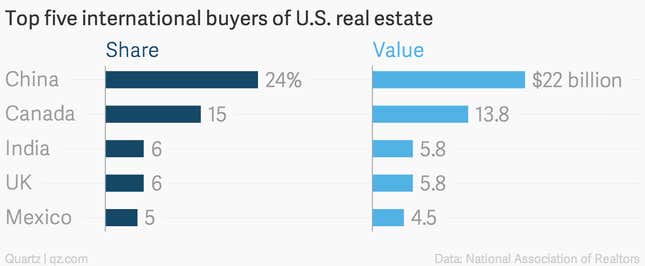 Property worth $92.2 billion was bought by international clients in the U.S. during the period, an increase of 35% over last year. Among other factors, it was helped by the fact that U.S. home prices and interest rates are still much lower than the pre-crash peaks of the last decade.
Of this $92.2 billion, Chinese buyers picked up $22 billion worth of real estate, followed by $13.8 billion worth of purchases by Canadians. Indians are third on the list, with $5.8 billion of properties purchased.
But despite their penchant for American houses, there's a lot that separates Indian and Chinese buyers in the U.S.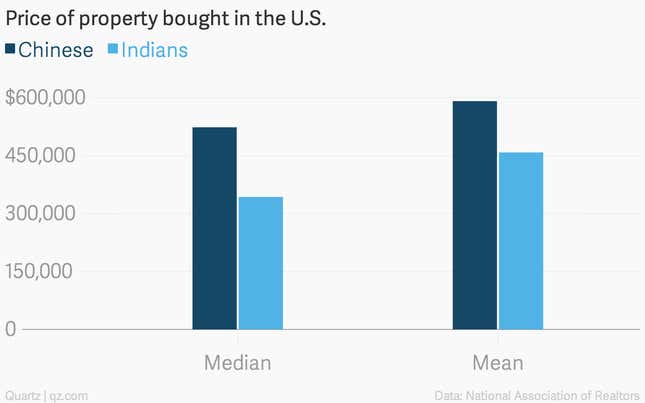 For one, Chinese typically outspend Indians in terms of the value of the properties purchased. The average price of a property bought by a Chinese buyer is $590,826, while for an Indian buyer it is $458,028.
Yet, both prefer buying in similar areas with high rates like California, New York and Washington. Canadians, on the other hand, prefer cheaper houses in Florida and Arizona.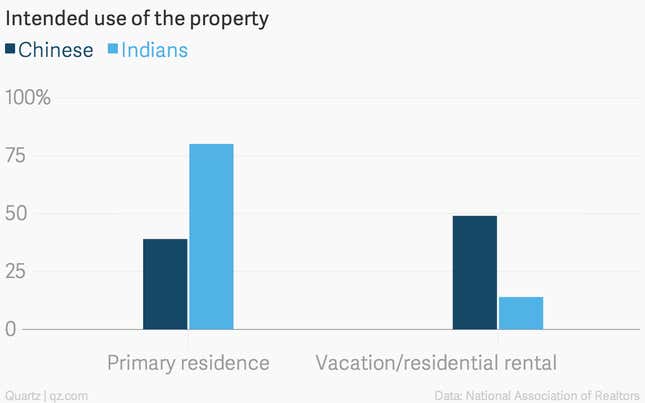 About 80% of Indians buy apartments to live in them. The large number of Indian workers in the technology sector are home buyers, including the affluent elite picking up properties in Silicon Valley. Parents of university students, particularly on the East coast, also buy houses as an investment. And then there are large immigrant communities in New Jersey and Queens.
The Chinese buy differently. Almost half of the purchases are either vacation homes or residential rentals, with 37% of properties located in urban areas. Many of these are expensive houses picked up purely as an investment.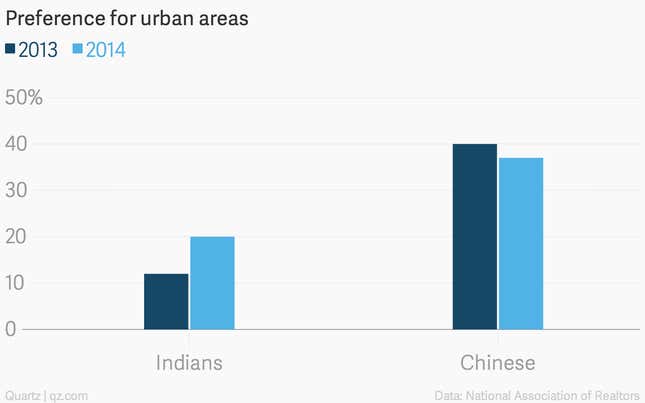 But some preferences are changing. Indian buyers—who have long favored suburban homes—are increasingly looking towards urban properties. Between 2013 and 2014 (PDF), there was an increase of eight percentage points in the purchases made by Indians in urban areas.
The trend is opposite for Chinese buyers. In 2013, 40% preferred to buy houses in urban areas but only 37% were inclined to do so in 2014.