One of the many challenges that finance minister Arun Jaitley has to overcome in his budget on Feb. 28 is restarting the corporate investment cycle.
Mired in a sluggish economy, Indian companies have been conservative with their capital expenditure plans in recent years—and that's something Jaitley needs to change if he has to deliver on his government's promise of bringing back robust economic growth.
Although there has been a turnaround in sentiment and India's stock markets have hit record highs, the ground reality still remains grim nine months after prime minister Narendra Modi took control of the government.
A report by CRISIL, a credit rating agency, reveals that Indian companies are still cautious on fresh investments.
These three charts show why Jaitley's budget has a lot of ground to cover.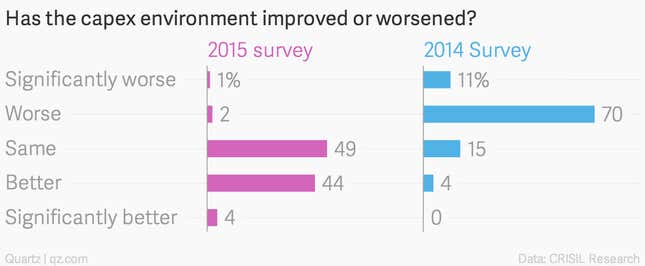 Despite a revival in business sentiment, 49% of the 192 companies polled by CRISIL say that the capital expenditure (capex) scenario is still the same. Prasad Koparkar, senior director, research at CRISIL said in a media teleconference, that although companies are optimistic about the capex cycle reviving in 2015-16, "it is not reflected in their own plans."
Instead, their own capital investment plans actually indicate a 4% decline.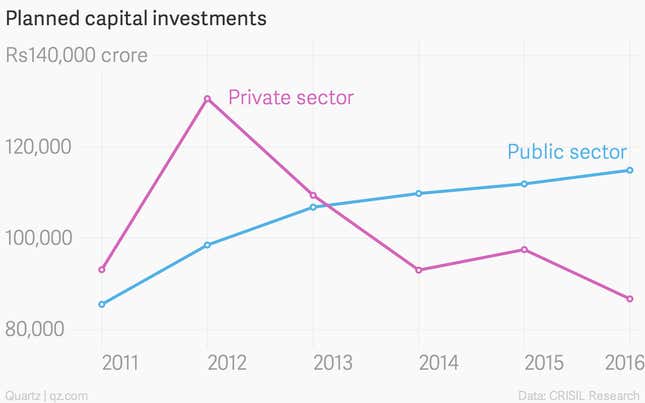 Planned capital expenditure, according to the survey, is likely to decline by 11% in 2015-2016 fiscal—and is pegged to be the lowest since 2010-11. The companies polled contribute to around 45% of the capital expenditure by all the NSE-listed companies in 2013-14, according to the rating agency. These do not include banks, financial services and insurance companies.
"While public sector entities surveyed indicate a marginal uptick in their capex plans, a game-changing recovery in aggregate capital investments is, expected to happen only after 2015-16," the CRISIL report said.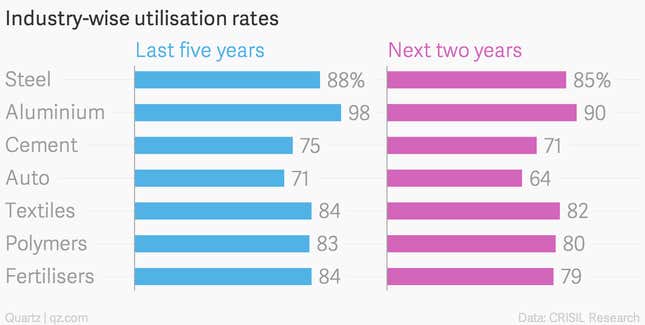 Utilisation rates for major industries are actually projected to fall in the next two years, compared to the last five years. Lower utilisation shows companies are not using their existing facilities to their full capacity, another indication that no new investment is happening.