This story has been updated.
Asia's third largest economy is poised to add to the bottom line of the world's largest online retailer.
Launched in India just two years ago, Amazon has already become a significant player in the country's booming e-commerce market.
"Amazon's efforts in India could potentially start to positively impact the company's overall gross profit growth by 2018," the Royal Bank of Canada (RBC) said in a research note (pdf). 
By 2018, the e-commerce giant could be selling products worth between $1.8 billion (Rs11,243 crore) and $4.4 billion (Rs27,483 crore) in India. It is estimated to earn revenues between $300 million (Rs1,874 crore) and $700 million (Rs4,372 crore) during the same period. That'll help generate profits in the range of $200 million ($1,249 crore) to $600 million (Rs3,748 crore), the bank said.
India's contribution to Amazon's global revenues is minuscule at the moment, RBC added. In 2014, Germany was the most lucrative international market for the company with a share of 13% of the total revenues, followed by Japan at 9%. Share of revenues from other international operations, which include India, was just 6%.
Incredible India
But Amazon, like the rest of the industry, probably realises that these are still early days for online commerce in India, which means that potentially there is immense room for growth.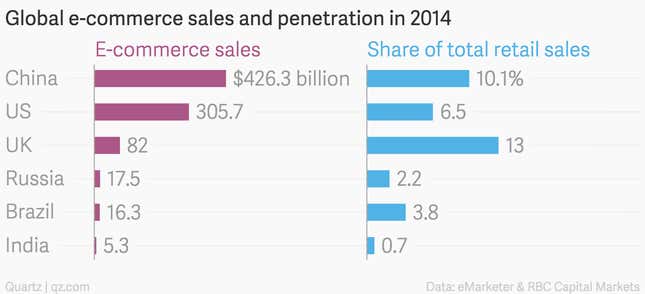 By 2018, India's e-commerce market is expected to grow to $18 billion (Rs1.12 lakh crore), according to market research firm eMarketer, and by 2020, it could reach $32 billion.
Driven by these numbers, money is flowing into the industry.
In July 2014, Amazon founder Jeff Bezos announced that the online retailer will invest $2 billion in its India business.
The announcement came one day after Flipkart, one of India's largest e-commerce company, raised $1 billion in funding.
So far, Amazon's India campaign has been pretty impressive. After launching in 2013, the company is already the third largest online retailer in the country behind Flipkart and Snapdeal with a market share of 10-15%, according to RBC. By December 2014, the Seattle-based company had sold 19 million products through its website in India, a growth of 70% over a year earlier.
Now, it is trying everything it can to improve further.
For one, it is expanding in India at a much faster rate than any of its other markets.
In just two years, Amazon sells products across 14 categories in India. In established markets such as the US, the UK and China, the company took much longer to expand its catalogue.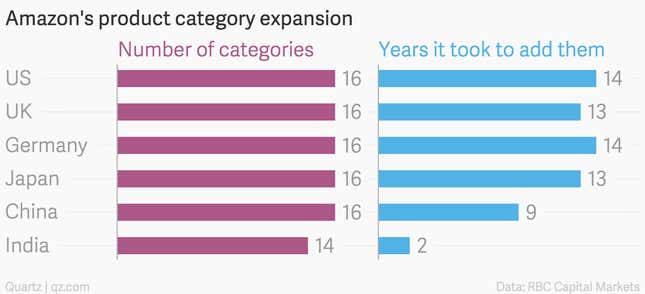 Moreover, it is working to strengthen its logistics backend, in line with what its closest rivals, Flipkart and Snapdeal, are already doing.
The company has set up its own logistics company to directly deliver goods to its customers. Amazon has also partnered with India Post—one of the world's largest postal networks—to help it reach deeper into the hinterland.
Lagging
Nonetheless, Amazon still has a lot of catching up to do in India. The company's losses rose to $51.44 million (Rs322 crore) during the fiscal year ending 2014, up from $3.93 million from a year earlier. It loses around Rs2 for every rupee earned, analysis from VC Circle shows. 
The US-based retailer has just 20,000 sellers on its platform. Flipkart and Snapdeal, which are heavily backed by venture capitalists, have 30,000 and 50,000 sellers, respectively—well ahead of Amazon. To make things trickier, Alibaba—Amazon's biggest competitor internationally—is also making inroads into the country.
So, while India will likely play a pivotal role to boost Amazon's global growth, everybody wants a bigger pie of the Indian market. And that could mean Amazon's journey in the country may not be smooth—despite its deep pockets.