This post has been updated.
This time last year, ScoopWhoop still hadn't had its first anniversary party, but it's team of eight people—including five co-founders—were already bringing in over four million unique views and enough attention to be celebrated as India's Buzzfeed clone.
Now, with an 80-member team, over 12 million unique views making it India's 119th most popular websites, according to Alexa, and $1.6 million (Rs10 crore) in funding, the homegrown upstart has a new, almost audacious, ambition: It wants to become India's version of Buzzfeed and Vice combined—with a dash of Vox Media, the American publisher behind The Verge, SB Nation and Ezra Klein's Vox.
"If you're in the 16-25 demographic in India, we want to be the destination for news and entertainment," Rishi Pratim Mukherjee, ScoopWhoop Media's 31-year-old co-founder and chief operating officer, told Quartz. "The vision is to provide content to this new generation of online Indians."
Great ambitions
The broad plan is to focus on viral content and entertainment segment—the Buzzfeed equivalent—that has driven much of ScoopWhoop's early traffic and success. There will also be a bigger news team.
But crafting news into content for social media consumption can sometimes be tricky, as ScoopWhoop found out the hard way. After the 7.8 magnitude earthquake hit Nepal on April 25, its editorial team hastily put out a post titled "16 Thoughts That Went Through Everyone's Mind When The Earthquake Happened," which was slammed as insensitive on Twitter and Facebook. ScoopWhoop later apologised for it.
"We messed up with that one piece and justifiably received flak, which means we're more focused now," Mukherjee admitted, although he added that "over 3 million people read our coverage on Nepal which was as extensive as other legacy publications."
But media analysts are not exactly convinced.
"Buzzfeed and ScoopWhoop are loads of fun but are they credible as news sites? They seem to veer towards entertainment rather than news. I won't see these sites for hard-hitting stories but if I want to see the top five fashion styles of prime minister Modi, I would click on them," media columnist Mannika Chopra told Quartz.
Alongside—and here's the Vox Media parallel—ScoopWhoop wants to enter into niche segments and develop independent online properties. Earlier this year, it rolled out Gazabpost, a viral news and entertainment site in Hindi, and Vagabomb, which it describes as "an amalgamation of contemporary writing for the urbane Indian woman."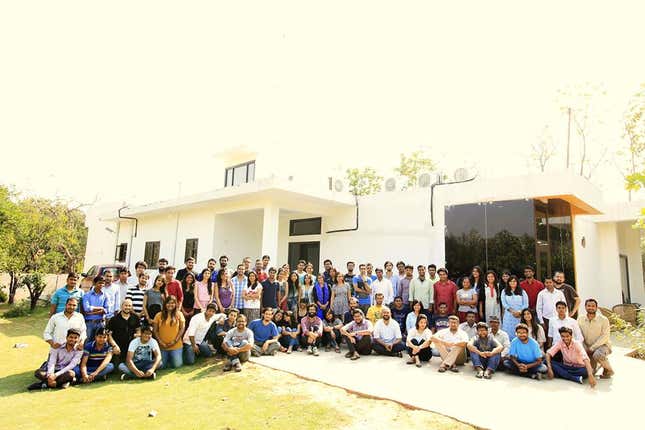 "These are different properties for different users," Mukherjee explained, outlining ScoopWhoop's intention to explore new segments with sparse competition and significant potential for traffic. "We want to be the one digital destination for one category."
There's also an effort to expand ScoopWhoop's presence on mobile. Although it is already the source for about 75% of its traffic, much of this is driven though it's mobile site via social media. Through a series of apps—a new iOS app for ScoopWhoop.com and new ones for Gazabpost and Vagabomb—the company wants to build a more direct link with its audience.
Baked for success?
And the final piece in ScoopWhoop's big plan is video. "Nobody's really taken video by the horns in India," Mukherjee said, which drew his team into developing a two-pronged strategy of creating a small in-house video team while partnering with independent producers.
A part of that play surfaced last week when ScoopWhoop Talkies, the startup's video division, released its first web series, Baked. A co-production with Pechkas Pictures, founded by two former Delhi University students last April, the seven-part fiction series has been fearlessly marketed as "the biggest thing from India to hit the internet space."
"We had been noticing how AIB (All India Bakchod) and TVF (The Viral Fever) had been very successfully doing a lot of sketch comedies, and millions of people were watching it," Vishwajoy Mukherjee, 26, co-founder of Pechkas Pictures and director and co-producer of Baked, told Quartz. "So maybe it was time to cater to the same audience, but come with something bigger—something like a TV show, but not made for TV."
Pechkas Pictures had already finished making the series by the time they took it to ScoopWhoop, which promptly jumped on the opportunity to expand its video portfolio. Of course, it helps that ScoopWhoop has money to spend: Of the Rs10 crore it raised last year, about 20% will go into video alone.
And in the works is a documentary series—a la Vice—and an in-house video series, tentatively titled "The Chair."
Money matters
To build and sustain all this, ScoopWhoop will need some serious money. It already has some from Bharti Softbank (it reportedly picked up 36.5% stake in ScoopWhoop Media for Rs10 crore in November 2014)—a collaboration India's Bharti Group and Japan's Softbank—with the option of raising more funds from the investor.
Simultaneously, it also has a team to work on sponsored posts, while verticals like ScoopWhoop Talkies will seek sustainability through product placements. For ScoopWhoop.com alone, Mukherjee expects to reach breakthrough by March 2016.
We welcome your comments at ideas.india@qz.com.