The global race back to the moon has a fourth entrant: TeamIndus, an Indian enterprise, has secured a contract with the Indian government for a rocket that will fly a probe to the moon in 2017 in an attempt to win the $30 million Google Lunar XPrize.
TeamIndus will be the first private entity to exclusively use India's main rocket, the Polar Satellite Launch Vehicle, which has flown satellites for countries around the world and launched India's Mars orbiter in 2013.
Competitors hoping to win the Lunar XPrize must land a probe on the moon; use it to transmit photographs, video, and data back to earth; and move it some 500 meters across the lunar surface. The contest is designed to demonstrate the capabilities of the private space sector and to lay the groundwork for a future economy in space.
Team Indus' main competitors for the prize are MoonExpress, an American company that aims to fly on a rocket built by the company Rocket Lab, and SpaceIL, an Israeli nonprofit that booked a flight on a SpaceX Falcon 9. Another international group, Team Synergy, plans to fly on an experimental rocket built by Interorbital Systems, a company owned by two of Synergy's co-founders.
TeamIndus is alone among the competitors to announce a specific launch window, set for Dec. 28, 2017. The other competitors hope to launch sooner than that, but with SpaceX still grounded following its September accident, Rocket Labs still awaiting the first flight of its vehicle, and Interorbital's rocket still under construction, it's anyone's game.
So far, only three governments—the USSR, the United States, and China—have landed functioning probes on the lunar surface.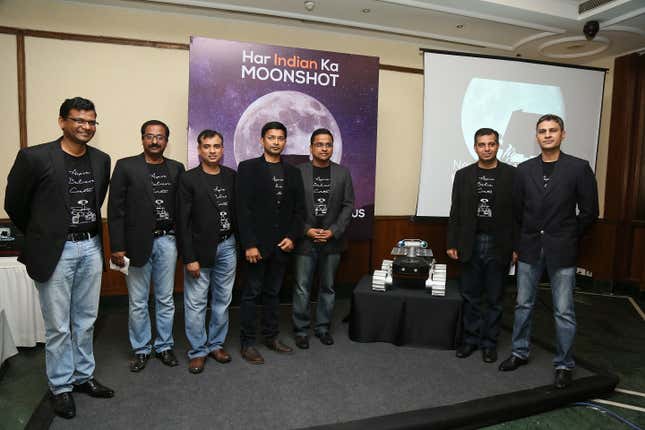 TeamIndus boasts a 100-person engineering team, and describes itself as a group of young colts and older "jedi masters"—retired scientists from India's space agency, the Indian Space Research Organization. The team is backed by a who's-who of Indian business leaders, including Infosys co-founder Nandan Nilekani, Ratan Tata of the Tata Group, and Sachin Bansal and Binny Bansal of Flipkart.
"[India is] ready to take to the global stage in demonstrating a capability for building deep technology and competing with the best in the world," Nilekani says. "I invested in TeamIndus because they're the face of New India, and I believe they will inspire the next generation of innovators and achievers."
The Google Lunar XPrize was announced in 2007 following the success of the Ansari X Prize, which offered $10 million to the first non-governmental organization to launch a reusable manned spacecraft twice in two weeks. The Ansari prize was won by the company Scaled Composites, with a vehicle that would be come the basis for Virgin Galactic's still unrealized space tourism hopes.
Correction: An earlier version of this article omitted Team Synergy from the list of Lunar XPrize entrants with certified launch contracts. Also, Ratan Tata's name was misspelt in a previous version.