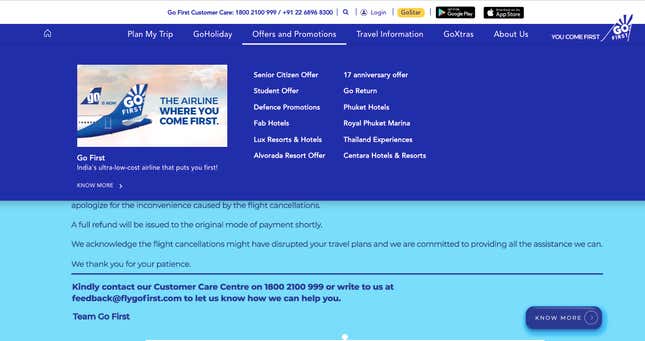 Eighteen-year-old Indian airline, Go First, has gone bankrupt, following the same fate as Jet Airways, the country's first private carrier.
The no-frill airline filed for voluntary insolvency resolution proceedings yesterday (May 2), cancelling flights for three days from May 3.
India's aviation minister has said the government has been "assisting the airline in every possible manner."
"Go First has been faced with critical supply chain issues with regard to their engines...it is unfortunate that this operational bottleneck has dealt a blow to the airline's financial position," minister Jyotiraditya Scindia said today.
Go First's 59-aircraft fleet operated across 35 destinations—27 domestic, and eight international.
Go First's financial troubles
The Wadia-group airline owes creditors $798 million. Its bankruptcy filing said it had never defaulted on payments, Reuters reported.
"...Considering the present financial situation of the corporate applicant defaults to financial creditors would be imminent," Reuters reported citing Go First's bankruptcy filing document.
However, Go First's engine partners, Pratt & Whitney, today said the carrier has a "lengthy history of missing its financial obligations."
The airline, on the other hand, had blamed the non-availability of Pratt & Whitney engines for its inability to meet financial obligations. It also cited the same reason for grounding half of its fleet.
Go First's loss is IndiGo's again
The low-cost carrier's abrupt move has left its customers confused while giving a fillip to IndiGo, India's largest airline. The two airlines have many overlapping domestic routes.
Go First's disappearance could also help the country's youngest carrier, Akasa Air.