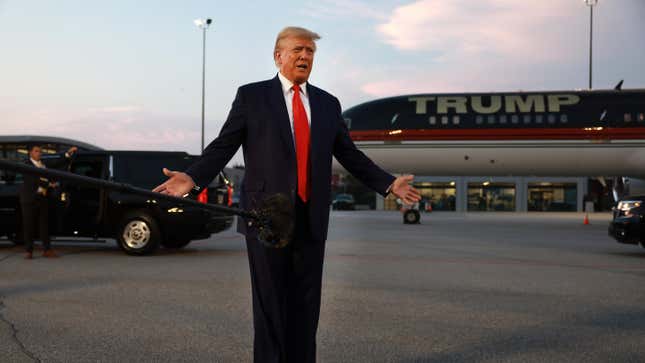 Truth Social, Donald Trump's attempt to create a right-wing clone of Twitter, might be days away from dissolution. The social media platform's fate will be decided by a crucial vote later this week, the Washington Post reported on Saturday (Sept. 2).
Why a tightening of credit conditions could lead to a weak economy
The eventual fate of Truth Social was seeded back in October 2021, when Trump Media & Technology Group (TMTG)—the platform's parent company—announced its plans to merge with Digital World Acquisition Corporation (DWAC), a Miami-based company. The intent of the merger was for TMTG to go public via a SPAC (special purpose acquisition company) deal. The two companies had between 12 and 18 months to complete their merger.
The deadline for the merger to close, which has been extended at least five times, is now scheduled for Sep. 8, 2023. A shareholder meeting has been scheduled for Tuesday (Sep. 5), in the hopes of garnering enough votes to extend the deadline by another year.

Typically, deadline-extension votes like these are easily approved because SPAC shares are purchased by large professional or institutional investors. But DWAC's shareholder base is made up largely of small-time retail investors, many of whom likely bought shares out of loyalty to Trump or his brand. Such a cohort is likely not paying attention to the liquidation deadline, Jay Ritter, a University of Florida finance professor, told the Washington Post.
If the vote fails, DWAC will be required by law to liquidate and return $300 million to its shareholders, leaving Trump's company high and dry.

Quotable: DWAC is seeking a "Yes"

"Our SPAC is at a defining crossroads. The proposal to approve the Extension, giving us time to potentially complete the business combination with Trump Media & Technology Group Corp., isn't just a formality; it's a decision deeply rooted in our shared vision for freedom of speech, innovation, and growth. As the Special Stockholders Meeting approaches, I earnestly urge each stockholder to cast their vote in favor of this extension. Every vote is essential for our ability to progress with the merger."

—Eric Swider, the CEO of DWAC, in an Aug. 16 regulatory filing
By the digits: the Truth Social SPAC deal
$875 million: The initial enterprise valuation of TMTG, according to a regulatory filing, with a potential to surpass...
...$1.7 billion: ...depending on the performance of its stock

$293 million: DWAC's cash on hand at the time of the merger announcement

$1.3 billion: The cash infusion that TMTG stands to receive from DWAC, if the merger goes through

$138 million: The volume of capital that once-interested investors have already pulled out

6.4 million: The number of followers Trump has on Truth Social, versus nearly 87 million on Twitter (which became X on paper in April, and underwent a brand revamp in late July)
Charted: DWAC's fall from grace
A brief timeline of the DWAC and Truth Social merger
January 2021: Trump is kicked off Twitter following the Capitol Hill insurgency. He founds Truth Social as an alternative.
October 2021: DWAC shares soar 400% on the back of chatter in online forums like Reddit's WallStreetBets and the chatroom Stocktwits, making it a meme stock of sorts. Towards the end of the month, a New York Times article reports that DWAC failed to disclose talks with TMTG from May to October 2021 to the Securities and Exchanges Commission (SEC).
November 2021: Senator Elizabeth Warren asks the SEC to investigate whether DWAC "committed securities violations."
February 2022: Shares of DWAC surge nearly 30% in premarket trading as Truth Social debuts on Apple's App Store.
June 2022: TMTG is subpoenaed as part of a criminal investigation into its attempt to go public through DWAC.
August 2022: Google bans the Truth Social app over "insufficient" moderation policies. Calls for Apple to remove the app from its store grow louder, but Apple continues to allow it. Separately, DWAC says in a filing that the board believed it did not have sufficient time to complete the merger and asked shareholders to approve up to four three-months extensions.
September 2022: After drawing on millions of dollars in funding from its corporate sponsor, ARC Global Investments II, DWAC is able to extend its deadline by one whole year.
October 2022: DWAC postpones a shareholder meeting to Nov. 3 after failing to get enough support for a 12-month extension. Truth Social makes a comeback on the Google Play Store.
March 2023: Patrick Orlando, the chair and CEO of DWAC, who used his power to adjourn and delay merger meetings on various occasions, is removed from his positions.

June 2023: A former DWAC board member is arrested on charges of insider trading.
July 2023: DWAC agrees to pay an $18 million settlement to resolve charges that it had misled investors and given false information to the SEC.
August 2023: DWAC says it is not ready to file two required quarterly financial reports covering the first half of this year, arguing it could not complete them in time without "unreasonable effort or expense." Separately, it claims that Nasdaq warned the the company to file the reports by November or risk being delisted.
One more thing: Trump's back on Twitter (now X)
A month after Elon Musk bought Twitter last October, Trump got his @realDonaldTrump account back. But he didn't use it—until Aug. 25, when he posted a moneymaking mug shot. It was an electoral strategy as much as anything else; after all, Trump's massive following on Twitter will be key in his 2024 election race.
Three days later, however, Trump took to Truth Social to say he wouldn't desert his site. "TRUTH SOCIAL IS THE GREATEST & 'HOTTEST' FORM, SYSTEM, & PLATFORM OF COMMUNICATION IN AMERICA, & INDEED THE WORLD, TODAY. THAT'S WHY I USE IT — THERE IS NOTHING THAT COMES EVEN CLOSE!!!," he wrote in his signature all caps-lock style.
Related stories
👐 Google Play Store approval gives the Trump SPAC deal a fleeting lifeline
📷 Donald Trump posted his mugshot on X to drum up campaign contributions
🥨 Donald Trump's SPAC deal has a meme stock problem
📙 A beginner's guide to the world of SPACs