A fresh exodus of hundreds of Twitter employees, who opted to take severance packages rather than sign up for Elon Musk's "extremely hardcore" vision for the company, left some critical engineering teams at the company unstaffed and immediately gave rise to concerns about the platform's stability.
There was no indication of any widespread disruption of service on Twitter in the immediate aftermath of the staff resignations, which came after Musk laid off half the company and demanded the rest affirm their desire to work hard on his vision for "Twitter 2.0." But a lot remained unclear, including how many people still work at Twitter and what they will prioritize.
In the meantime, the most dire predictions of Twitter's collapse have not come to pass. Instead, the service has started to show cracks at its edges. We are tracking those cracks below.
Copyrighted video isn't being automatically flagged
Many Twitter users reported over the weekend that they were able to post full-length theatrical movies and other content that would have previously been immediately flagged and taken down. That led to speculation that Twitter's copyright strike system, which automatically handles intellectual-property claims, is no longer working.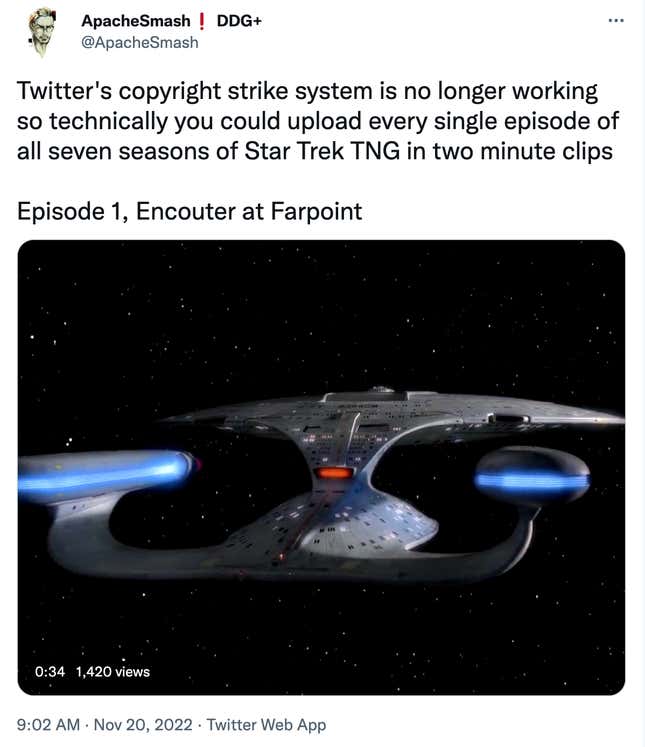 The most prominent examples of users posting full-length movies in short chunks were suspended from Twitter within a few days. But there were still indications that the automated copyright system wasn't functioning.
Moderation isn't adhering to Twitter's policies
It's unclear whether this is a bug, or a brand-new feature of Musk's Twitter, but hate speech appears to be proliferating on the platform.
A study by the Center for Countering Digital Hate (CCDH) found that, out of 100 racist tweets directed at soccer players on the platform and reported to Twitter, only 1 was removed. The other 99, which used the n-word and other slurs, were not taken down, in contradiction of Twitter's written policies.
However, Musk has indicated he will take a different approach to moderating Twitter. "Negative/hate tweets" won't be surfaced by Twitter's algorithm, he said, making them more difficult to find rather than removing them entirely.
It's not clear whether Musk's views have already influenced Twitter moderation decisions, or if having so many fewer moderators simply makes it impossible to enforce the current rules. Regardless, the net effect is more hat speech on the platform. The CCDH earlier found an increase in racial slurs being used on Twitter after Musk completed his acquisition of the company.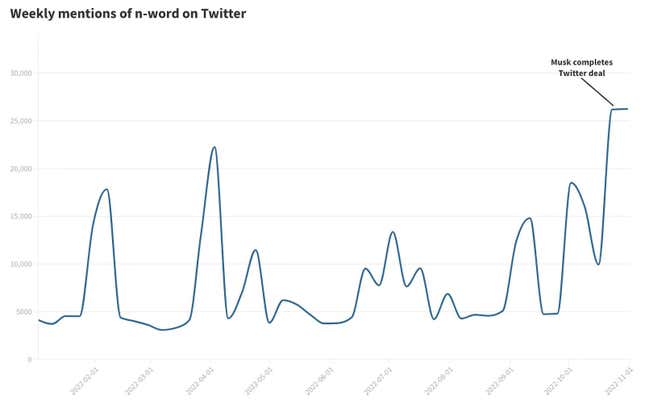 Twitter's SMS services were down
On Nov. 18, lots of Twitter users were reporting they were unable to receive text-message codes from Twitter, which the service sometimes requires to prove your identity. We were able to confirm the error ourselves, getting this message: "You have hit the limit for SMS codes. Try again."
This issue is particularly problematic for users who rely on two-factor authentication via text message to log into their accounts. Many users reported they were simply unable to log in because they're not any code via SMS from Twitter. Other forms of two-factor authentication were unaffected.

As of Nov. 21, SMS services appeared to have been restored. We were able to receive an SMS code from Twitter to request an archive of our data.
Parts of Twitter Blue are cracking
Twitter's on-again, off-again subscription service called Twitter Blue comes with a few features, most of which seem still to be working. But one part that's down, for at least some users, is the ability to see the most popular links shared among a wider network of Twitter users.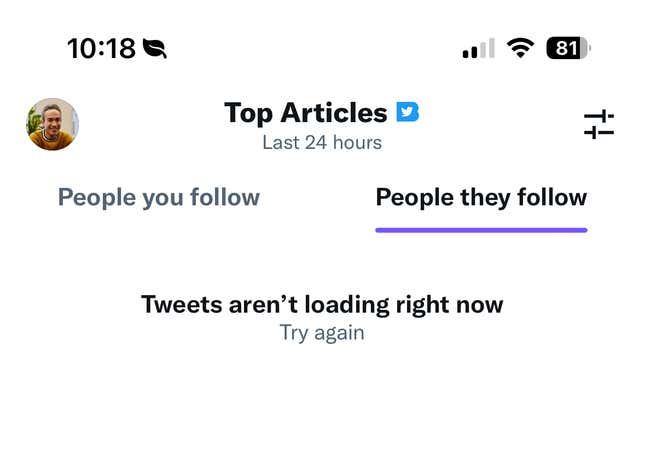 That's, admittedly, a pretty obscure corner of Twitter (though one I happen to use and enjoy every day!). And it's perhaps not coincidental, as some remaining Twitter Blue staff were said to be among those resigning en masse.
If the damage is limited to features used by few users, then Twitter will have clearly escaped a complete disaster. But if timelines stop loading and average users start noticing, it would be a different situation entirely.
We'll keep monitoring what's working and what's not.