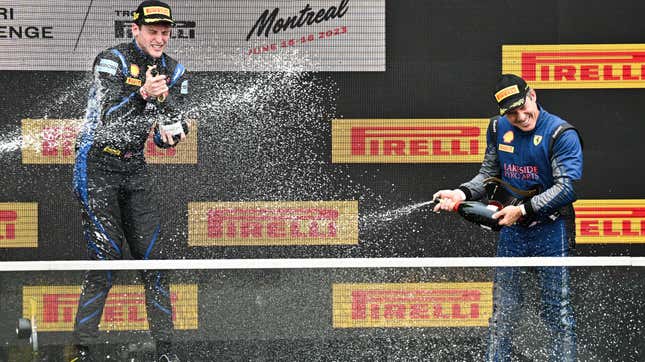 Italy's government won't allow Pirelli's leadership to be influenced by its Chinese shareholder.

Italian prime minister Giorgia Meloni's government exercised its "golden power" to strip Sinochem, the company's largest shareholder, of the right to appoint the chief executive for the 151-year-old Milan-based tire maker, Formula 1's sole supplier.
The government's June 16 order, seen by the Financial Times, gives Camfin, the holding company of Pirelli CEO Marco Tronchetti Provera, the indefinite right to appoint the chief executive. Sinochem, the holding company of China National Rubber Company (CNRC), which owns the stake in Pirelli via a company called Marco Polo International Italy, will have no say. On June 20, Camfin announced a change to the succession plans at Pirelli.
Rome has been probing the Chinese state-owned multinational conglomerate's influence on the company, which is seen as one of strategic national interest, just as US-China tensions simmer—although a meeting today (June 19) between US secretary of state Antony Blinked and Chinese president Xi Jinping seek to relax them.
Italy launched an investigation into China's influence in Pirelli after Sinochem proposed a new agreement where chief Provera, who has run the company since 1992, would not be able to pick his successor (as planned in an older agreement). Pirelli shareholders indicated in May 2022 that Provera should be succeeded by his deputy, Giorgio Luca Bruno. The board meeting deciding the new leadership is scheduled to take place next month.

The new agreement, ratified in May, was meant to be in place for three years, but will have to be rejigged to comply with the government's decision. In a June 18 statement, Pirelli said the government's measures call upon the company to "guarantee that Pirelli is not subject to instructions on the part of the Sinochem Group."
A non-exhaustive list of how the Italian government is reducing Sinochem's influence in Pirelli
💰 Keep cash pooling and treasury services separate.
🌐 Keep Pirelli's information systems separate from Sinochem's, including keeping vehicle data compiled by sensors implanted in Pirelli tyres out of Chinese hands.
🤝 Sinochem will also be barred from involvement in decisions about Pirelli's "mergers and acquisitions, sales, spin-offs or listings of financial instruments," according to the order.
Chinese stakes in Pirelli, by the digits
7.1 billion euro ($7.8 billion): How much Sinochem spent on its Pirelli stake in 2015, back when Italy's "golden power" over stopping investments, forcing stake sales, and investing other restrictions on foreign investors in strategic national assets, was more limited in scope.

37%: Sinochem's stake in Pirelli, making it the largest shareholder
9: Members of Pirelli's 15-strong board Sinochem could pick, according to the new shareholders' agreement, which came into force last week. The would leave just three to Camfin.
9%: Stake another Chinese entity, the Chinese government's Silk Road investment fund, owns in in Pirelli.
Quotable: China won't take Italy's moves lying down
"[China] will show discontent and disapproval in words, but they are smart and do not retaliate immediately, in a clear, visible way. But when an Italian company has problems in China, it will pay the price for the Italian government's decision." —Michele Geraci, former under-secretary in Italy's Ministry of Economic Development, in a statement quoted by the Financial Times
One more thing: Italy considers leaving the China Belt and Road Initiative
Pirelli is only one battleground. The Italian government is fighting bigger battles to cut ties with China. Meloni has hinted at Italy exiting China'a Belt and Road Initiative (BRI), an investment pact with China which Rome joined in 2019—the first and only G7 nation so far to do so.
Related stories
✍️ The US blacklists 23 more Chinese companies for suspected abuses in Xinjiang
🚫 TikTok faces a ban in the US if it retains Chinese-based ownership
💾 China has hit back with a Micron ban months after the US blacklisted Huawei
This story was updated with news that the CEO succession plans at Pirelli have changed.