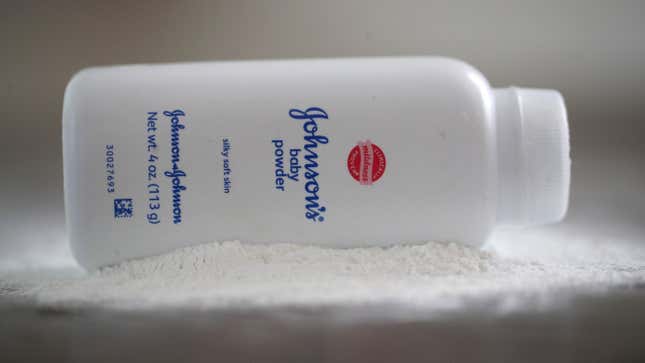 Johnson & Johnson (J&J) is willing to pay $8.9 billion to settle tens of thousands lawsuits alleging its talc-based baby powder cause cancer—an allegation the company continues to deny.
How trauma-informed workplaces can support your team's mental health
The offer is part of a second Chapter 11 bankruptcy protection filing by LTL Management LLC. J&J spun off LTL in 2021 to hold and manage the legal claims related to the controversial talc. That year, J&J put a $2 billion tag on settling the suits but, earlier this year, an appeals court tossed LTL's initial bankruptcy appeal citing that the company was not in financial distress.
The refiling is a move "to obtain approval of a reorganization plan that will efficiently resolve all current and future claims arising from cosmetic talc litigation against the Company and its affiliates in North America," the company said in a regulatory filing yesterday (Apr. 4).
Attorney Mikal Watts of Watts Guerra, a law firm that has been in negotiations with J&J since January, said the new settlement would be the "largest products liability settlement ever realized after a bankruptcy filing."

Johnson & Johnson's cancer lawsuits settlement proposal, by the digits
25 years: The time frame over which the company will disburse the $8.9 billion in payments to alleged victims to "resolve all the current and future talc claims."
60,000: Current claimants LTL has secured commitments from "to support a global resolution on these terms."
3%: How much J&J shares rose after US market close on April 4
10,000: Number of cases involving women claiming that talc-based powders made by Johnson & Johnson caused their ovarian cancer handled by a law firm run by Jason Itkin
$4.5 billion: How much J&J has spent in jury awards, settlements, and legal costs fighting the cancer claims since 2017.
75%: Share of claimants who have to approve the proposed settlement, alongside the Bankruptcy Court.
Quotable: Is J&J's talc lawsuits settlement fair?
Erik Haas, worldwide vice president of litigation at Johnson & Johnson, in an Apr. 4 statement:
"The company continues to believe that these claims are specious and lack scientific merit. However, as the bankruptcy court recognized, resolving these cases in the tort system would take decades and impose significant costs on LTL and the system, with most claimants never receiving any compensation. Resolving this matter through the proposed reorganization plan is both more equitable and more efficient, allows claimants to be compensated in a timely manner, and enables the company to remain focused on our commitment to profoundly and positively impact health for humanity."
Jason Itkin, who represents the claimants, told the New York Times the J&J deal was "bad for victims":
"Even though $8.9 billion sounds like a lot of money, when you spread it out it comes out to not very much at all for the people who suffered."
A brief timeline of J&J trying to settle lawsuits via LTL's Chapter 11 bankruptcy
October 2021: Old Consumer uses the so-called "Texas Two-Step"—a corporate restructuring maneuver under Texas law which allows businesses to divide themselves into separate companies, shift mass tort liabilities to one of them, and have that company declare bankruptcy—to divide itself into "New Consumer" and "LTL Management LLC" (LTL). LTL files for Chapter 11 bankruptcy for the first time. In this initial bankruptcy attempt, the company offers $2 billion to settle cancer-related lawsuits.
November 2021: Johnson & Johnson announces plans to separate its pharmaceutical and medical device businesses from its consumer products division in order to "pursue more targeted business strategies and accelerate growth."
February 2022: The United States Bankruptcy Court for the District of New Jersey expresses the "strong conviction that the bankruptcy court is the optimal venue for redressing the harms of both present and future talc claimants in this case—ensuring a meaningful, timely, and equitable recovery."
August 2022: J&J says it will discontinue sales of its talc-based baby powder globally in 2023, offering a cornstarch version instead.
January 2023: The Third Circuit Court of Appeals dismisses the original Chapter 11 petition made by LTL. It claims the New Consumer-funded LTL does not meet a prerequisite for bankruptcy: being in a state of financial distress.
April 2023: J&J discloses the new offer in connection with its decision to re-file its subsidiary LTL Management in Chapter 11 bankruptcy. This time around, it has addressed the Third Circuit's concerns about the support J&J provided to LTL, and its relying on well-established legal precedent.
Do J&J's talc-based products cause cancer?
The thousands of claims in question allege that various versions of J&J's cosmetic talc, including the company's iconic 130-year-old baby powder, causes ovarian cancer and mesothelioma.
In its natural form, some talc contains asbestos, which is cancerous when inhaled, according to the American Cancer Society. However, all talcum products used in US homes have been asbestos-free since the 1970s, says the society.
Ovacome, a UK organization dedicated to helping women with ovarian cancer, warns against ascertaining a cause-and-effect relationship in talc and cancer fact sheet (pdf). "We still do not know what really causes ovarian cancer. But it is likely to be a combination of many different inherited and environmental factors, rather than one cause such as talc," it explained.
Still, Johnson & Johnson can't run scot-free. For one, until the 2000s, some J&J talc did contain asbestos, a 2018 Reuters investigation revealed. And while some judges have tossed out cases based on the weak science, others have sided with consumers who accused the company of not disclosing known risks and fined the company millions of dollars.
Related stories
🔬 Scientifically, the Johnson & Johnson lawsuits are anything but open-and-shut
🤲 Why Johnson & Johnson is splitting its drugs from its deodorants